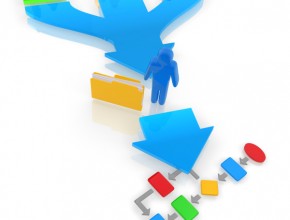 Strategy, at its core, is about making hard choices about what to do and not do based on marrying up a market need(s) and what an organization is best at. Invariably, in the process to reposition or improve upon an organization, some feathers get ruffled. Some are tweety bird feathers; others are full-on, blown-out peacock fans.
When does push back to your strategy move from being proper diligence into obstructive resistance to change? Let's use a common framework to manage change based on well-known stages of grief:
Stage 1: Denial
When preparing for or executing your strategy, do you hear dismissive tones in how people reference the plan? Consider the source disposition: Are they influential brokers in an existing process? Have they been entrenched in the organization for a long period of time? Customary practices are hard habits to break, and some people who have put years and years into how things are may have a natural tendency to get defensive at first.
Stage 2: Anger
When it becomes apparent that the strategy you are applying is not a fly-by-night executive initiative, some can get more confrontational in the way they push back. Under this stage, the plan is under the most vehement outward attack, where the plan's process and applicability get bombarded. Good plans will be able to address issues without alienating those in this stage, as great strategy can pass the test of those who are being diligent in their questioning.
Stage 3: Rationalization
Welcome to the phase of obstructive resistance. This is where people play along with the strategy, putting forth the minimal effort to see tasks and goals through to the intended larger objective. The importance of SMART goals come into play at this point: Meaningful measurements and accountability are incredibly important to moving the plan along towards recognizable success and those ever important wins to celebrate.
Stage 4: Despair
Despair is like looking into an abyss or up a cliff, depending on your perspective. Both seem arduous, monumental and perhaps even impossible. This darkest hour of this "strategy-is-a-real-thing" grief is important to coach someone through. A good plan has an outcome that is worth the effort, this is where reconnection to your core values, vision and purpose should be an inspiration. Many discount the importance of identifying these elements, but when push comes to shove they are over-comers of inertia that should have the power to ignite productivity and an ambition to succeed.
Stage 5: Acceptance
At this stage, peace is made with the plan. Processes are revisited, improvements are sought, and people are ready to turn over those mossy, slippery stones that were formerly left undisturbed. For implementing and executing against ambitious strategic plans, getting here is not pain-free, but it can happen with strong leadership and determination that your vision is worth attaining.
Understanding when resistance is caught in an emotionally based cycle is important to identifying how to get your strategy in motion. Emotions drive reaction much quicker than rational thought. By identifying the difference you'll have a better chance to bring your team, department or organization to move with a common cadence.
StrategyCheck
What can you do to improve acceptance of your strategic plan?
---