OKR Software to Align Teams & Contributors.
OnStrategy's OKR software aligns your team's daily activities to your organization's long-term vision of success.
OKR Software to Align Daily Activities to your Long-Term Vision
Create Aligned OKRs
OnStrategy's OKR software aligns team and individual OKRs or goals to your organization's long-term strategic direction. Everyone knows what they're accountable for, when they need to provide progress updates, and how their day-to-day activities directly contribute to your organization's future.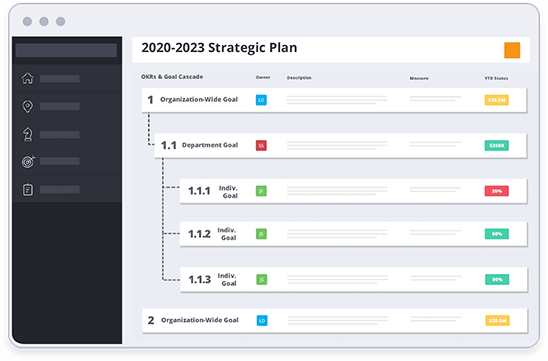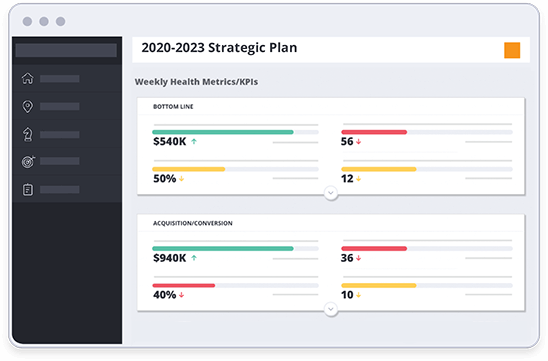 OKR & KPI Dashboards
Our OKR software keeps your team connected to the performance of their OKRs and KPIs. Dashboards and quick access to your KPI scorecard make it easy to see movement in your OKR performance and what needs your attention. It's never been easier to visualize and manage your entire organization's OKRs.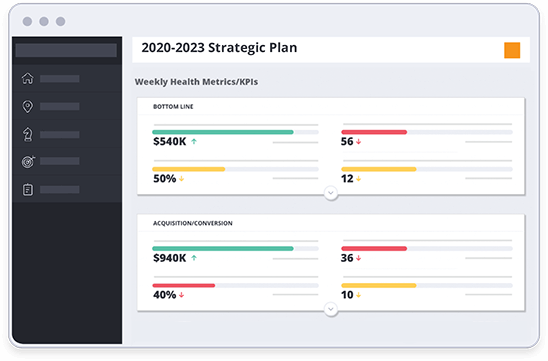 One-Click OKR Reports & Action Plans
One-Click OKR reports & action plans confidently drive your agile planning cycle with one-click, individual, department, and organization-wide OKR reports. Eliminate hours of administrative report prep by using our meeting-ready reports for your 1:1s, team meetings, and organization-wide strategy refreshes.
See Example Reports