Visual Performance Dashboard
Not your everyday dashboard. View core performance indicators connected to the supporting actions impacting results.
Make strategy reviews come to life

with real-time performance data.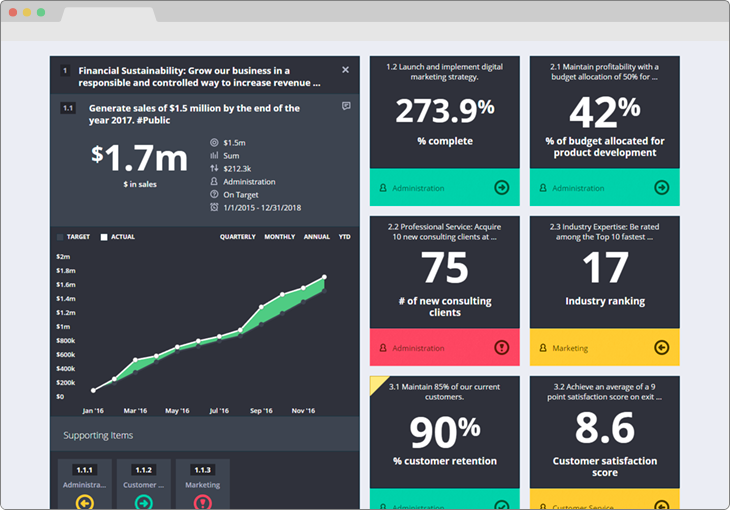 Performance Dashboard
Data Made Meaningful
Visual displays of your data provide insight into the core performance indicators driving your success.
Dynamic Views of Data
Color coding, dynamic views, and icons provide visuals to keep your organization engaged in your performance.
Monthly, Quarterly, & Annual Views
View performance by month, quarter, or year-to-date. It's your choice.
Status of Supporting Items
Quickly see the current status of goals by individual contributors or departments.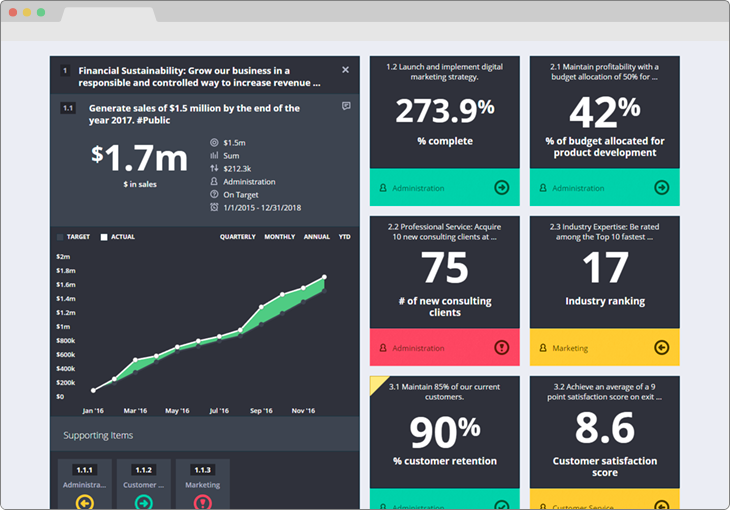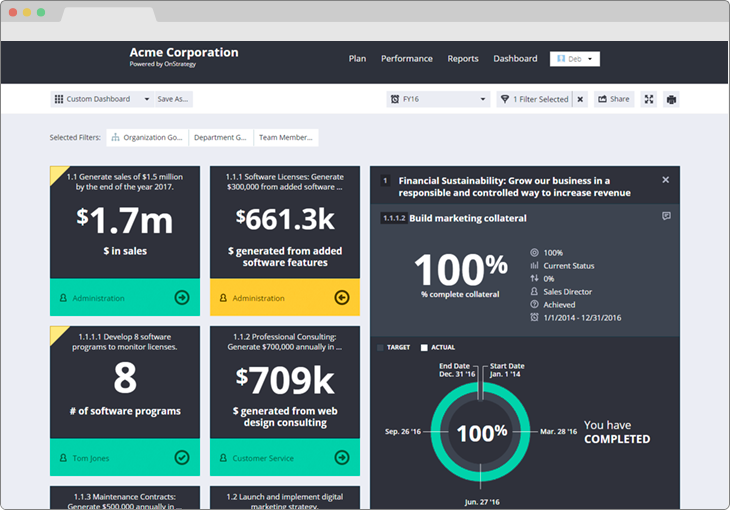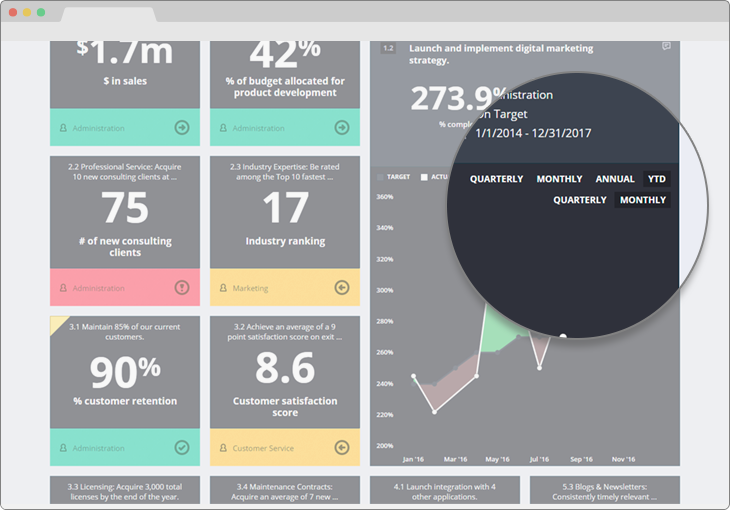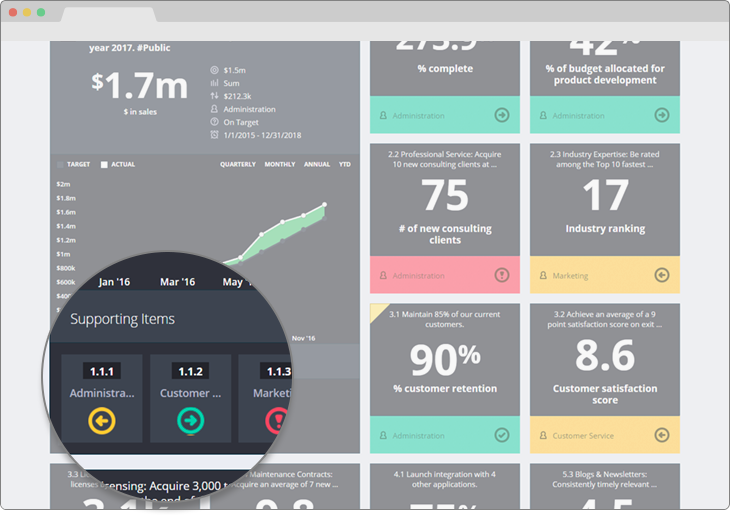 Build a culture of transparency

by easily sharing performance data.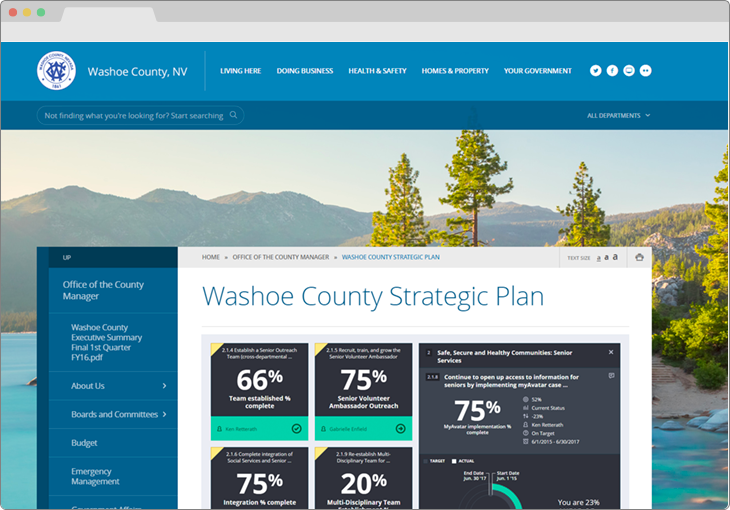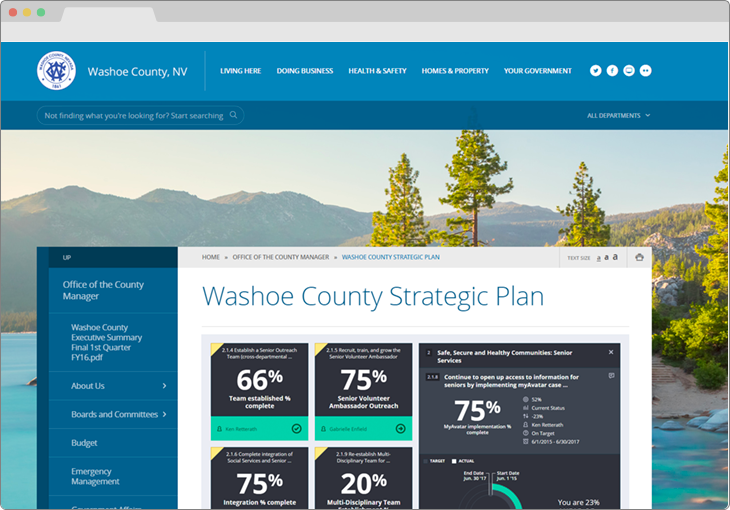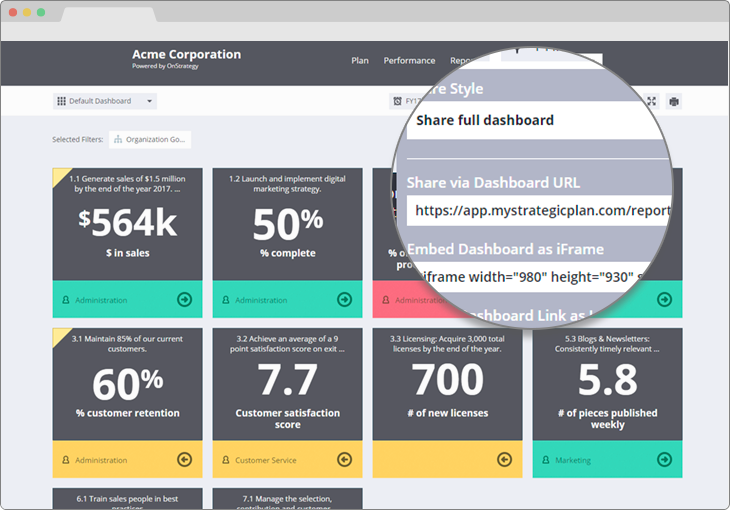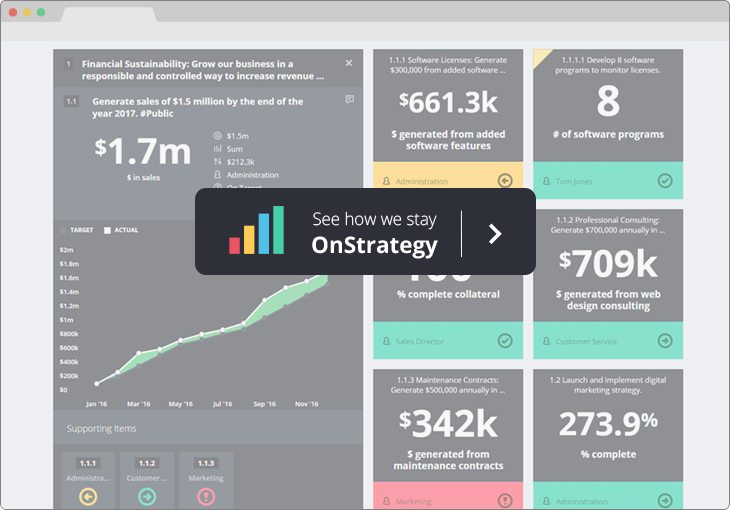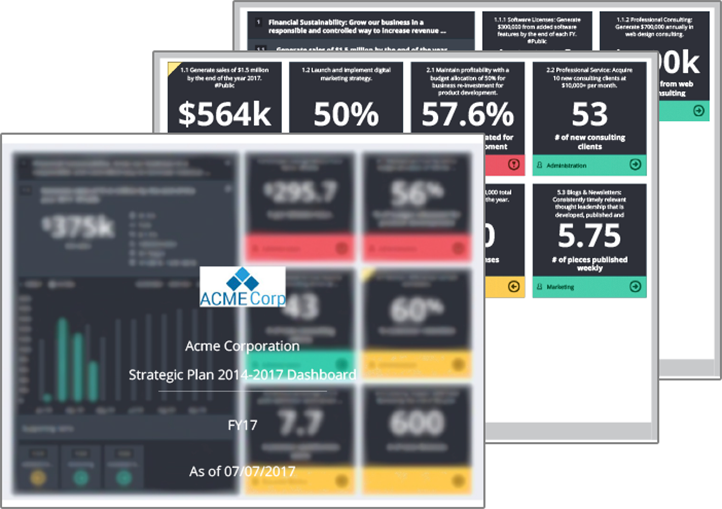 External Sharing
Public-Facing Dashboards
Embed your dashboard on your public facing website to drive transparency around strategic performance.
Share Using a URL
Socialize strategic performance by sharing your dashboard with a custom URL link.
Embed with a Link Icon
Custom generated icons can be embedded anywhere to share your performance dashboard.
Download as a PDF
Take your dashboard with you in a PDF to see the performance of goals and their supporting actions.
Manage data with agility

using advanced data filtering.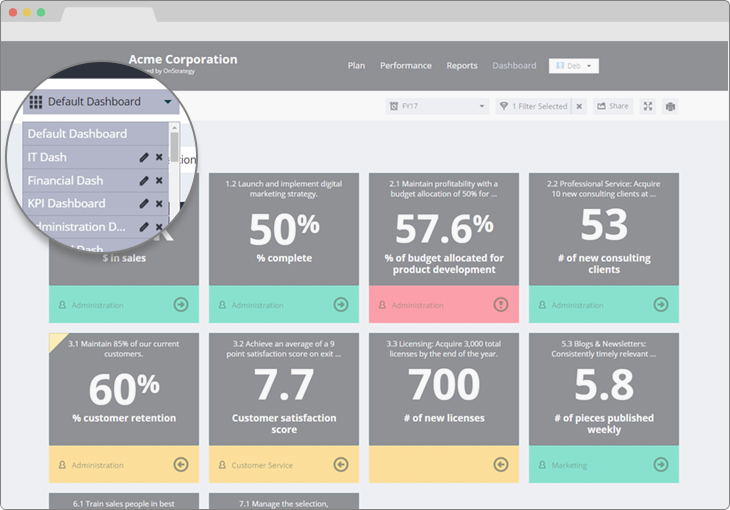 Quick Access to Custom Views
Create Custom Dashboards
Build custom filtered dashboard views for your corporate, department, and individual goals.
View Data Across Multiple Years
Compare your current performance against your historicals in a single click.
Advanced Filtering Features
Advanced filtering features allow you to drill down to the exact performance data you need.
Share Filtered Dashboards
Share filtered dashboards to provide public insight into a set of focused metrics.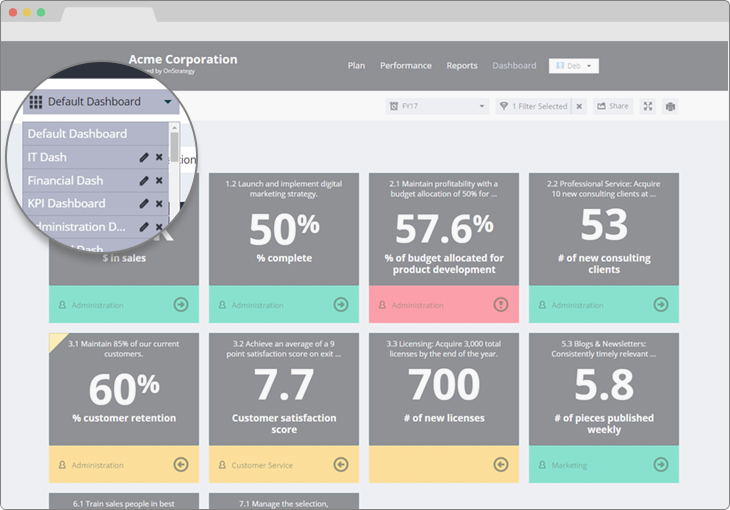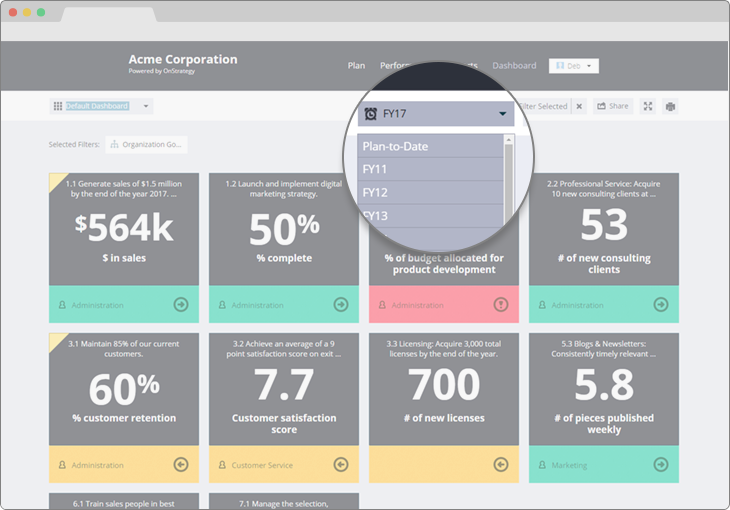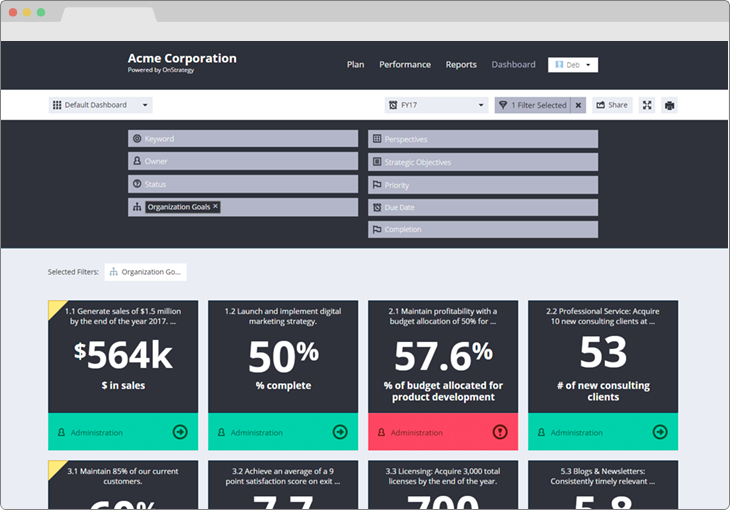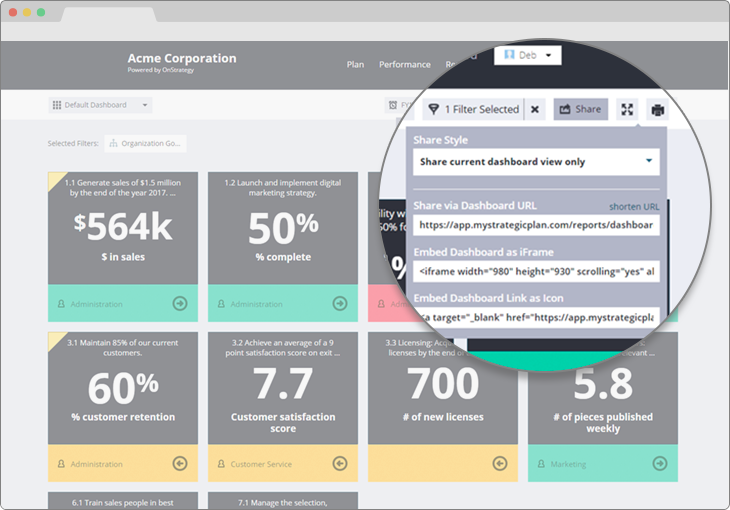 Why work with us? You get a dedicated expert to guide you through planning, implementation, and reporting for a full year. Meet our experts:

Jeff Brunings

Senior Strategist

Jeff's Client Accomplishments:

130

Planning & Execution Sessions Led Last Year

29

Clients Executing their Plans

5

Strategy Reviews Led Last Month

Jeff's Clients:

Why work with us? You get a dedicated expert to guide you through planning, implementation, and reporting for a full year. Meet our experts:

Kathleen Colombo

Client Engagement Director

Kathleen's Client Accomplishments:

107

Planning & Execution Sessions Led Last Year

31

Clients Executing their Plans

8

Strategy Reviews Led Last Month

Kathleen's Clients:

Why work with us? You get a dedicated expert to guide you through planning, implementation, and reporting for a full year. Meet our experts:

Erica Olsen

COO/Co-Founder
Senior Strategist

Erica's Client Accomplishments:

105

Planning & Execution Sessions Led Last Year

30

Clients Executing their Plans

4

Strategy Reviews Led Last Month

Erica's Clients:

Why work with us? You get a dedicated expert to guide you through planning, implementation, and reporting for a full year. Meet our experts:

Kim Perkins

Senior Strategist

Kim's Client Accomplishments:

75

Planning & Execution Sessions Led Last Year

21

Clients Executing their Plans

3

Strategy Reviews Led Last Month

Kim's Clients:

Why work with us? You get a dedicated expert to guide you through planning, implementation, and reporting for a full year. Meet our experts:

Lorna Shepard

Senior Strategist

Lorna's Client Accomplishments:

95

Planning & Execution Sessions Led Last Year

20

Clients Executing their Plans

4

Strategy Reviews Led Last Month

Lorna's Clients: