Welcome to the OnStrategy Resource Center
Jump to resources by category:
or type:
Editors Pick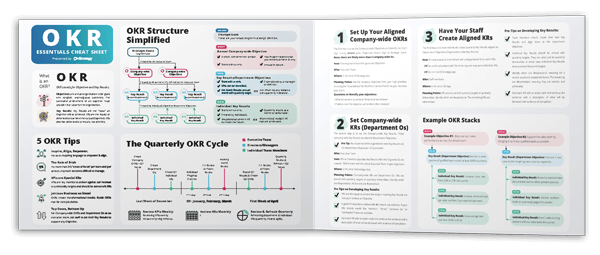 The OKR Essentials Cheat Sheet
Get the free cheat sheet to guide you through building and refreshing your OKRs, including 29 pro tips from our work with clients.
Editors Pick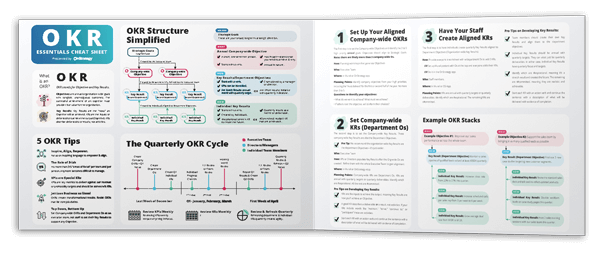 The OKR Essentials Cheat Sheet
Get the free cheat sheet to guide you through building and refreshing your OKRs, including 29 pro tips from our work with clients.
Our Latest Videos on Agile Strategy


Video: AgileStrategy – How to Build an Agile Roadmap
Shift from timelines to trigger events. Gone are the days of subjective interpretations of projects and initiatives. Instead of operating on a set timeline, think about using trigger events. Action is taken when a specific, agreed-upon event is set to motion. Why? Trigger events are objective, quantifiable and predetermined. Play Video Transcription Today's Whiteboard Video […]
MetricMondays: Shift to Weekly Results Management from Quarterly Reviews
MetricMondays are the best way to manage the health of your business with agility. Using a set weekly agenda based on your mission-critical metrics, proactively manage your team's workflow to keep your organization focused on what matters most in creating stability and delivering measurable results. Play Video Transcription Hi, everyone. Thanks for tuning in to […]
AgileStrategy: The New Way to Plan & Manage Business Results
The path toward organizational health starts with a solid foundation and direction. It starts with adapting your current strategic priorities and roadmap to be more agile, flexible, and directional. Agile strategic planning requires clear, bold direction from your leadership team. You may have set a destination previously, but given the state of the world, it […]
Video – What are OKRs (Objectives and Key Results)? OKRS that Work (Part 1/6)
In this 6-minute video, learn what OKRs (Objectives and Key Results) are and see if the OKR methodology is right for your organization. Play Video Transcription What is an OKR? OKRs are a three-letter acronym for Objectives and Key Results. This particular thought process has been turned into a methodology popularized by Google for high-growth […]
Video – How to Write OKRs. OKRS that Work (Part 2/6)
In this 6-minute video, learn the anatomy of an OKR and how to write your own OKRs (Objectives and Key Results). Play Video Transcription How to Write ORKs Today, we're going to learn about how to write great OKRs by breaking it down into simple steps. If you do not know what an OKR is, […]
Learnings from the Field


Aligning an Organization & Leadership Team to Save the Planet
How Patagonia is setting a higher standard for businesses to reach their full potential and achieve more than just the bottom line.
Committing to a Bigger Impact to Grant the Wishes of Every Elligble Child
How Make-A-Wish National Board of Directors instigated a process to build a robust plan with clear board reporting.
Preparing a County's Regional Infrastructure for 50,000 New Jobs in 5 Years
OnStrategy helps its home-town county in Reno, Nevada prepare for massive growth in servicesr and infrastructure.
Building a Growth Strategy to Change the Lives of Individuals Suffering from Addiction
How OnStrategy helped Foundry's leadership create, roll-out, and adopt a meaningful growth strategy so staff is pointed in the same direction and speaking the same language.
Growing an Organization to Create Clear Ownership & Accountability
How Authority Partners used strategic planning to drive ownership and accountability within the leadership team in pursuit of their strategic growth objectives.
Creating the Next Generation of Leaders & Stewards of Our Waterways
How OnStrategy helped a senior leader of a 100-year-old construction, environmental services, and harbor management company build greater confidence in leading the organization into the next 100 years.
Defining an Ambitious Strategic Direction to Preserve and Protect the Shores of Lake Tahoe
How Tahoe Fund set a new, ambitious strategic direction by answering the question "who and what do we need to become?" to preserve the treasured jewel of the Sierra Nevada Mountains.