Sharpen Your Mastery
Strategy I OKRs I Organizational Performance
Join the only group for strategy leaders to share experiences, get strategy best practices from other organizations, and access exclusive strategy resources.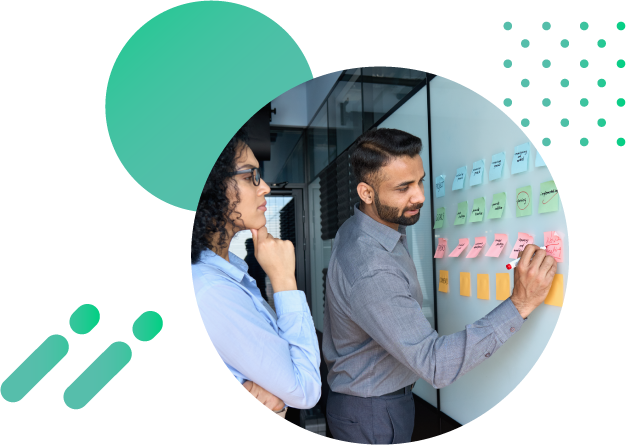 Let's get started! It's free for now!
It's free for now…
What is the CSO Collaborative?
The CSO Collaborative is a group for leaders driving strategy to meet twice monthly to sharpen your mastery of strategy, share your experiences, and access resources you can use to drive the strategy execution cycle in your organization.
In two meetings a month, we'll cover:
Strategic Topic Deep-Dive

1st Thursday of each month featuring a panel discussion with guest speakers and member Q&A.

Workshop a Topic

3rd Thursday of each month offering time to workshop a topic, share and solve with your peers.
Topics in the next few months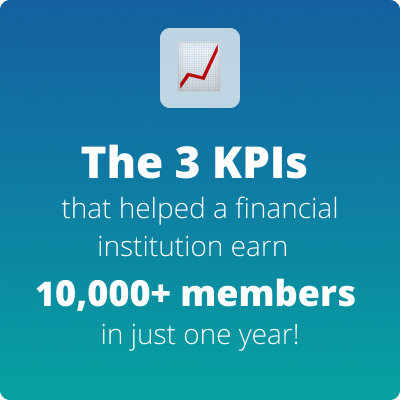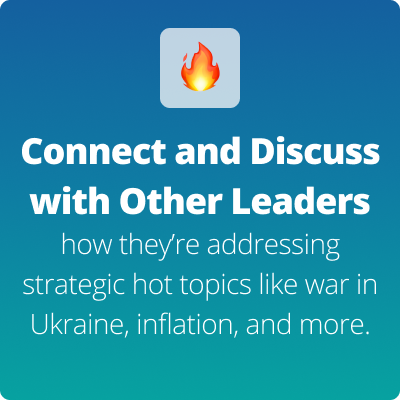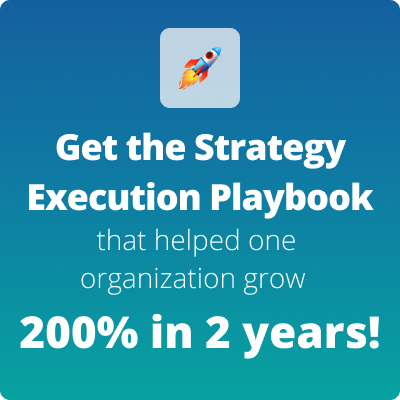 300+ Members and counting
If you have a passion for the impact strategy, OKRs, and organizational performance has on our world, communities, and organizations – the CSO Collaborative is for you.
Upcoming Series – Big, Bold Visions!
Thursday, September 1st @ 8:00am PDT, 11am EDT, 4pm BST | 60 minutes
Big Topic Deep Dive
Two Keynote Speakers
Lots of time for LIVE Q&A (listen – learn – share).
And remember… for now, it's free!
Speakers:
Meg Kimmel
Executive VP & Chief Strategy Officer
Maryland Food Bank
Over the past nine years, Meg has served in a broad range of capacities, but today she leads Maryland Food Bank's strategy, fundraising, programs, and marketing.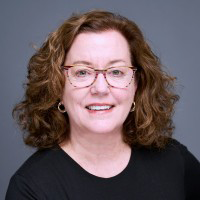 Tony Quiñones
CEO
Bright Path Laboratories
Tony is an impact investor whose experience in entrepreneurship, venture capital, and operations allows him to create thriving and successful organizations. Bright Path Laboratories is a pharmaceutical company committed to changing the way American medicine is sourced and manufactured.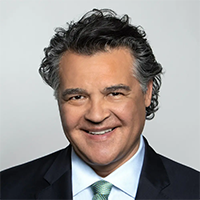 Frequently Asked Questions
What is covered in the featured deep dive? When is it?
When: 1st Thursday of each month.
What: The Strategy Session will have a topic deep dive including a spotlight panel of peers who will share insights, perspectives and real-world practices. A Mastery Quick Hit on a facilitation best practice or highlighting a tool. Plus, ample time for Q&A will be provided.
What will you be covering in the second session of each month?
When: 3rd Thursday of each month.
What: Leveraging the power of the group the goal is to collaborate. We will listen-learn-share by workshopping a topic, strategy problem solving and peer sharing. Plus, ample time for Q&A will be provided.
What topics are coming next? Where are you going with this group?

Together… we are just getting started. As active participants we will be listening to see what additional value we can bring. That might mean anytime collaboration, quarterly training, or something else.
Who is it for? Am I qualified?
For CSOs, CEOs, Executive Directors, Superintendents, as well as those aspiring to be strategy leaders, who are responsible for designing and managing organization-wide strategy and performance.
Also, consultants focused on strategic planning, OKRs and organizational performance.
*** NO SELLING: In an effort to reduce people sniping, fishing for clients, or generating leads from group members, unsolicited PM's are grounds for removal. Self-promotion, spam and irrelevant links aren't allowed. If you are a consultant or coach, contact the admins before promoting your business. If you find value in someone else's contribution, by all means connect with them. If they can serve you, that is awesome. If that means you want to do business with them, then go for it. It is encouraged. What we WILL NOT have is consultants or coaches pursuing people/organizations for work. That is not what this collaborative is about.
How much does it cost?
For now… it is FREE!
As we look at the next 3 months, the collaborative will remain free of charge.
There will be a membership cost in the future. Perhaps an introductory member rate starting in Fall 2022 of $499 a year per individual and standard member rates of $1,499 a year per individual starting in 2023. We're also exploring organizational membership (# of seats and cost is coming soon). Pricing is grandfathered! Your membership rate will never increase when prices increase for future members!
Membership is free to existing clients of OnStrategy.
Why did you start the CSO Collaborative?
19+ years of empowering teams to do amazing work, consistently & passionately. 
Nearly two decades ago, we set out to make a difference. Strategic planning is how we make it happen. We've had the honor to work alongside thousands of leaders designing, deploying, and executing strategy across organizations large and small, and for businesses, nonprofits, governments, and educational institutions near and far.
Here's what we learned about leading strategic planning and organizational performance…
It's lonely. Most of the time, leading the strategy falls on one person.
No place to turn. There are skills gaps to fill, and it can be daunting.
It's high stakes. Getting it wrong has huge implications on organizations and people.
There is no one right way. You never can find perfect best practices.
It's never static. There are new challenges that must be addressed, it seems like every week.
Our clients are doing amazing things. We are blown away by new and innovative approaches being pioneered.
…And we're talking to each and every one of you, but there is no place to talk to each other.
Hence the idea of a community, actually a collaborative. A place for leaders to learn how others are solving challenges, peer share, discuss workshop topics and get feedback – specifically in the areas of designing organization-wide strategies and managing strategic performance.