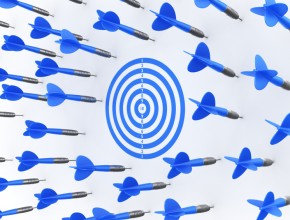 Google announced this week that in response to an increase in staff losses, they have developed a management algorithm to predict which employees are most likely contemplating departure. While this novel approach to employee engagement is in keeping with Google's brand, it's an extremely product-focused approach to a real, human problem. As a business, retaining and cultivating your human capital needs to be a major priority.
Google's Search Efforts Enough to Cultivate Human Capital?
Google's problems are stemming from changes within its corporate structure and culture. Promising engineers, designers, and sales executives who were once attracted to the company's start-up atmosphere and soaring stock prices have been jumping ship as the company has shed the startup feel and seen stock prices level off. But, will their algorithm, which culls data from employee reviews and promotion as well as pay histories, actually stop the exodus?
Getting inside unhappy employee's heads, as the company expects their new algorithm to do, can easily be done with a pen, paper and an attentive ear. According to new and past Googlers, the flood of employees leaving for new startups have simple needs. They no longer feel they can make the same impact as the company matures. They feel that Google doesn't provide enough career planning, and some find the human resources department impersonal. You don't have to be the leader in high-tech search to address a fundamental problem like this- you just have to work harder at developing your human capital. If your company wants to take steps to stem a potential staffing loss, here's where to start:
How to Develop Human Capital:
While Google seems to be taking a complicated route with their new "unhappy employee search technology," you can take steps today by examining your organization's approaches to staff development and employee engagement.
How effective is your training and development program?  Do your employees have the best tools and work environment to do their jobs? You may have a formalized program, but, again, what really matters is that your employees are doing their best work and achieving their fullest potential. If employees really are your most important asset, you need to develop them to realize the full value of your investment.
Training and development needs to be linked directly to improvement at work. Make sure that you're training for the capabilities that your organization needs to move forward. We're constantly amazed at how many training programs aren't linked to the overall strategy. For example, if you want to improve your productivity, send your employees to a time management workshop instead of a teambuilding ropes course.
Retaining Human Capital:
This doesn't have to be overly complicated. When it comes down to keeping your people, don't stress over the fact that you don't have the resources that Google does. While their new system may help them identify which among their thousands of employees are most at risk, it's not a silver bullet. The basics of employee retention have not changed.
The words employee retention hit most business owners in the gut. Managing people can be a hard concept for some people, and retention seems to be the perceived outcome of poor management (which isn't necessarily the case because employees leave for numerous reasons unrelated to their jobs). Nevertheless, do you know the number one reason people leave their jobs? Not feeling appreciated by their boss. Employees need to feel appreciated, challenged, and fairly rewarded to stick around.
How is your retention rate? Because you have invested a significant amount of time and money into your employees, retaining them becomes imperative. Otherwise, you let your most valued asset walk out the door.
So before you consider investing millions of R&D dollars developing a sophisticated algorithm, consider these common-sense approaches to developing and retaining a crucial resource: human capital.
DON'T MISS OUT!
Also, if you haven't voted for MSP in the People's Choice Stevie Awards, votes will be accepted until May 30th, so don't miss out- Because the American Business Awards knows time is money, your vote could win YOU a $1,000 Amazon.com gift card. If you have the time, vote today.
---