Phase 3: Strategic Plan Development
Want More? Deep Dive Into the "Build Your Plan" How-To Guide.
Action Grid
| Action | Who is Involved | Tools & Techniques | Estimated Duration |
| --- | --- | --- | --- |
| Develop your strategic framework and define long-term strategic objectives/priorities | Executive Team Planning Team | Strategy Comparison Chart Strategy Map | Leadership Offsite: 1 – 2 days |
| Set short-term SMART organizational goals and measures | Executive Team Planning Team | Strategy Comparison Chart Strategy Map | Leadership Offsite: 1 – 2 days |
| Select which measures will be your key performance indicators | Executive Team and Strategic Director | Strategy Map | Follow Up Offsite Meeting: 2-4 hours |
Strategic Planning Process Step 1: Use Your SWOT to Set Priorities
If your team wants to take the next step in the SWOT analysis, apply the TOWS Strategic Alternatives Matrix to help you think about the options that you could pursue. To do this, match external opportunities and threats with your internal strengths and weaknesses, as illustrated in the matrix below:
TOWS Strategic Alternatives Matrix
| | External Opportunities (O) | External Threats (T) |
| --- | --- | --- |
| Internal Strengths (S) | SO Advantage Strategies: Strategies that use strengths to maximize opportunities. | ST Protective Strategies: Strategies that use strengths to minimize threats. |
| Internal Weaknesses (W) | WO Conversion Strategies: Strategies that minimize weaknesses by taking advantage of opportunities. | WT Defensive Strategies: Strategies that minimize weaknesses and avoid threats. |
Evaluate the options you've generated, and identify the ones that give the greatest benefit, and that best achieve the mission and vision of your organization. Add these to the other strategic options that you're considering.
Step 2: Define Long-Term Strategic Objectives
Long-Term Strategic Objectives are long-term, broad, continuous statements that holistically address all areas of your organization. What must we focus on to achieve our vision?  What are the "big rocks"?
Questions to ask:
What are our shareholders or stakeholders expectations for our financial performance or social outcomes?
To reach our outcomes, what value must we provide to our customers? What is our value proposition?
To provide value, what process must we excel at to deliver our products and services?
To drive our processes, what skills, capabilities and organizational structure must we have?
---
Outcome: Framework for your plan – no more than 6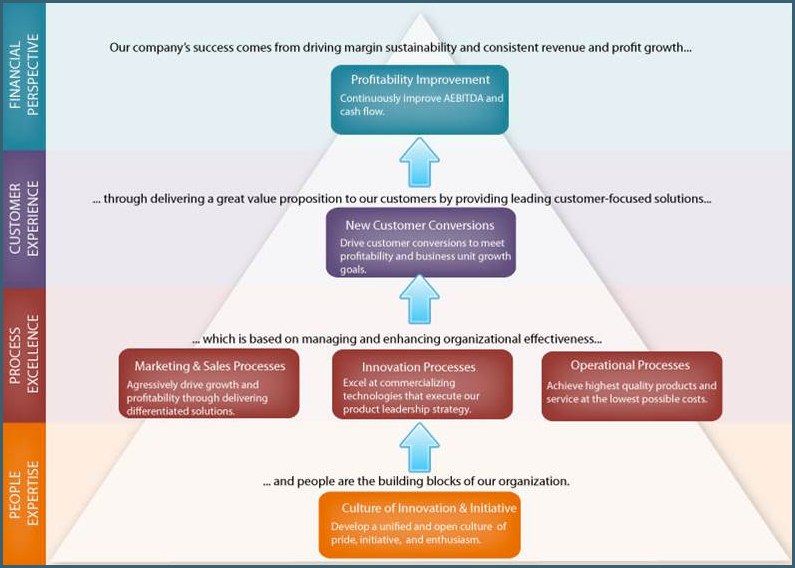 Step 3: Setting Organization-Wide Goals and Measures
Once you have formulated your strategic objectives, you should translate them into goals and measures that can be clearly communicated to your planning team (team leaders and/or team members). You want to set goals that convert the strategic objectives into specific performance targets. Effective goals clearly state what, when, how, and who, and they are specifically measurable. They should address what you need to do in the short-term (think 1-3 years) to achieve your strategic objectives. Organization-wide goals are annual statements that are specific, measurable, attainable, responsible and time bound.  These are outcome statements expressing a result expected in the organization.
What is most important right now to reach our long-term objectives?
---
Outcome: Clear outcomes for the current year.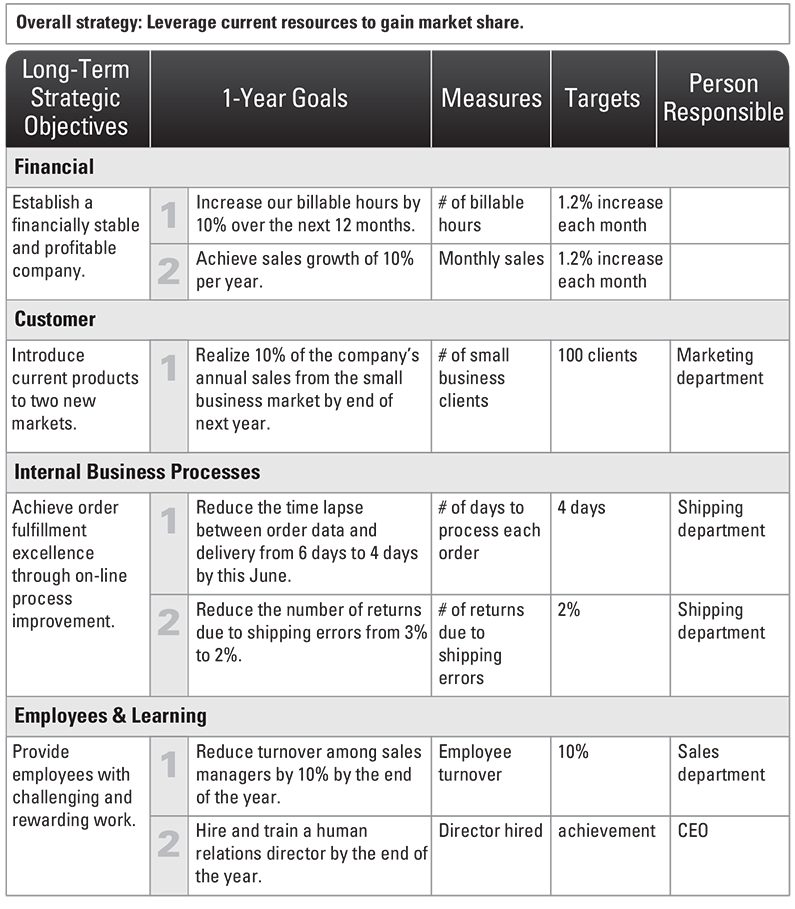 Step 4: Select KPIs
Key Performance Indicators (KPI) are the key measures that will have the most impact in moving your organization forward. We recommend you guide your organization with measures that matter.
How will we measure our success?
Outcome: 5-7 measures that help you keep the pulse on your performance. When selecting your Key Performance Indicators, begin by asking "What are the key performance measures we need to track in order to monitor if we are achieving our goals?" These KPIs include the key goals that you want to measure that will have the most impact in moving your organization forward.
Step 5: Cascade Your Strategies to Operations
Cascading action items and to-dos for each short-term goal is where the rubber meets the road – literally. Moving from big ideas to action happens when strategy is translated from the organizational level to the individual. Here we widen the circle of the people who are involved in the planning as functional area managers and individual contributors develop their short-term goals and actions to support the organizational direction. But before you take that action, determine if you are going to develop a set of plans that cascade directly from the strategic plan, or instead if you have existing operational, business or account plans that should be synced up with organizational goals. A pitfall is to develop multiple sets of goals and actions for directors and staff to manage. Fundamentally, at this point you have moved from planning the strategy to planning the operations; from strategic planning to annual planning. That said, the only way strategy gets executed is to align resources and actions from the bottom to the top to drive your vision.
Questions to Ask
How are we going to get there at a functional level?
Who must do what by when to accomplish and drive the organizational goals?
What strategic questions still remain and need to be solved?
Outcome:
Department/functional goals, actions, measures and targets for the next 12-24 months
Step 6: Cascading Goals to Departments and Team Members
Now in your Departments / Teams, you need to create goals to support the organization-wide goals. These goals should still be SMART and are generally (short-term) something to be done in the next 12-18 months. Finally, you should develop an action plan for each goal. Keep the acronym SMART in mind again when setting action items, and make sure they include start and end dates and have someone assigned their responsibility. Since these action items support your previously established goals, it may be helpful to consider action items your immediate plans on the way to achieving your (short-term) goals. In other words, identify all the actions that need to occur in the next 90 days and continue this same process every 90 days until the goal is achieved.
Examples of Cascading Goals:
1 Increase new customer base.
1.1 Reach a 15% annual increase in new customers. (Due annually for 2 years)
1.1.1 Implement marketing campaign to draw in new markets. (Marketing, due in 12 months)
1.1.1.1 Research the opportunities in new markets that we could expand into. (Doug) (Marketing, due in 6 months)
1.1.1.1.1 Complete a competitive analysis study of our current and prospective markets. (Doug) (Marketing, due in 60 days)
1.1.1.2 Develop campaign material for new markets. (Mary) (Marketing, due in 10 months)
1.1.1.2.1 Research marketing methods best for reaching the new markets. (Mary) (Marketing,due in 8 months)