What is a Vision Statement?
A Vision Statement defines your desired future state and provides direction for where you are going as an organization. Vision statements are 5-10 years in nature and clearly describe what success looks like and what you're seeking to achieve.
Vision Statements Clearly Define Your Future
Visioning is all about creating the future. As we always say to our clients, there is no reason to embark on a planning process if there is no desire that the future is different from today.
A strategic plan without a future state is like building a bridge to nowhere. Great leaders communicate [and overcommunicate] about where an organization is going and why. Plain and simple – great leaders unite their people with a vision, destination, or compelling future state.
If you're feeling overwhelmed, we totally understand! Creating a vision is no easy walk in the park. It often creates anxiety, but we're here to help you understand the basics of vision statements, why you're organization needs a solid vision statement, how to identify and envision your future, and how to write a solid and memorable vision statement.
Vision Statements 101: The Key Differences between a Vision Statement and a Mission Statement
While some may use a vision statement and a mission statement interchangeably, there are some distinct differences between your vision statement and mission statement.
The first key difference is your mission statement describes the enduring reality of your organization today – it explains why your organization exists to provide context for your strategic decisions. Think of mission statements as your reason for existing.
While a company's mission statement is not subject to a particular timeframe, your vision statement on the other hand, forecasts about 5-10 years in the future. It is a statement that crystalizes what and who you want to become. It is both inspiring and achievable within a specific time period. Think of a vision statement as your clear picture of the future.
Although people may consider that it is only necessary to have one or the other, it is actually ideal to have both as they serve as the foundation for your overall strategy and plan to beat present and potential competitors.
Video Transcript How to Write a Vision Statement
Hi, my name is Erica Olsen.
Welcome to today's whiteboard session on how to write a vision statement. Vision statements are a critical component to any great strategic plan. And the reason why is because strategic plans are about creating a different future. And that future is articulated in your vision statement.
It needs to be succinct and clear and understandable. But it needs to paint a picture for where you're going and why. And that's your critical word to remember is where we often get mission and vision confused. So the way that you keep them distinct is by making sure that your vision statement articulates Where are we going, what does success look like?
In the future, let's talk about the different types of vision statements, a checklist to make sure yours is great. And then we'll break down how it comes together and wrap it up with a quick how to do it for yourself.
So there are three different types of vision statements that come in three different flavors, really, the first is quantitative, so a revenue number maybe, or maybe like a number of things. In this case, every kid that's an expression of a quantitative vision statement.
Competitive is about sounding like beating your competition or better than your competition. I don't see these very often, so I wouldn't use that.
The third one is superlative, like, Premier number one the best, also super common. Okay, here's your checklists, great checklist to make sure that your vision statement truly is a vision statement. Let's break it down.
Vision statements are at least five years in nature or longer five years is a really good guide. In this case by 2025. Future tense I talked about that already. Make sure we say where I love, we envision that's super future looking. And then of course, we have the word will in there as well. So future tense verbs. It's directional. Again, we're not there today, reaching every kid starts to explain that audacious Same deal. Every Kid in our community, that's big visions are about big and descriptive. Academically through high school and beyond, it starts to paint a picture, we expanded it by adding some more descriptors here about how the world will look different.
Remember, your vision statement is your North Star. And we want to be able to see that North Star so let's create a clearer picture. So let's break this down a little bit further. So you can put yours together, we envision, I like to start vision statements like that, because it gets us in the right frame of mind, you might get rid of it later. But it's a good place to start. The impact that we're making in the world, what is different, be clear that you spell that out, and then what the world looks like, you may not always include these in all of your vision statement prints, if you will, but But it's nice to really kind of describe it and not be constrained by something super, super tight and synthesized.
The tip on these is I like to use these as a starting place to develop strategic objectives. It's a great way to tie everything together. So how do you create one? Well, you might already have an idea for your vision, in which case get after it, write it down. If you don't, Google cover story vision, awesome instructions on pulling your team together and getting the creative juices going. So my last tip is leaders focus on the future. You can't lead if you don't have a vision.
So hopefully this helps you put yours together. That's all we have for today. Thanks for tuning in. Happy strategizing.
The benefits of a vision statement
An ideal vision statement can prove beneficial to your strategic plan as it serves as the framework to guide your plan. It defines the desired future state and where you wish to go as an organization. Having a vision statement that is clear, concise, big and bold serves the following purpose:
It serves as a foundation for your strategic plan
It provides direction and clarity for your organization
It aligns your team and makes them aware of the overarching goals for the organization
How do you write a vision statement that creates clarity?
The ideal vision statement is a clear portrait of your loftiest aspiration, inspiring vision, boldest affirmation, and the dream you dare to dream for your organization.
A great analogy for a vision statement is the difference between a Monet and a Norman Rockwell painting. The Monet is beautiful and idealistic, but hazy if left up to interpretation. However, the Rockwell is crisp and crystal-clear and there is no mistaking what the image conveys.
Answer these 4 Questions to Form Your Vision Statement
It's easier to think about your vision statement as the concise answer to the following fundamental question about your organization's future. Therefore, we recommend answering these questions before writing your actual vision statement:
What will our organization look like 5–10 years from now?
Where do you envision your organization in the future? How is that different than where you are today? What is the impact?
Get the Free Guide to Create a Clear Vision and Future State
What does success look like?
Try to be clear about what achieving your vision will create for your organization and team. There is no valor in being vague or trying to please everyone.
How will achieving your vision change your business? How will it change the lives of your team? Having clarity about what success looks like will make your vision stronger and more compelling. Remember, you need your team to "buy in" to your direction, so they need to understand what the output looks like long-term.
Pro-Tip:

Check out our growth strategy guide to help define where you'll play and how you'll win.
What is our aspiration?
Your vision statement should be aspirational and somewhat out of reach (but not so much that the vision becomes daunting). You must strike that perfect balance between something that inspires you and your team to reach further than they've ever reached before, and yet is still tangible and achievable.
How will the work that we do impact the people and communities we serve?
Your vision statement should reach further and go deeper than just driving profit. Think about your core values and purpose of why you started your organization in the first place. Build your vision off of your original mission statement to create a vision that is deep, meaningful, and ambitious.
Pro-Tip:

The greatest vision statements of today also consider how your vision will change your community. How does it impact your team? How does it affect your geographical community? What does achieving your vision do for the environment?
Later on in the post we will provide a few strong examples of vision statements to model your own after.
How to Write a Vision Statement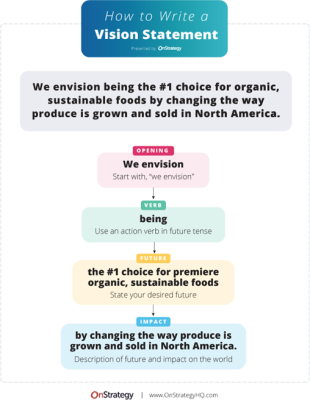 After you've answered these questions, you can begin to draft your vision statement using OnStrategy's tried and true vision statement template. We recommend using this format:
Start with, 'We envision'… Use this statement because your vision should be representative of what the world will look like when your organization has reached the pinnacle of success.
Follow that with a verb in future tense: It is critical to be thinking ahead and in action. Visions are in the future, so they should be written in future tense.
A description of your future state: Clearly stating your organization's future.
Description of your desired impact: Stating the impact in the most clear and concise manner is the most important part of your vision statement because it brings your vision to life. It also shows that you are thinking of how your success will affect the lives of your employees, those you serve and the community-at-large.
Here's a recap on vision statements:
As we covered earlier in the post, a vision statement defines your organization's future state and provides direction for where you are going as an organization. It is 5-10 years in nature and describes what you're setting out to achieve in that timeframe.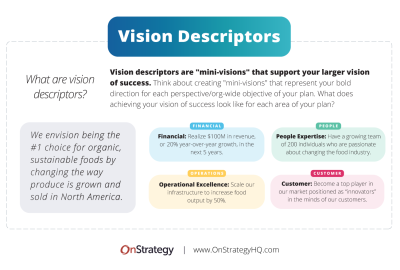 What are Vision Statement Descriptors and How Do You Write Them?
What are vision descriptors?
Vision descriptors are statements that accompany your vision and articulate distinct "mini-visions" that support your overall vision of success. We like to align these descriptors to the different planning perspectives to create a long-term "mini-vision" of success for each portion of a plan. In practice, it looks something like this:
Financial: Realize $100M in revenue, or 20% year-over-year growth, in the next 5 years.
Customer: Become a top player in our market positioned as "innovators" in the minds of our customers.
Operational Excellence: Scale our infrastructure to increase food output by 50%.
People Expertise: Have an enthusiastic and growing team of 200 individuals who are passionate about changing the food industry.
Again, these sections of your mini-vision may look familiar as they are the same categories you'd find in a balanced scorecard framework.
Having these "mini-vision" statements aligned to your overall vision of success gives you a good starting point for your strategic plan's long-term strategic objectives. It helps create the alignment of targeted long-term goals to reach your overall vision of success.
As You Think About How to Write a Vision, Here Are a Few Pro Tips to Consider
Here are a few last tips to consider as you write a vision statement:
Get to 80% and worry about the exact wording later. Word choice can make a team run in circles going back and forth, which wastes an incredible amount of time.
Stay grounded by assessing your internal and external environment.
Check your statements to make sure your mission and vision statements explain your core purpose and define where you want to go. Remember, mission statements explain why you exist. Vision statements explain where you are going.

The 5 Traits of an Amazing Vision Statement

So, what makes a great vision? We've worked with thousands of clients to develop compelling, forward-thinking vision statements. Here are a few common traits we look for in a clear, forward-driving vision statement:

Trait #1 – A great vision statement is future tense and points to a destination with action.

This might seem simple, but we always recommend stating your vision statement in future tense and using movement verbs. Sure, you need to say where you're going, but communicating it with action can help your team feel the momentum.

Again, we recommend casting your statement about 5-10 years in your organization's future. It just makes sense.

Trait #2 – A great vision is bold and inspiring.

Visions are big, broad and bold assertions, with high-reaching thoughts. Be audacious. Use your vision statement to dream about the future you want. Be bold but be intentional.

Trait #3 – A great vision statement is descriptive and and articulates the 'dent' you want to make in the world.

Ultimately, a vision is the ideal future state of an organization – a place that you envision as successful as possible given your purpose, current state, and desired impact. Think of painting a comprehensive picture of success from the following dimensions:
Customer Growth & Retention: What does your customer base look like in 5 years? Why does that matter?
Operational Excellence & Innovation: How do you picture your organization running faster, stronger, or more efficiently? 
People & Organizational Stability: How will your vision impact your team and organizational stability? How does that change the lives of your team? 
Financial Results & Impact: What does your bottom-line look like in 5 years? Why does that matter? 
Pro-Tip: Does the structure above look familiar? That's because it's the balanced scorecard framework! 

Being clear about what your vision looks like in these perspectives makes it easy to bridge between your annual objectives and your long-term destination. We love creating "mini-visions" in these areas to create clarity about where you're going and how it impacts your organization holistically. 
Expand your vision statement by adding some descriptors about how the world will look different when you reach your vision.
Trait #4 – A great vision statement articulates "why."
It can't be said enough – everyone wants to know what they are working towards and why. The why is so, so important. It's also arguably the hardest part of a visioning exercise.
Pro-Tip:Unpack your why by answering the question, "What is the LASTING IMPACT our organization will make for our employees, customers, stakeholders and the communities we serve. WHY does that matter?"
Trait #5 – A great vision statement is harmonious with your mission.
However, the 'why' of your vision should already be halfway articulated as it should complement your mission statement. It basically builds off of why your organization exists by expanding on the desired future state your organization will achieve and the impact you will have on everyday life in your community.
Your vision and your company mission, together form your corporate aspirations, and ultimately your strategy.
Vision Statement Examples
Here are a few strong vision statement examples for your own reference. For a deeper dive into examples, see our post on Vision Statement Examples and Template.
DuPont: To be the world's most dynamic science company, creating sustainable solutions essential to a better, safer, and healthier life for people everywhere.
Heinz: To be the world's premier food company, offering nutritious, superior tasting foods to people everywhere.
Susan G. Komen for the Cure: A world without breast cancer.
Novo Nordisk: To be the world's leading diabetes care company.
Amazon: Our vision is to be earth's most customer-centric company, to build a place where people can come to find and discover anything they might want to buy online.
How to Communicate Your Vision Statement
There are many ways to communicate and roll out your vision, but here are 3 helpful tips we recommend:
Co-create your vision with your team during planning
If your organization is starting from scratch on its strategic plan, we highly recommend running a separate process to create your vision of the future. And in a perfect world, your planning team would also use the input from your team to create your organization's vision. Co-creating your vision with input allows everyone to feel like they have a stake in the future of your organization and helps create consensus and alignment.
Ensure your vision statement is in your one-page strategic plan!
Of course, your vision can't do much to inspire your team if it isn't communicated! We love putting it in the one-page strategic plan as an overview and reminder about where you're going in the future.
Post your vision statement somewhere visible
Place copies of the vision in key places around your organization where you know it will be seen often. You don't want it to be "out of sight, out of mind." Having it visible to everyone daily not only makes sure it is remembered but also communicates your focus to it as an organization.
Free Vision Statement Cheat Sheet
There you have it! By following this informational and thorough guide, you'll be on your way to creating a vision statement that motivates and inspires. Don't forget to download the free vision statement cheat sheet and check out our other resources!