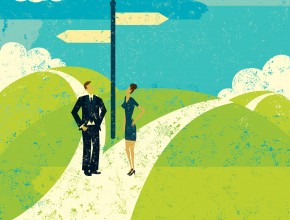 "It is hard to oppose 'strategic planning.' Kind-of like it is hard to oppose most platforms Miss America contestants run on…"
Has your strategic planning process helped or hurt your company's momentum? I stumbled over the above statement as part of a rather insightful perspective from the head of a school committee whose concern over strategic planning paralysis at her schools is not a rare or unshared sentiment. In the post, she explains that while she agrees for the need to plan, she worries that the actual task of planning is taking valuable time that should be used for work. Sound familiar?

In the post, I found what we've run across before in strategic planning- the concern that planning gets in the way of actually getting things done.
Those who have emphasized the importance of having such a plan believe that we shouldn't make any decisions regarding the long-term future of our schools (such as closing a school and redistricting) until we have fully reviewed many different sources of data and reached out to the entire community to get "buy in."
This next part has got to be my favorite, though. It may sound tongue and cheek, but it's a serious concern. Many individuals in organizations who delve into planning feel this- that on the one hand they're worried that the plan won't do any good, but on the other hand they see strategic planning as a good concept.
It is hard to oppose "strategic planning." Kind-of like it is hard to oppose most platforms Miss America contestants run on (e.g., anti-child abuse, pro-literacy, pro-environment, etc.). But I've got to say, I think we can actually do serious harm by refusing to make a decision until every possible piece of data is known and every person in the community has been individually consulted.
So how do we solve the problem?
There doesn't have to be a fight
Strategic planning doesn't have to lead to paralysis. It's not meant to, and if it's done right it won't. What we have to realize is that while there are best practices in planning it doesn't have to be done the same every time. If you need a plan, but you're worried that your planning process may get in the way of "work," here are a few tips to get you towards a solution:
Address potential bottlenecks: Before your planning process begins, have a brainstorming (bitching) session to give folks a chance to bring up their concerns. If you have areas that need to be addressed right now, by all means don't use your planning process as an excuse not to take care of them.
Don't require perfection: Nothing is perfect, but a plan gives you a start towards improvement. Plans are meant to provide unity and direction, not perfection.
Don't wait around for the ink to dry! Your planning process doesn't have to be finished in order to take action- in fact, it is never actually "finished." Strategic plans are living, breathing documents that need care and adjustment to stretch and bend with the future of your organization.
I hope that these will help remind us that while planning is extremely important to the long-term success of any organization, nothing will ever come of your plan unless you act. Implementation doesn't need to wait until your plan is 100%- after all your organization may have already existed for years without a plan. Your plan can be a powerful tool for energizing and aligning your people and resources as long as you avoid planning paralysis.
---