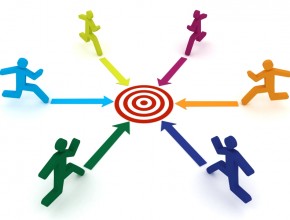 Over the last several months there's been a lot of talk of economic woes, a slowdown, or some other soft-peddling term for the possible coming recession. This evening, listening to NPR I heard an economist say that it's no longer a question of whether we're facing one, but for how long and how severe. Whether you're a business owner concerned about this year's profits or an employee concerned about the future of your job, we all feel some sense of uncertainty about what the looming economic dip will throw at us.
But it doesn't have to be all doom and gloom. Just because the economy may be slowing doesn't mean we need to panic. Anyone who has been in business long enough understands that this is just one of several regular cycles that can be painful, but also beneficial – kind-of like a forced spring cleaning.
At our firm, we've dusted off and are cleaning up three fundamental areas to help us get out ahead of what is coming: taking the slack out of the line, marketing on-the-cheap and proactive client service.
Improving Efficiency
Our first focus centers on improving efficiency. By "taking the slack out of the line," we mean that every one of us tries to make sure that what we're working on is contributing to growing the company. When cash is abundant, it's easier to occasionally go off track without anyone noticing. But when you're facing lean times it's important to stay focused on growth and productivity. As drill sergeant-like as our staff meetings can be, everyone on the team is responsible for moving the dial on one or two key metrics. If the dial isn't moving, we are digging into why, why not and what are we doing about it.
Marketing on the Cheap
Next to cleaning up our efficiency, we also practice "marketing on the cheap."  It's easy to throw money at a problem; it is harder to make that money work for you. There's never been a time in history when we as businesspeople have had such an abundance of opportunity to reach potential customers so cheaply- all because of the web.  The single most powerful tool that we have employed to attract customers to our online business has been search engine optimization, SEO. Roughly translated, that's making sure your website is set up to show up favorably when people search for the services or products you provide.
Customer Outreach
Next to SEO, we've also had success reaching our customers through blogging and any other online visibility we can find through press releases or social media outlets. Many businesses still overlook these tactics because they don't see immediate returns in the traditional sense, but you're not going to get all your new business by going to the same old local networking events.
Besides using only the above marketing tactics that are yielding results, we're also dusting off best practices around managing a sales funnel. Generating leads from marketing activities is half of the equation, closing those leads is the other half.  Throwing some rigor and consistency behind our sales process is something all businesses can do right away and see quick results. Who should you follow up with this week?
Maintaining Relationships
Of course, none of these will be able to keep your company thriving during a slow economy if you don't take care of your current customers. Everyone knows it costs much more to find new customers than to keep your current ones happy. There's no more important time to make sure that no one slips through the cracks. We're not waiting for clients to call – instead, we're being proactive, making sure that we are providing value to their organizations. Our job is to help our clients grow their businesses. After all, we're in this together.
There will be feasts and there will be famines. Right now, facing what may be a slowing in the nation's and our local economy, the important thing is not to panic or agonize over what we as business people cannot control. It is time, however, to focus on the right things. And if you do, you and you team will be polished and sparkling when the economy picks back up.
Erica Olsen is a founder and VP of Marketing of OnStrategy, a strategic planning and performance management company. She is the author of Strategic Planning For Dummies
---