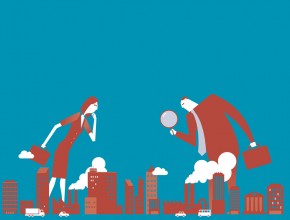 Keeping strategy front and center can sometimes feel like a bold endeavor. Perhaps for some reading this, it might even feel like having a forced visit with King Kong.
You've seen it before, it's all quite dramatic: As strategy review meetings near, people are attacking their strategic responsibilities like airplanes scurrying around the great ape. If you are behind on your goals, quarterly updates can leave you feeling like the damsel in distress, being held in the grips of a colossal gorilla that you have been able to neither tame nor trust.
It is even more nail biting when the strategy tools you use are outdated, unsynced or inapplicable to the efforts of the broader team. Here are three questions to ask yourself about your strategic management tool:
Can you clearly determine goals that need your attention?
Does your tool identify the dependency of your goal on the work of others?
Does your tool automatically update all versions of the plan that might be referenced immediately?
If you've answered no to any of these questions, you aren't our customer yet and should be. And yes, that is a blatant call to action to use the extremely affordable OnStrategy system.
After all, to keep strategy fresh, your plan needs to change as new challenges or opportunities arise, and that needs to be clearly seen by everyone who works on the plan.
If what you are looking at is goals that are dying on the vine, it might be time to isolate your actions, review their relevance with your team and discuss if the initial intent of the goal can be shifted to better apply to the overarching objective or strategic theme. At least once per year this kind of assessment of applicability should be done at the organizational-goal level as well. Again, your strategic tool should be able to handle these adjustments if they are considered valid enough to be made.
Time and energy are just too precious for anything that falls short of making it easy to get into and update your plan. Efforts should simply not be placed toward preserving actions that are outdated or ineffective. It's like battling King Kong, which is tragic in a world where solutions are ready and waiting.
---