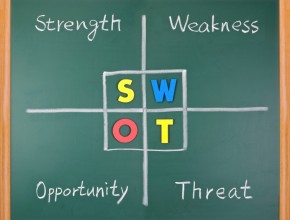 August is the perfect time to begin updating your Strengths, Weaknesses, Opportunities and Threats (SWOT) assessment, particularly if your organization is like most of our customers on OnStrategy that follow the calendar year. It's the first step to properly approach your annual review that should also be put onto calendars before the leaves start turning colors.
Our OnStrategy resource page contains a comprehensive selection of guides, 'how to' videos and the like, including a plethora of all things SWOT that will promptly accelerate your learning curve to get your assessment moving.
Once you have viewed this information, keep your strategic planner hat on by checking out other SWOTs to compare where you need to drive your efforts. For this exercise, check out these overviews of all the major car company's SWOT positions.It's a fascinating look at an industry that has risen up from the recession to reinvent itself with more sustainable options in mind.
Finally, here are some questions you should ask yourself to get in the right mindset to continue on your SWOT-astic journey.
STRENGTHS:
What are your assets?
What range of exceptional talents exist on your staff?
What differentiates you from your competitors?
WEAKNESSES:
What areas do you need to improve on?
What necessary expertise/manpower do you currently lack?
Are you relying on one customer too much?
OPPORTUNITIES:
What external changes present interesting opportunities?
What trends might impact your industry?
Is a competitor failing to adequately service the market?
THREATS:
Is there a better equipped (funding, talent, mobility, etc) competitor in your market?
Is there an entity who may not be a competitor today which could possibly become one tomorrow?
What if your supplier runs out of product and you experience an extended stockout or shortage?
Hopefully this article hits the sweet spot for your pending SWOT assessment update. And remember, the day makes the week, the week makes the quarter and the quarter makes the year. So, make it a good day!
StrategyCheck
What types of information do you collect prior to your annual strategic reviews?
---