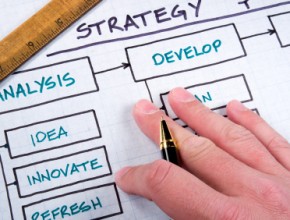 Many people are confused by the terms strategy, strategic plan, and strategic planning process. For the moment, forget what you've heard about this subject. Strategic planning makes a huge difference to your organization both tangibly and intangibly. Below are some explanations that should clear up all the confusion.
What is strategy?
Strategy means consciously choosing to be clear about your company's direction in relation to what's happening in the dynamic environment. With this knowledge, you're in a much better position to respond proactively to the changing environment.
The fine points of strategy are as follows:
Establishes unique value proposition compared to your competitors
Executed through operations that provide different and tailored value to customers
Identifies clear tradeoffs and clarifies what not to do
Focuses on activities that fit together and reinforce each other
Drives continual improvement within the organization and moves it toward its vision
Knowing what strategy is can also be explained by looking at what strategy is not. Dr. Michael Porter, the leading strategy guru and professor at Harvard, had this to say at the 2006 World Business Forum in Chicago. Strategy is not:
Best practice improvement
Execution
Aspirations
A vision
Learning
Agility
Flexibility
Innovation
The Internet (or any technology)
Downsizing
Restructuring
Mergers/Consolidation
Alliances/Partnering
Outsourcing
Surprising strategic-planning stats
Consider the following statistics from the Balanced Scorecard Collaborative:
95 percent of a typical workforce doesn't understand its organization's strategy
90 percent of organizations fail to execute their strategies successfully
86 percent of executive teams spend less than one hour per month discussing strategy
60 percent of organizations don't link strategy to budgeting
So what's the upshot of these surprising revelations? Strategic planning matters to the life of your business.
What is a strategic plan?
Simply put, a strategic plan is the formalized roadmap that describes how your company executes the chosen strategy. A plan spells out where an organization is going over the next year or more and how it's going to get there. Typically, the plan is organization-wide or focused on a major function such as a division or a department. A strategic plan is a management tool that serves the purpose of helping an organization do a better job, because a plan focuses the energy, resources, and time of everyone in the organization in the same direction.
So, you may be thinking, "Hey I've got this great book on business plans, so I'll just use that to form my strategic plan." But be aware that strategic plans and business plans aren't the same concepts.
A strategic plan:
Is for established businesses and business owners who are serious about growth
Helps build your competitive advantage
Communicates your strategy to staff
Prioritizes your financial needs
Provides focus and direction to move from plan to action
A business plan, on the other hand:
Is for new businesses, projects, or entrepreneurs who are serious about starting up a business
Helps define the purpose of your business
Helps plan human resources and operational needs
Is critical if you're seeking funding
Assesses business opportunities
Provides structure to ideas
With these tips you can now get started on the right foot with your strategic plan. Stay tuned for more tips and tricks from the planning experts here at OnStrategy.
---