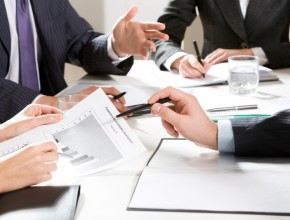 A few weeks back, Tim Vanderpyl wrote a post about strategic planning on LeaderLab. It generated some great debate about the usefulness of strategic planning.  I took the opportunity to participate in the conversation and that response can be found below (as well as at LeaderLab).
I'm a bit late to the party, but I wanted to take the opportunity to add to the conversation.
Tim ended the post with his theory: "Strategic planning is simply an invention to justify the existence of middle management, and not a useful tool for those doing the actual leading or for the guys at the bottom doing the real work."
In short, I would have to say that I agree and there is absolutely truth in the theory.  I think we could agree though, when strategic planning is done right (development process, implementation, and execution) then there is great potential.  Strategic planning is not easy and has challenges, but the hurdles are worth overcoming.
At OnStrategy, we have measured the following; "Businesses reporting a commitment to strategic planning showed a 12% bottom line and 11% top line greater than other respondents. This is in addition to the 'business as usual'."
A strong organizational focus benefits all companies in all industries. "Downturns are roller coasters for weak firms: 3x to 5x. During downturns, weaker businesses are the shock absorbers of their industries – their margin swings are often three to five times that of the leader. That gives companies with strong, focused cores the opportunity to invest and gain ground on their competitors during the downturn and the subsequent recovery." – Bain & Company
Strategic planning is necessary, but only successful when linking the long-term strategic priorities to today's actions.  The plan must be cascaded properly from top to bottom of the organization so that front line staff knows how their work impacts the organization's goals. Assigning metrics and systematically measuring them fosters accountability.  Others in our company would also say that it holds a team "able" instead of just accountable.  At OnStrategy.com we offer the strategic planning tools to assist with this undertaking.
Three additional points to consider (I love tracking these):
1)      Leadership challenge with strategic planning:  "Many people regard execution as detail work that's beneath the dignity of a business leader. That's wrong…it's a leader's most important job."  – Larry Bossidy, former CEO, Honeywell, Inc.
2)      Without the focus that strategic planning can provide, we can all fall into the trap of unproductive busyness. "90% of managers are typically either distracted or disengaged from key organizational objectives. Confusing frenetic motion with constructive action," they are noted for their "unproductive busyness." – Harvard Business Review
3)      "Lack of alignment. Only 19% of workers say they can effectively translate the company's top goals into the work they do."- Franklin Covey
---