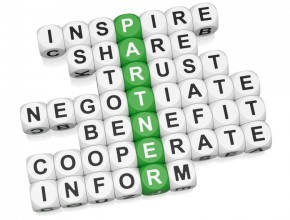 This week, Ford Motor Company announced that it will be offering its in-car app development system to any other automaker or app development firm that wants it. No cost, no restrictions. Ford is moving to make its system architecture the standard for the user interfacing experience we have with technology in automobiles.
This raises the question, just when is it appropriate for your market strategy to go beyond company walls into the snake pit of competition to achieve an envisioned end state? If Ford is successful, one clear advantage is that it would increase app development, which would benefit Ford even if it doesn't directly benefit from others using their system.
If you routinely do a SWOT analysis (which should be reassessed for each strategic retreat) you already have a good idea of who your competition is and what kind of reach they have into your market niches. Competitive collaboration, like what Ford is trying to foster, leverages the strengths of others while creating new opportunities that would otherwise not exist independently. Otherwise stated, this type of collaboration comes about when organizations know that they'll never be able to attain a big, hairy, audacious goal (or the omni-powerful acronym "B-HAG") without thinking outside the company-boundary box.
There are four types of competitive collaboration* to consider when the B-HAG calls for it: joint ventures, outsourcing agreements, product licensing and cooperative research. To help determine if any of these collaborations make sense for you in 2013, here are three situations where mutual collaboration is most successful:
Partners' strategic goals converge while their company goals diverge.
The size and the market power of both partners are modest compared with industry leaders.
Each partner believes it can learn from the other and at the same time limit access to core competencies.
Our company, OnStrategy, is currently engaged in two of the four types of collaborations to leverage OnStrategy into market areas we would have had difficulty penetrating. In making this move, we suggest having clear strategic objectives to help dictate how partner objectives should affect your success. Expect some degree of conflict, as harmony isn't the key performance metric here. By entering into collaborations, other areas of stiff competition may still exist.
The gains however can be worth it, as long as the activity does not weaken your competitive advantages. Over dependencies are also risks to weigh. For more on this topic, visit the Harvard Business Review archives for the Jan-Feb 1989 issue for the article "Collaborate with Your Competitors—and Win"; the authors have done a timeless service of revealing the strategic benefits of this otherwise perceived contradiction.
StrategyCheck
Are your competitor's strengths really your opportunities?
---
All fields are required.