Your Vision Statement Template and 37 Vision Statement Examples
It can be difficult to know where to start when creating your vision statement. Follow our vision statement template and guide, and view vision statement examples from the top 37 companies and organization. First, to create your vision statement, you must first answer these two questions:
What does success look like for us in the future?
How will that differ from how it looks today?
Once you have answered these questions, you can use the vision statement template we've created as a guide to write your own. Fill in the blanks to help write your vision statement: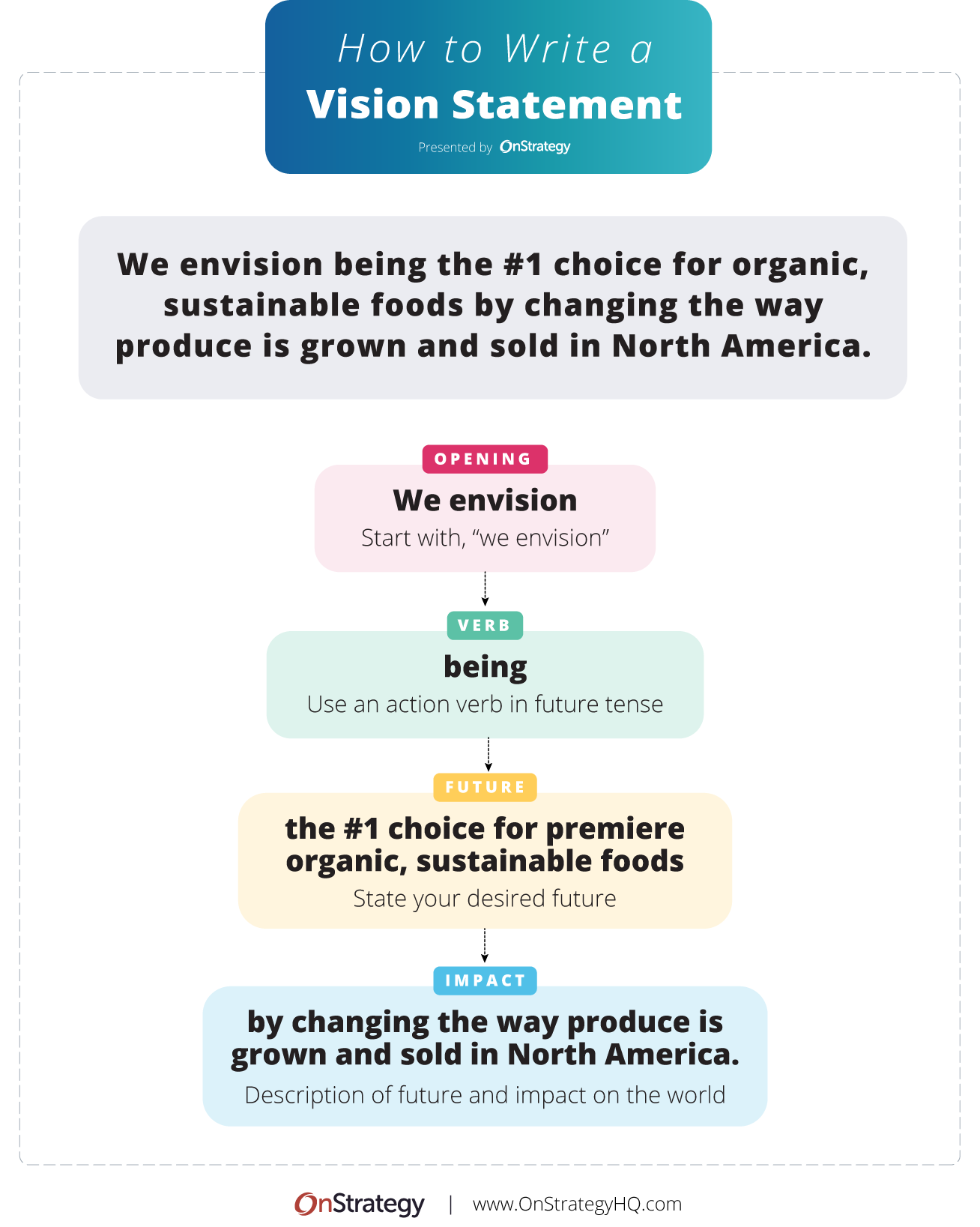 By: Insert the year or timeframe
We envision: State your lasting impact to your organization
Because: Why does achieving this vision matter?
After completing your core vision statement, we also recommend writing supporting descriptors to help your organization clearly understand what that future vision statement looks like. Use the template provided in the free guide and video from above to complete the following vision descriptors:
Vision Descriptors Template
Financial results and impact: What is the revenue growth, profitability, or social and community impact achieving this vision will help achieve?
Operational excellence: What facilities, technology, innovations, or environmental impact are needed to achieve that vision? How will it help you get there?
Customer growth and retention: What does the volume, number of customers, geographies, or products/services look like once you reach your destination?
People and organizational stability: What does success look like for your people? Think about your organization's structure, size, capabilities, and culture.
37 Vision Statement Examples
Now that you have a template to help create your vision statement, we've put together a list of 37 of our favorite vision statement from organizations around the globe. First, we will jump into some of our favorite vision statement's from OnStrategy client's:
#1 – Experience Kissimmee's Vision
To be the recognized leader in destination marketing by promoting Kissimmee and Central Florida's tourism experiences to the world.
Get the Free Guide to Create a Clear Vision and Future State
#2 – Bright Path Labs' Vision
Bright Path Labs' vision is to bring our advanced manufacturing technologies to the entire pharmaceutical industry where our cutting edge and proprietary chemical production techniques can significantly contribute to solving some of today's biggest healthcare challenges, including:
Improving the resiliency of domestic supply chains and the affordability of medicine
Reducing the risk of life-saving drug shortages
Supplying increased access to medicine for underserved and overlooked patient populations
#3 – Keystone Health Care's Vision
To become the preferred provider of Emergency Medicine and Hospital Medicine services by embracing dynamic healthcare challenges and focusing on controlled growth in select markets.
#4 – Patagonia's Vision
Making the best product matters for saving the planet.
#5 – Cleveland Metropolitan's School District Engagement Division's Vision
CMSD is the number one choice in Cleveland; families enroll and remain with the District because they feel welcomed, valued, supported, and meaningfully engaged as partners in students' success.
#6 – The City of Reno's Vision
We are a thriving urban center known for our world-class colleges, vibrant culture, diverse outdoor activities, and innovative industries.
#7 – City and County of San Francisco Department of Technology
We envision being a trusted leader and global example in providing innovative technology services and solutions to all CCSF agencies, the people of San Francisco and worldwide.
#8 – Charlotte-Mecklenburg Police Department's Vision
We envision becoming the trusted, respected, and sought-after community partner by serving our citizens and taking care of our employees.
For-Profit Vision Examples
#9 – Honda's Vision
Serve people worldwide with the joy of expanding their life's potential by leading the advancement of mobility and enable people everywhere in the world to improve their daily lives.
#10 – Hyundai's Vision
Progress for humanity. We're here do the right thing for humanity.
#11 – Porsche's Vision
The brand for those who follow their dreams.
#12 – Kia's Vision
Providing a new space that makes life more convenient and enjoyable by realizing superlative mobility based on innovative people-oriented, eco-friendly technologies and comprehensive services.
#13 – Microsoft's Vision
Microsoft's vision statement is to help people and businesses throughout the world realize their full potential.
#14 – Hulu's Vision
Lead the future of Streaming TV by creating new and familiar experiences for our viewers, amplifying bold voices, and challenging our diverse builders and creators to push the boundaries of storytelling and technology.
#15 – Netflix's Vision
Becoming the best global entertainment distribution service.
#16 – Verizon's Vision
We create the connections that shape the future. Verizon is transforming how people, businesses and technologies interact, setting the stage for the next Industrial Revolution.
Healthcare Vision Statement Examples
#17 – Renown Health's Vision
Renown Health, with our partners, will inspire better health in our communities.
#18 – Blue Cross Blue Shield Minnesota's Vision
Be the customer's first choice by reinventing ourselves and the system.
#19 – Merk's Vision Statement
We aspire to be the premier research-intensive biopharmaceutical company in the world.
#20 – Johnson & Johnson's Vision
To help people see better, connect better, live better.
#21 – Mizuho's Vision
Our aim is to be a world-leading medical equipment supplier committed to meeting and exceeding the expectations of our clients.
#22 – CVS' Vision
Guided by our purpose, CVS Health® is building an entire world of health care around each and every person we serve, no matter where they are on their journey.
#23 – AstraZeneca's Vision
Driven by innovative science and our entrepreneurial culture, we are focused on the delivery of life-changing medicines that are fueling growth and contributing value to patients and society.
Education Vision Statement Examples
#24 – Harvard's Vision
Harvard College sets the standard for residential liberal arts and sciences education. We have committed to creating and sustaining the conditions that enable all Harvard College students to experience an unparalleled educational journey that is intellectually, socially, and personally transformative.
#25 – Brown's Vision
We will be an innovative and adaptable community of educators that creates a seamless and transformative experience for all Brown students by equipping them to succeed academically, empowering them to be in community together as their authentic selves, and supporting them in developing skills for life after Brown.
#26 – Stanford's Vision
We are expanding avenues of discovery across all fields while creating new pathways for applying knowledge where it is needed in the world.
#27 – Michigan State College of Literature, Science, and Arts' Vision
We are a diverse intellectual community, working together to reimagine the world and create positive, purposeful change.
#28 – The University of Nevada, Reno
The University of Nevada, Reno's vision is to educate and graduate the best-prepared, confident leaders for the state, national, and global community; to be a nexus for research and creativity that focuses on vital issues of our time; and to serve as a catalyst for the betterment of our society.
#29 – Los Angeles Unified School District's Vision
L.A. Unified will be a progressive global leader in education, providing a dynamic and inspiring learning experience where all students graduate ready for success.
#30 – Clark County School District's Vision Statement
Our vision is for all students to graduate from high school having the knowledge, skills, attitudes, and values necessary to achieve academically, prosper economically, and contribute in a global society.
Non-Profit Vision Examples
#31 – Global Fund for Children's Vision
The Global Fund for Children, envision a world where all children have the opportunity to learn, grow and thrive. This vision can be turned into reality with the help of grassroots organizations.
#32 – St. Jude's Vision
To accelerate progress against catastrophic disease at a global level.
#33 – Big Brothers Big Sisters of America
All youth achieve their full potential.
#34 – Nevada Humane Society's Vision
Our Vision is that all pets have a healthy, happy life.
#35 – Boys and Girls Club of America's Vision
Provide a world-class Club Experience that assures success is within reach of every young person who enters our doors, with all members on track to graduate from high school with a plan for the future, demonstrating good character and citizenship, and living a healthy lifestyle.
#36 – Habitat for Humanity's Vision
A world where everyone has a decent place to live.
#37 – American Red Cross' Vision
The American Red Cross, through its strong network of volunteers, donors and partners, is always there in times of need. We aspire to turn compassion into action so that…
…all people affected by disaster across the country and around the world receive care, shelter and hope;
…our communities are ready and prepared for disasters;
…everyone in our country has access to safe, lifesaving blood and blood products;
…all members of our armed services and their families find support and comfort whenever needed; and
…in an emergency, there are always trained individuals nearby, ready to use their Red Cross skills to save lives.
For a deep dive on Vision Statements, check out our post on all things vision.