Visioning Guide
In our free downloadable guide, we'll show you how to create a clear vision and desired future state.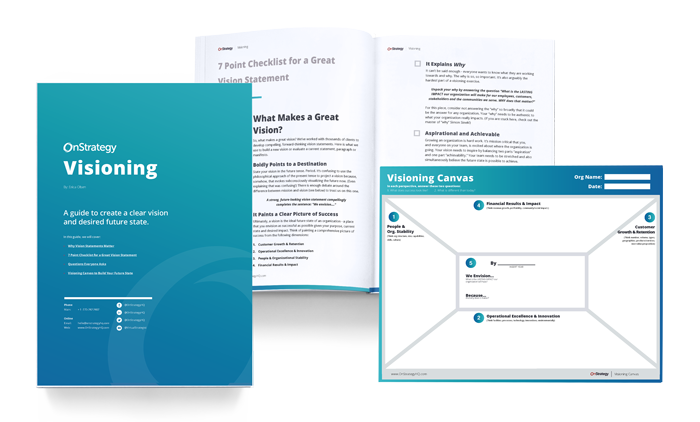 Visioning is all about creating the future. As we always say to our clients, there is no reason to embark on a planning process, of any sort, if there s not a desire that the future is different than today.
A strategic plan without a future state is like building a bridge to nowhere. Great leaders communicate [and overcommunicate] about where an organization is going and why. Plain and simple – you cannot be a great leader without a vision, destination, or future that is truly compelling. It's no easy walk in the park – developing a vision is a tough process often riddled with anxiety.
To help you build a vision statement that matters, we've created a guide that covers:
Why Vision Statements Matter
7 Point Checklist for a Great Vision Statement
Questions Everyone Asks
Visioning Canvas to Build Your Future State
*OnStrategy is committed to protecting and respecting your privacy, and we'll only use your personal information to administer your account and to provide the products and services you requested from us. From time to time, we would like to contact you about our products and services, as well as other content that may be of interest to you.
You may unsubscribe from these communications at any time. For more information on how to unsubscribe, our privacy practices, and how we are committed to protecting and respecting your privacy, please review our Privacy Policy.
By clicking submit below, you consent to allow OnStrategy to store and process the personal information submitted above to provide you the content requested.