What is a SWOT Analysis?
A SWOT analysis examines your organization's core Strengths, Weaknesses, Opportunities, and Threats in your competitive environment to help develop focus areas in strategic planning. Conducting a SWOT analysis creates a synthesized view of your organization's current state.
SWOT assessments help organizations understand their current state, help determine where to go next, and inform the strategic actions to achieve their desired future.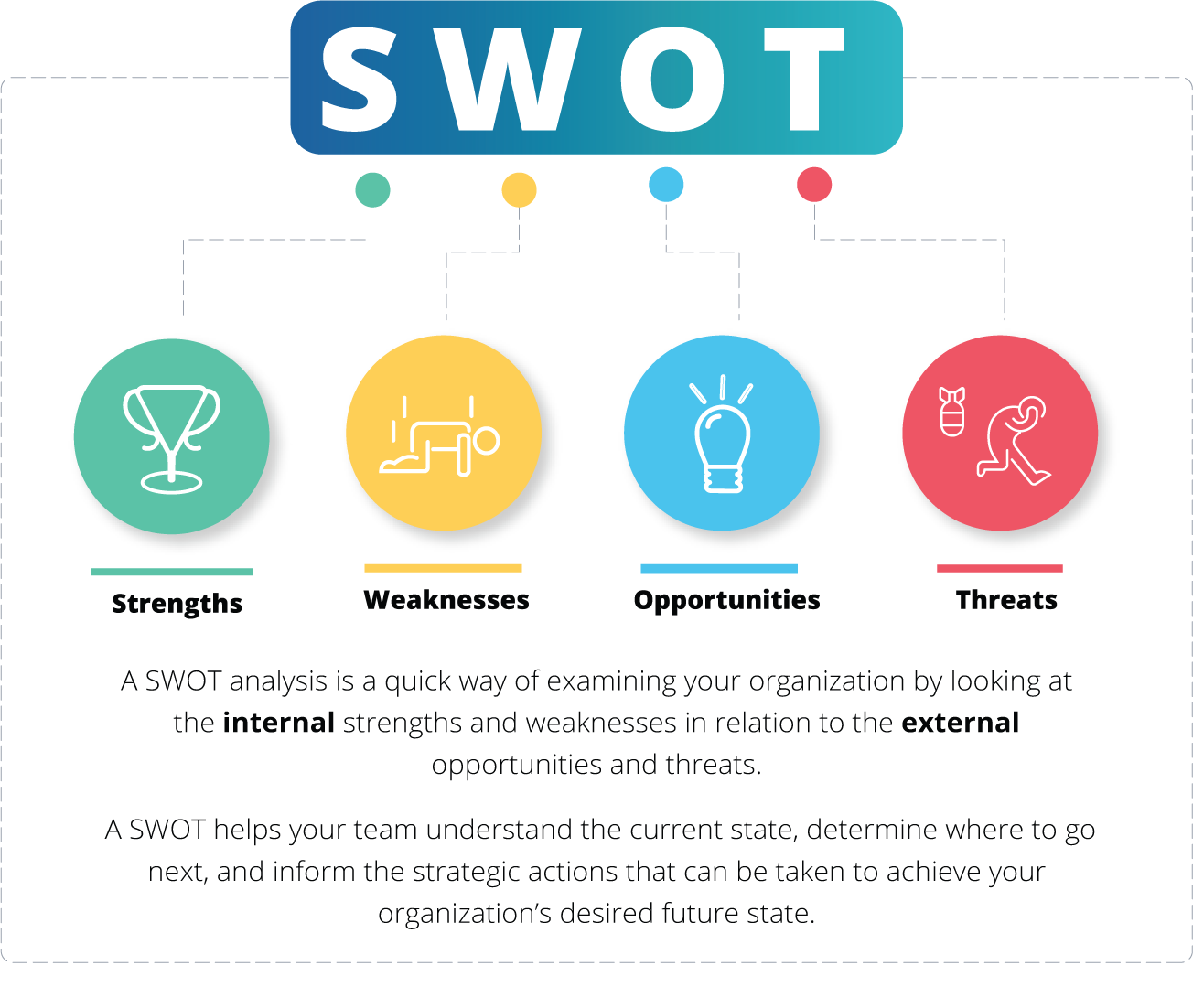 A good SWOT synthesizes and organizes data (objective) and expert insights (subjective) that summarize the current state. However, like any planning tool, a SWOT is only as good as the information it contains—it is crucial to engage multiple levels of the organization beyond the leadership team to understand the current state and source ideas for opportunities that help develop the future state.
The Structure of a SWOT Analysis
A SWOT analysis is traditionally set up in a grid format. Here's what it looks like in practice: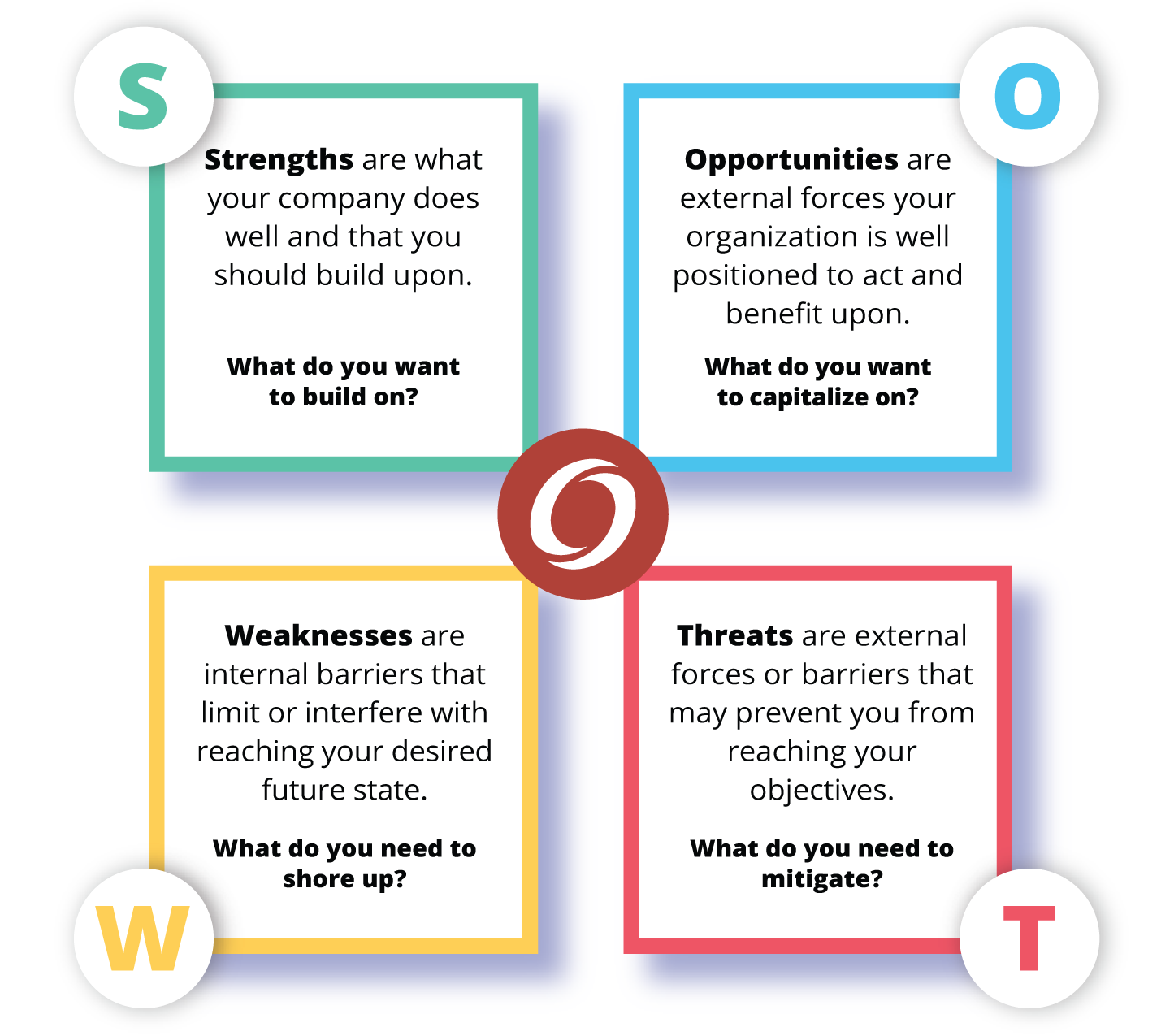 Strengths – Internal
Strengths refer to the core strengths your organization possesses today. These strengths represent what your company currently does well and should consider building upon for a stronger future.
Pro Tip:

Strengths are internal, meaning internal strengths coming from within your organization. What does your organization do well that you should capitalize on?
Get the Free Guide and Canvas to Create a SWOT Analysis
Weaknesses – Internal
Weaknesses are internal weaknesses that limit or interfere with your organization's ability to achieve its desired future state. These weaknesses are things your organization doesn't do well or needs to improve upon.
Pro Tip:

Weaknesses are also internal, meaning they are weaknesses that you need to shore up in your organization. What do you need to do better?
Opportunities – External
Opportunities are external factors that your organization is well positioned to act and benefit upon. Opportunities are realized if your organization decides to act upon them. These are often drivers of your growth strategies.
Pro Tip:

Threats often represent your vulnerabilities, which are sometimes out of your control. But what can you mitigate?
A Great SWOT Analysis Helps Answer These 3 Critical Questions
Completing a SWOT Analysis is essential for completing your current state assessment before your organization starts planning. Notably, a good SWOT will help our team answer three critical questions to help inform your growth strategy and where your organization needs to focus during planning.
Great SWOTs help answer the following questions:
How to succeed, and why?
A SWOT helps you understand what you're good at and what you need to work on. Identifying your strengths and weaknesses, paired with market opportunities, creates the foundation for what your organization needs to work on or capitalize on to see success.
What growth opportunities exist, and why?
As we mentioned, completing your SWOT analysis helps outline essential growth opportunities. You can follow this beneficial exercise to use your SWOT to identify and prioritize your growth opportunities.
How to serve your customers better, and why?
One of the outputs of your SWOT is identifying ways you can serve your customers better. Be it growing a strength, assessing one of your customer-facing weaknesses, or seizing a new opportunity, think about how you can best serve your customers.
Pro Tip:

Need help setting up your SWOT? Use this SWOT template with examples.
Internal vs External Forces
Internal – Strengths & Weaknesses
Strengths and weaknesses reflect internal dynamics that the organization can control. Therefore, when identifying strengths and weaknesses, it is equally important to consider internal factors that assist your organization in meeting customer needs (such as customer service) as it considers current markets' and customers' needs within your control.
As a rule, strengths are significant when they assist the organization in meeting customer needs. Conversely, weaknesses that deserve to be in your SWOT include those that might not be clear to your customers but negatively impact the experience customers have.
External – Opportunities & Threats
Opportunities and threats are external to the organization—things that can be influenced but not completely controlled. These two areas capture both present and anticipated conditions that will affect the organization.
Opportunities are conditions in the organization's favor that, if acted upon, could produce rewards. Think of current and new opportunities: what current markets could be penetrated more deeply, and what new markets could be waded into?
Threats are barriers that may prevent the organization from reaching the desired rewards. Consider threats in terms of social, technical, economic, and political factors and threats from competitors.
6 Tips for Building an Effective SWOT
#1 – Use data wherever possible instead of relying only on opinions.
Consider listing the current data gathered, delegating responsibility for gathering additional data, and populating the SWOT with "what the data tells you."
#2 – Write more than 1-2 words for each.
Use adjectives and descriptive nouns so that the planning team understands the context, e.g., instead of "recruiting" as a weakness, write as, "Time to fill vacant positions is 3 months."
#3 – SWOT entries should lead to action.
If the energy is taken to add something to the SWOT, consider the "so, what?" Is it something that can be leveraged and acted on, or would it make a difference? If not, there is no need to include it in your SWOT.
#4 – Identifying internal opportunities in the "Opportunities" section makes the assessment fall apart.
If internal opportunities MUST be identified (such as developing career paths for employees, procuring new software, etc.), sort the opportunities into two buckets: internal and external.
#5 – Engage multiple levels of the organization in brainstorming to source great ideas.
Build the SWOT with input beyond the executive team. Engaging managers and front-line staff in the process is critical to a comprehensive assessment of the current state.
What are the Alternatives to a SWOT Analysis?
There are several alternatives to conducting a SWOT analysis. However, each is designed to help create a complete analysis of your current state, including examining internal and external forces to help your organization identify growth opportunities and areas to improve upon. The alternatives include:
TOWS Analysis – This is the same acronym as SWOT, but backward. Instead of starting with internal strengths, you begin with external threats.
PESTEL (or PESTLE) stands for Political, Economic, Sociological, Technological, Legal, and Environmental forces. This analysis is a deeper dive into the external analysis portion of a SWOT, looking at the different external forces that might impact an organization. You can read more on PESTEL here.
Example SWOT
STRENGTHS
OPPORTUNITIES

We have a dedicated, highly qualified team of teachers and administrators with very little turnover.
We have a focus on community, and it is within our ethos as an organization.
We are very efficient if we set guidelines and provide clarity to our staff.
We don't have overhead waste. 90% of our funding goes directly to kids and teachers in the classroom.
We communicate with our parents and students like no other district – we are the example when it comes to community communication.
We have some of the newest schools in the district, creating a collaborative learning environment with some of the latest technology.

A new website would make communicating with our parents easier and faster.
There is a huge opportunity to redefine and set the standard for community engagement for school districts in our area.
Setting a clear direction will allow us to work together in a unified direction.
New mediums present – like social media, podcasts, or YouTube – present new ways to reach students and parents.
Population growth and new construction in our district is driving enrollment growth.

WEAKNESSES
THREATS

We are over-processed and spend too much time in meetings.
We do not collaborate well between departments.
We operate in silos, and that can create barriers to collaborating.
We have very dated back-end technology, including our email systems and curriculum management.
We only have one means of communication to parents – a weekly newsletter and call.

COVID-19 has pushed many students into permanent virtual learning.
The political environment is putting pressure on our board and Superintendent during public meetings.
Other areas of the city are growing as well, and that threatens our enrollment levels due to school choice.
Loss of funding at the state level.
SWOT FAQs
Q: What are Strengths in a SWOT analysis?

A: Strengths refer to the core competencies your organization possesses today. They represent what your organization does well and needs to build upon to create a better future.
Q: What are Weaknesses in a SWOT analysis?

A: Weaknesses are internal weaknesses that limit or interfere with your organization's ability to achieve its desired future state. These weaknesses are things your organization doesn't do well or needs to improve upon.
Q: What are Opportunities in a SWOT analysis?
A: Opportunities are external factors that your organization is well positioned to act and benefit upon. Opportunities can be realized if your organization decides to act upon them. It's important to remember that opportunities are external forces, not opportunities within. They're market opportunities. These are often drivers of your
growth strategies
.
Q: What are Threats in a SWOT analysis?

A: Threats are external factors that might limit your organization from reaching its objectives or goals. Threats are external factors outside your organization, like competitor trends, economic trends, or social trends.
Q: What is the most challenging part of the SWOT analysis?

A: The most challenging part of your SWOT analysis is looking at your internal and external data to decide what indeed are your strengths, weaknesses, opportunities, and threats. We recommend looking at objective data to help make these decisions. Opinions can be great, but they shouldn't be the foundation of your SWOT.