Free SWOT
Assessment Guide
This FREE guide will help you complete a SWOT Analysis, synthesize it into Competitive Advantages, and build SMART Goals.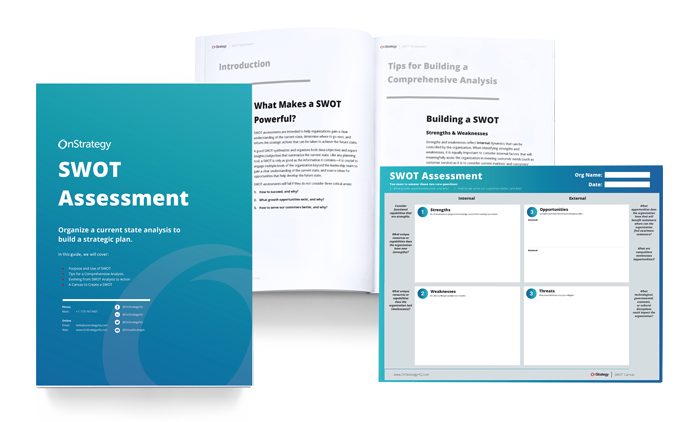 SWOT assessments are intended to help organizations gain a clear understanding of the current state, determine where to go next, and inform the strategic actions that can be taken to achieve the future state.
A good SWOT synthesizes and organizes both data (objective) and expert insights (subjective) that summarize the current state. In this guide, we will cover:
Purpose and Use of SWOT
Tips for a Comprehensive Analysis
Evolving from SWOT Analysis to Action
A Canvas to Create a SWOT
A Canvas to Outline Competitive Advantages and SMART Goals
*OnStrategy is committed to protecting and respecting your privacy, and we'll only use your personal information to administer your account and to provide the products and services you requested from us. From time to time, we would like to contact you about our products and services, as well as other content that may be of interest to you.
You may unsubscribe from these communications at any time. For more information on how to unsubscribe, our privacy practices, and how we are committed to protecting and respecting your privacy, please review our Privacy Policy.
By clicking submit below, you consent to allow OnStrategy to store and process the personal information submitted above to provide you the content requested.