Refresher on SWOT Analysis
A SWOT analysis examines your organization's core Strengths, Weaknesses, Opportunities, and Threats in your competitive environment to help develop focus areas in strategic planning. Conducting a SWOT analysis creates a synthesized view of your organization's current state. Read the full introduction on SWOT analysis here!
SWOT Analysis Template Grid
Use the template below as the structure for your SWOT grid. You can arrange it as you like, but we recommend the format below because it's easier to see which are internal forces (strengths and weaknesses), and which are external forces (opportunities and threats).
If you need help developing your SWOT analysis, read the 5 steps to completing a SWOT analysis here and download the free SWOT guide and canvas!
Pro-tip:

Remember that strengths and weaknesses come from internal data sources and insights. Opportunities and threats come from external forces and data.
Internal Forces
(Internal Data)
External Forces
(External Data)

Strengths

What you do well that you need to build upon.

What does your organization do well that you should capitalize on?

Opportunities

External forces your organization is well positioned to act upon.

Where can you grow and what market opportunities can you take advantage of?

Weaknesses

Internal factors preventing your organization from reaching your goals, objectives, or vision of success.

What do you need to shore up?

Threats

External forces threatening your organization.

What do you need to watch out for or mitigate?
Get the Free Guide and Canvas to Create a SWOT Analysis
SWOT Analysis Template Statement
After you've structured your SWOT grid, reviewed the questions you need to answer, and gathered your internal and external data, you can begin identifying your strengths, weaknesses, opportunities, and threats.
As you identify each, we recommend your team spend a few minutes writing each statement to include the following elements.
A Label
We recommend starting with a simple label on each SWOT statement so you can easily skim through your SWOT to see the themes or areas you need to focus on in a single glance. It is helpful as you start to identify what from your SWOT will become core pieces of your strategic plan.
EG – Shipping: – Marketing: – Financial: – etc.
The Attribute
Articulate what the strength, weakness, opportunity, or threat is.
EG – High shipping error rate, A strong social presence, or New product fit opportunity.
The Impact
State the impact on your business. How does each attribute impact your finances, people, customers, product, or market?
EG – Creates a poor customer experience.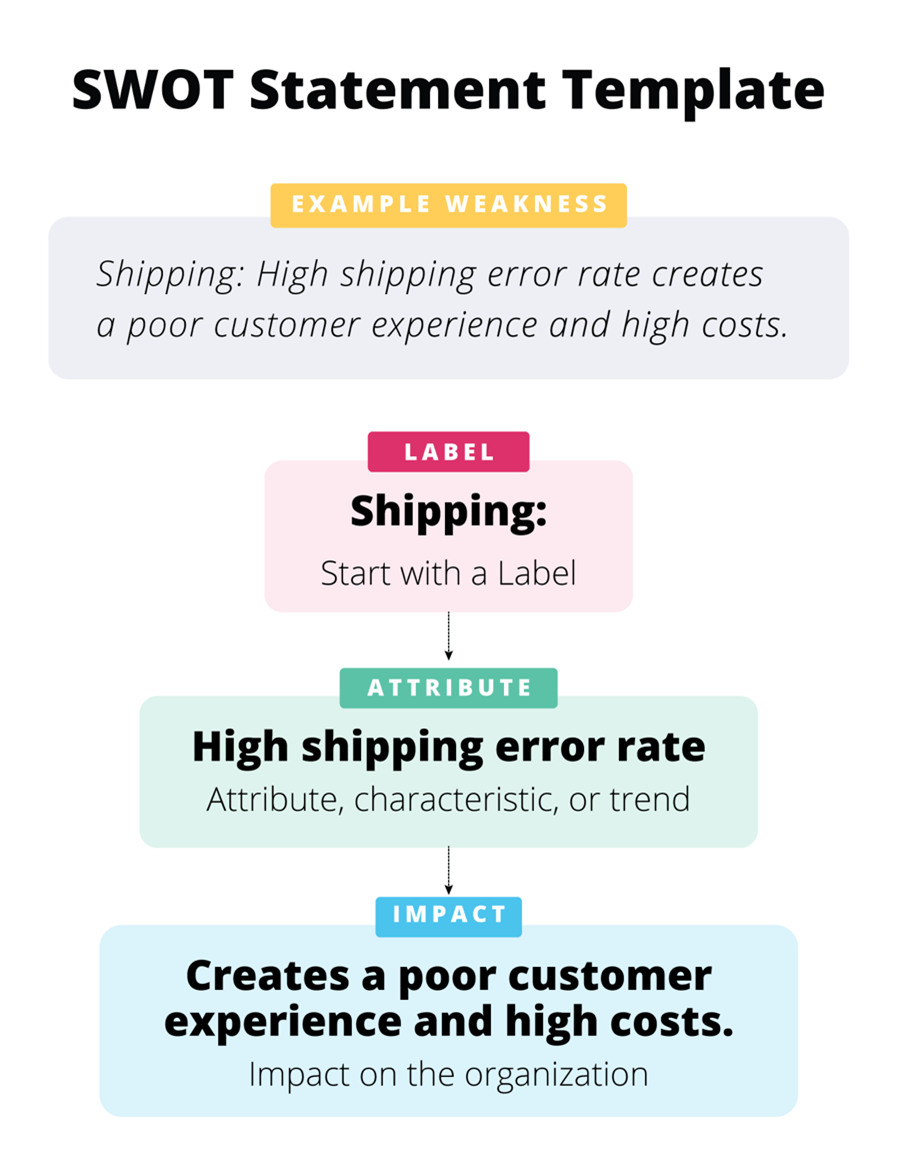 SWOT Analysis Template Download
Need help building your SWOT analysis? Download our free PDF guide and template to build your SWOT with ease!
SWOT Analysis Examples
SWOT Example for a Governmental Tourism Agency
Strengths
Opportunities

Exposure: Large internal reach because of big theme park attractions, which makes attracting new customers easy.
Partnerships: We have powerful international partnerships that extend our reach to the EU.
Accommodations: We have some of the best-rated accommodations rated worldwide, which creates flexible stay options for tourists.
Marketing: We have a distinct social media and marketing brand that has been featured in PR/ad journals as the example for destination marketing.

Growth in Tax Base: Growth in tax base will increase our budget by 10% year-over-year in the next 2-3 years.
Consumer Spending: Pent-up vacation spending post-pandemic is creating a larger average consumer spend per visit.
New Products: New hotels and event spaces have opened the opportunity to add event and convention marketing to our portfolio and focus.
Airlines: Growing airline routes to our destination open the opportunity to market in net-new markets.

Weaknesses
Threats

Transportation: Consumers commonly state lack of transportation or ease of transportation as a barrier during their stay.
Food: Not enough culinary experiences are available to meet the demand for tourism in the region.
Marketing: We need to develop deeper partnerships with tourism attractions to create integrated campaigns together.
Marketing: Not enough prioritization on which markets we should focus on. Spreading the marketing efforts too thin across too many markets is ineffective.

Affordability: Prices in the region have increased the cost of the average vacation by nearly 20%.
Competition: Other destinations and types of tourism marketing are fighting for the same attention as our consumers.
Natural Disasters/Climate Change: Increased serious weather events are beginning to limit the tourist season at different times of the year.
Overpromotion: Overpromotion of large theme parks and attractions is over-saturating the consumer market.
SWOT Analysis Example for a Software Company
Strengths
Opportunities

Global Brand Recognition: A global brand with a recognizable logo makes it easier to convert new business and gain consumer trust.
Workforce: We attract and retain a skilled, motivated, and experienced workforce that helps create the best product for our customers.
Community: A strong presence in our local community creates a great work culture and a positive impression of our brand.
Product: Industry-leading products and technology add value to our customers' lives every day.
Customer Satisfaction: A high level of customer satisfaction makes it easy to retain customers and grow total contract values.

Social Media: Shifting consumer behavior makes a strong social media brand extremely important.
Product Fit: Some of our current product sets are well positioned to meet the needs of emerging markets if we shift our pricing and sales approach.
Labor: Adding additional development teams can add capacity to help us develop quality products for less.
Consumer Behavior: Shifts in consumer behavior make having quality 3rd-party customer reviews more important in buyer decisions.
Marketing: Tech reviews and influencer advertising is opening new doors for customer acquisition in this industry.

Weaknesses
Threats

Product Marketing: Incompetent product marketing especially in new markets.
Portfolio: Too much of organization's sales is dependent on 1-2 major products in conquered territories.
Product Marketing: Adoption of newly launched product offerings aren't successful because product marketing is incomplete or ineffective.
Operations: Only 50% of products reach the market on-time and on-budget.
Marketing: Compared to the competitive set, a lack of online reviews creates a barrier when customers cross-shop our product.

Counterfeit Product & Feature Theft: Creation of counterfeit and similar products especially in the emerging markets and low-income markets.
Data Privacy Regulations: Regulations in data and privacy could majorly impact how we store and use customer data.
Cyber Attacks: A Rise in cyber crime is a major global issue and could impact our organization.
Competitors: Investment into competitor platforms is creating a more competitive environment to compete in.
SWOT Analysis Example for a Manufacturing Company
Strengths
Opportunities

Supply Chain: We have a network of reliable raw material producers that protect us from supply chain issues.
Global Sales: We perform well in global vehicle sales, which helps create a strong brand presence.
People & Robotics Automation: Ability to maximize the productivity of workers and machines to create quality products with efficiency.
Customer Satisfaction & PR: We have a community of loyal brand enthusiasts that tell our brand story.

Market Shift: Increasing global market demands for automated vehicles.
Market Shift: Increasing global demand for vehicles with electrification and zero emissions.
Marketing: Sponsorship opportunities in racing can significantly increase brand awareness, especially in racing like Formula 1 or other series that require electrification.
Production: Investing in manufacturing facilities overseas could reduce shipping costs and taxes in different geographies.

Weaknesses
Threats

Price: Products are only affordable to higher household incomes.
Operations: High overhead costs are being driven by manufacturing inefficiencies.
Product: Small portfolio of product lacks diversification and exposes risk.
People: We have a high turnover rate for employees that have been with the company for under 1 year.

Supply Chain Prices: Geo-political events are driving the price of material much higher than previously seen.
Regulation: Unexpected governmental or transportation policies that could threaten our production facilities and tax incentives.
Global Competition: The competitive environment in vehicle electrification could bring hot new competition to our marketplace.
SWOT Analysis Example for a Hospital
Strengths
Opportunities

Reputation: A renowned healthcare provider that has served the community for nearly a century.
Mobile Care: Mobile care network advantage especially in catastrophic emergencies.
Staffing: Has the most advanced and highly-trained medical professionals in the entire state.
Teaching Hospital: The hospital runs a standard medical training system for medical students and helps feed the acquisition of qualified medical professionals.

Competition: Small geography and population have created little competition or market opportunity for competition.
Telemedicine: The drive for telemedicine creates an opportunity to better serve patients with a smaller overhead cost.
Technology: Advances in hospital technology make it faster, easier, safer, and more economical to give patients the best care for less money.
Technology: Advances in hospital management software make running healthcare facilities more efficient.

Weaknesses
Threats

Technology: Dated technology is creating friction for healthcare professionals and errors in billing codes.
Staffing: Low retention is creating staffing issues, especially in times of emergency or increased need.
Pharmacy: Tight funding has created a limited onsite pharmacy and impacted patient care.

Staffing: Covid and its impacts have created lasting impacts on healthcare workers and staffing.
Population: No population growth creates little opportunity for expansion in our current geography.
Telemedicine: New and increased competition in healthcare services with other organizations using Telemedicine.
Staffing: Improved scouting method means doctors can be offered better compensation in other hospitals.
SWOT Analysis Example for a National Non-Profit
Strengths
Opportunities

Clear Mission: A clear mission and vision that helps attract volunteers and donors.
Diverse Income: We have a diverse income set that allows us to focus on our mission.
Relationship: The leadership has an excellent reputation and good relationship with the government, community, and other leaders that help further our cause in the community.
Social Media: A notable social media presence that can attract potential donors.

Government Funding: Governmental policies have increased funding available for non-profits in our space.
Cross-Organization Collaboration: Increased needs has grown the number of non-profits in our space that we can collaborate with.
Title Sponsorships/Growth: Marketing or sponsoring events that align with the mission of the non-profit.
Increased Need: The shift resulting from the pandemic provided a critical increased need for support. This isn't positive, but we are well positioned to help the community.

Weaknesses
Threats

Events: Our fundraising events aren't efficient enough and require too much overhead.
People: A relatively small workforce is needed to get work done; burnout, fatigue, and employee turnover is occurring.
Communication: Inconsistent external communication with donors due to a lack of process.
Technology: Compared to other organizations, our technology set is behind and hindering efficiency.

Demand: The increased demand for non-profits has created unprecedented pressure and constraint on resources.
Wages: Shifting labor markets make it difficult to hire staff at competitive wages.
Real Estate: Real estate shifts have made renting and leasing space almost out of reach.