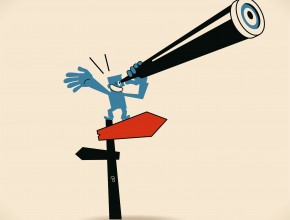 Use your vision statement to inspire daily decisions
Building an effective strategic plan is much easier when the vision and mission of an organization is clearly understood.  When talking about both, the conversation can quickly become quite passionate, and it should.  Both tap into an organization's reason for being, and beyond what these statements mean for customers, they are the glue that binds employees to the larger cause and gives insight on proper approach for strategy execution.
In an economic environment of uncertainty, risks seem to proliferate into areas of decision-making at more levels. Everyone wants to protect the company and their jobs. Yet, sometimes taking risks yield the development of an opportunity. Employees who understand the vision and utilize the direction of the mission in their work can make better decisions… not based on fear, but based on the purpose-driven work woven into great vision and mission statements.
So, by a course of habit when explaining the esoteric, we will use an analogy. The vision (turn the V upside down) is the apex, marking your destination of the future. It is the Everest of mountains: A Big, Hairy, Audacious Goal (BHAG) for most of us, and I think everyone would agree that unless you knew how to judge routes, use ladders, and rely on ropes, you would never ever attempt that climb. This is where the mission provides wisdom for choosing the right routes and tools to transverse and overcome obstacles along the way.
Employees are your expedition team in this journey. They need to understand that the destination is not base-camp. For your very survival, this kind of trek is not to be passively experienced; it requires keen observation and perseverance. This translates into the way decisions need to be made for companies, not from a passive approach but one of determination toward a BHAG. A company's long-term survival rests on the collective impact of these strategic actions.
So, if you haven't figured out a way to demonstrate strong support to the inspirations contained within your organization's visions and mission, the time is now. Motivate your employees to exercise the guidance contained within your mission statement. Get them emotionally engaged with the splendor (yes, splendor!) of your vision, and watch how your strategy execution finds more refined direction and intent.
---