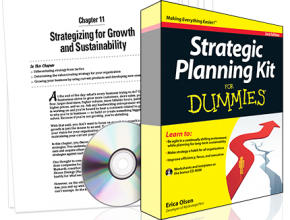 We're delighted to unveil our Second edition, the Strategic Planning Kit For Dummies. We wrote this book from our experience helping fortune 500 companies, non-profits and churches create and execute their strategy, and we're happy to share our insight with you.
This business climate has dramatically increased the use of strategic planning, and it has become the most popular management tool according to a 2011 survey (Bain & Company, "Management Tools & Trends 2011"). Companies that never thought of strategic planning—like small businesses and non-profits—are discovering they need it in order to survive. And those who have done strategic planning before, are now using those same tools to move beyond "just subsisting" to growing. It's become an increasingly vital tool because it focuses an organization's ability to respond successfully to changes and plan for sustainable viability.
In the newly published Strategic Planning Kit For Dummies, 2nd Edition, author Erica Olsen explains how organizations and entrepreneurs can make strategy a habit and, in turn, improve efficiency, focus, and competitive edge.
The new edition includes:
A new CD/digital component, complete with downloadable spreadsheets, charts, checklists, and video links.
New and updated content on planning for both short and the long-term
Crucial information on how to successfully execute against your strategic goals
Help preparing for the unexpected using scenario planning and agile strategy
Strategies for implementing change and integrating strategic plans successfully by involving all staff members
If you've read our book, please share your thoughts here on Amazon.com.