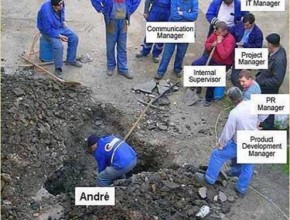 We recently had this picture circulate around the office and wanted to share it with our newsletter subscribers for a good laugh.
"We might just have to lay off Andre."
It's something we've all seen. When the going gets tough and it's time to look for ways to cut back, everyone will always look to point fingers to save their seat. The sad part is the people who do the hard ground work within an organization are put on the chopping block first.
So, how do you combat this notion? We don't like to say, "I told you so," but a good strategic plan is a great solution. A great strategic plan will give you a better pulse on your organization and help you identify what (and who) is working well and what isn't.
The bottom line: use strategy as a window into the inner workings of your organization to see who's really making an impact.