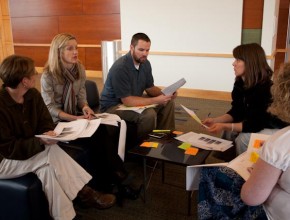 A facilitator can make or break a strategic planning retreat. By using an experienced facilitator in the right situations, you will almost certainly accomplish more in your meetings, delve deeper into critical issues and resolve them. Equally important, participants will leave with positive feelings, stronger cohesiveness, a sense of accomplishment, and a renewed belief in the team. Here are some tips from the American Institute of Architects on hiring a facilitator which could be applied to hiring a facilitator in any industry.

Selecting a Facilitator for Your Strategic Planning Retreat
By Frank A. Stasiowski, FAIA
Most design firms that have tried both internal and outside facilitators have found the presence of a well-qualified outsider is essential to keep participants objective and on track. Of course, having an outside facilitator doesn't guarantee the success of your plan, but not having one can almost guarantee that you won't achieve the thorough, objective, imaginative thinking required to create an effective strategy.
Why Hire an Outside Facilitator?
Strategic planning discussions can be painful and difficult. They involve personal values and goals, deeply held beliefs about the nature of the firm and where it's going, and maybe different perspectives on the marketplace. Some principals may have values or goals that conflict with those of other key members of the firm.
All this can reduce the team's ability to take the objective, long-term overview that strategic planning requires. And unless differences are dealt with carefully and openly, they can result in dissension that subverts the strategic plan.
Added to these complexities are the networks of interrelationships among people who have been working together for some time, comfortable (or uncomfortable but at least familiar) behavior patterns, and knowledge of how the firm has done business in the past. Also, some people in the session are bound to perceive that their careers depend on how they relate to some others.
An outside facilitator carries none of this baggage. He or she can look at the firm, the management team, and the strategic planning process objectively. An outside facilitator can say things like "that's habit talking" or "you're rationalizing," and can make sure that some people don't dominate the discussion. A facilitator knows how to keep the discussion on track while taking everyone's concerns into consideration.
What Happens If You Don't Hire Someone from Outside?

Some firms try to do their strategic planning entirely with their own people. Maybe they have an executive who is known for objectivity and fairness and they invite him or her to be the facilitator.
Here's what often happens:
Strategic discussions break down into nonstrategic, operational issues
Participants tend to look back, into the company's history, rather than forward
The discussion gets stuck in mundane issues and detail, as opposed to focusing on the big picture
Participants don't engage in "out-of-the-box" thinking
The internal facilitator cannot facilitate fully, for several reasons
The process doesn't result in specific action items or a way to assure the planned actions really take place.
Selecting a Facilitator
To identify the best facilitator, start with a short list of three qualified candidates. Rank the candidates based on an interview and reference checks. Criteria to evaluate the candidates should include
An understanding of the architecture/engineering industry
Experience with multiple architecture/engineering firms
An ability to articulate key strategic concepts
An ability to provide strategic direction
An ability and willingness to tackle "sacred cows"
An ability to focus on strategic issues and not get bogged down in operational details
An ability to keep the meeting moving toward a successful conclusion.
Checking References
Unless you have had previous experience with the facilitator or you trust the person who recommended the facilitator, it is essential that you check the facilitator's references. Some questions you might ask references include
How did you like working with the facilitator?
Would you describe the type of strategic planning that was performed for your firm?
How many people in your firm were in the planning session?
Did you get the results you wanted?
If you could coach this consultant/facilitator on how to make his/her work more effective, what would you tell him or her?
How does this facilitator compare to other facilitators you've used?
Would you use the facilitator again?
Frank A. Stasiowski, FAIA, is president of PSMJ Resource Inc., a consulting firm for architecture/engineering professionals worldwide. Inquiries may be directed to stasiowski_psmj@msn.com.
Click here for additional information on hiring a facilitator.
---