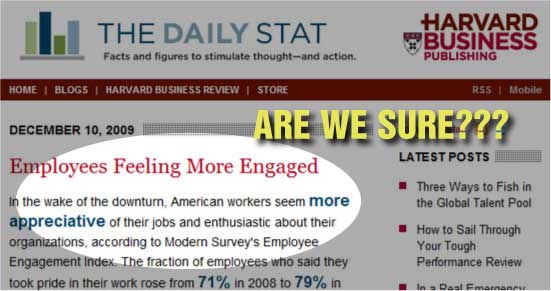 Harvard Business Publishing recently posted the results of an employee survey to their Daily Stat blog, claiming that employees are more appreciative and enthusiastic about their jobs than a year ago. From 2008 to 2009:
Employees who take pride in their jobs rose from 71% to 79%
Those who recommend their employer rose from 53% to 58%
Since OnStrategy is frequently used as an employee engagement tool or performance management software, we take a close look at the general level of engagement found across the US. But just like the writers at the Be Excellent blog, I question whether these findings truly indicate a more engaged workforce.
During the recession, with jobs being scarce, it stands to reason that employees would take pride in their jobs; they actually have jobs, unlike many of their unlucky neighbors.
…And about whether they'd recommend their employer, with so many people out of jobs, almost everyone has a friend who has asked for help looking for employment. If a job opens up at someone's place of business, they're far more incentivized to tell their friends about it than they were when jobs were plentiful.
With other recent reports and pundits warning that a recession recovery will present challenges in employee retention, I don't believe Harvard's rosy take on their daily stat should be a signal to employers that their people will stay put.
More than ever, it's time to make sure that your people are engaged, that they see where they fit in your organization and they know how you plan to get where you're going- together.
---