In this post, we will cover the basics on what are core values and examine 40 examples we love.
What are core values?
Your core values define how you want the people in your organization to behave. Together with your mission and vision statement, they are a foundational part of your organizational structure. They articulate the underlying beliefs and purpose that each member of your organization is committed to embodying.
Because of their importance, values are often treated like mission statements, vision statements, and other elements of organizational strategy. However, it's essential to recognize that, in many ways, values need to be their discussion.
As management guru Peter Drucker famously stated, "Culture eats strategy for breakfast." No matter how effective your strategy is, it cannot outperform a weak company culture — and the heart of your organization's culture is its core values. That's why we believe and advocate the philosophy outlined in Change the Culture, Change the Game by Roger Connors and Tom Smith. There must be a dedicated process to developing and periodically refreshing your organization's core values with the input of its members.
Your core values are the beliefs and behaviors that you consider non-negotiable, and that apply to every single person within your organization. They guide and inform your strategic plan as well as your day-to-day operations.
Video Transcript – What are Core Values (With Examples)
Hi, I'm Erica Olsen with OnStrategy. Today's whiteboard video is on core values, core values answer the question, how will we behave in the context of the strategic planning process, you often hear, hey, we're going to work on mission vision values. So we made this whiteboard video to help that piece of your strategic planning process.
But before we go too far, I just kind of want to call out a really important point. And that is just because we say mission vision values, doesn't mean you need to define your values as part of your strategic planning process. If you don't have them, and you're starting from scratch, I would highly recommend that you take values and you put them into a dedicated process and work on that by itself. And a really great process that we love is from change the culture, change the game, check it out, it's awesome.
If you have a set of values, and you just want to refresh them, then absolutely include them in your planning process. So with that, let's talk about what makes up a good core value, the components of it how you know, you did it right and how you put it to use. So here is our anatomy of a core value. We love labels before the colon, a value as a noun, in this case, respect and authenticity, awesome.
We start with a verb in present tense, we believe in the value, connecting to the heart of the matter is something that again, isn't like whatever everybody could replace it here, but just something that's a little unique to you and your organization connecting to the heart of the matter. And the behavior you expect in this case, by listening respectfully, and acting authentically.
The most important part of values is this piece, what is the behavior that's expected? We are saying that this is how we're expecting everybody in the organization to behave. So that's a great core value, we believe in connecting to the heart of the matter by listening respectfully and acting authentically. Ideally, you would have maybe five to seven values, maybe less, maybe three.
Something people can remember. Yes, Zappos has, like 12, that's good for them. But we recommend less. Another thing when you're thinking about, did we get it right? They should be your non negotiables. Meaning absolutely everybody should behave this way in your organization, you would stand by them no matter what happens, no matter what no matter what. And as I said before, the behavior is clear. Awesome.
So now that you have your core values, or you've refreshed them, and just a consideration if you are refreshing them, consider putting them in a survey in the first phase of your planning process to get feedback on people's perspective on what does it look like when we were behaving with this core value? Great question.
How do we put it to use publish them, of course, right? Maybe posters, maybe on your intranet, maybe at the bottom of your CIG block, depending upon where you want to see them. Importantly, reinforcing them, I like to reinforce them at the beginning of every staff meeting, maybe pick one, maybe call out where you saw a value in practice the week before, super powerful.
And then last but not least, and this is from change the culture, change the game, establish intentional experiences that reinforce a core value. So experiences in your organization that reinforce in this case, respect and authenticity. So with that, that's a quick overview of values.
You know how to get it right and construct ones that are really going to make a difference in your organization. Don't forget, Peter Drucker said, culture eats strategy for lunch. And he's right. So this matters tremendously. Make sure you pick the right part of the process to build out yours. With that. Thanks for tuning in. Subscribe to our YouTube channel. download the white paper for more information on core values. Happy strategizing.
What do core values answer?
Ask these questions to help you uncover your organization's core values:
What key non-negotiables are critical to the success of the company?
What guiding principles are core to how we operate in this organization?
What behaviors do you expect to see from the team?
What are you willing to stand by, even if it costs clients or revenue?
5 tips to develop your values:
Keep the list of values to between five and seven. Some organizations, even well-known ones, have a longer list of values. However, we recommend no more than five to seven. In fact, you might find that you have even fewer. Keeping the list short ensures that the values you choose will be memorable and authoritative.
Create phrases, but not paragraphs. Again, we're looking for memorable values. Concise statements are better than lengthy descriptions of desired behaviors.
Make these values specific, not generic. Although it should be brief enough to be memorable, a core value needs to be specific enough to be actionable. This means that a single word, like "respect," won't be enough on its own to guide and inform your strategy and culture. There is a balance between brevity and specificity.
Values need to be shared. While you don't need consensus from everyone in your organization, you do need agreement from senior leadership. Gather input through surveys and whiteboard sessions as you develop your organization's company core values.
If it's already stated in your mission, do not repeat it. Though there might be some overlap in language, try not to repeat content unnecessarily. Each of these foundational elements must be unique in order to be effective and appreciated, so avoid redundancy whenever possible.
Get the Free Guide to Identify and Live Your Values
The Values Cheat Sheet
Download this handy cheat sheet as you work on developing your organization's values!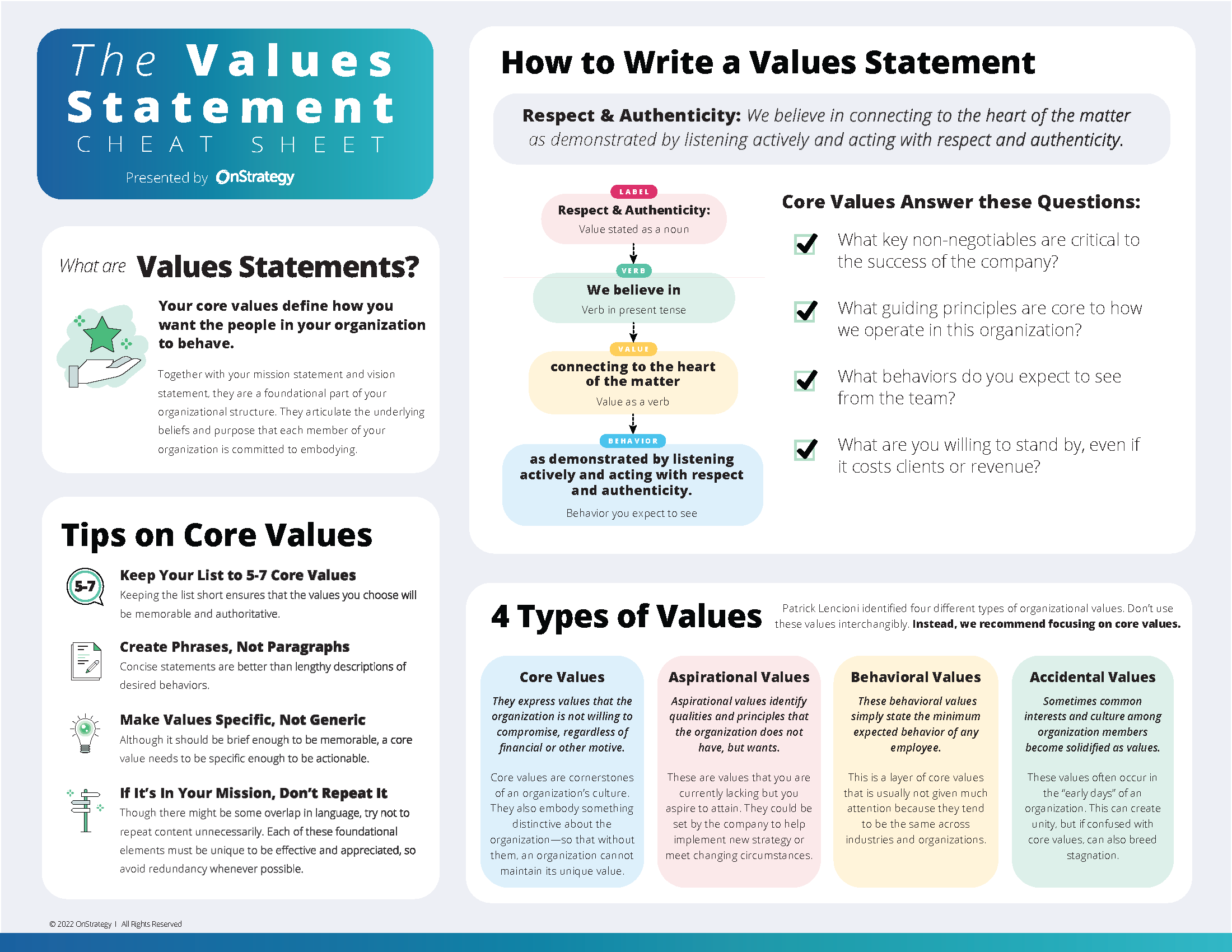 Creating Your List of Core Values Statements
We recommend a simple, straightforward structure for core value statements that balances concision (for memorability) and specificity (for actionability).
First, state the value in noun form (respect, sustainability, communication, etc.). This makes your core value easy to remember and envision.
Then, follow up the noun form with a statement that begins with a verb (in the present tense, because these values are perennial) and includes the value in a verb form (to connect it to specific action), followed by a description of the specific behavior you want to see.
This outline offers a consistent, concise, and specific structure that still allows flexibility to adapt to the distinctiveness of your core values.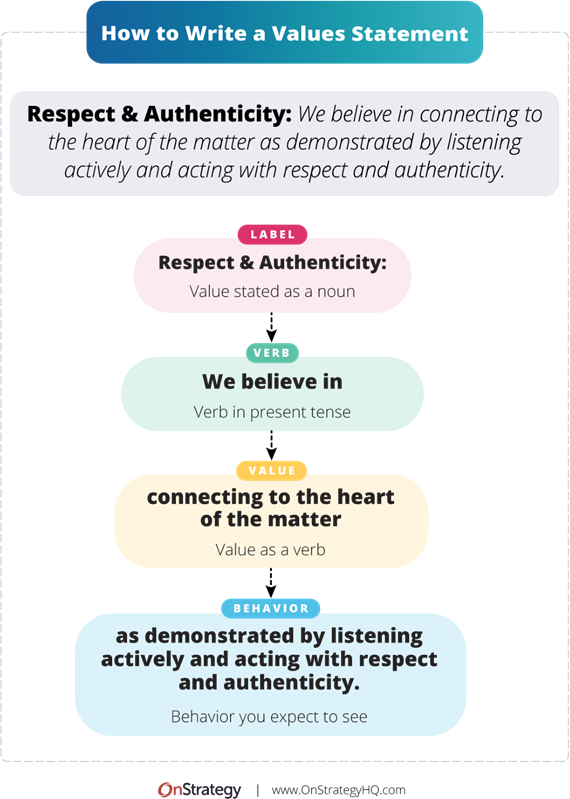 What are the 4 types of values?
Patrick Lencioni insightfully identified four different types of organizational values. When core values are mistaken for other types of values, management can seem out of touch.
Core Values
Core values are cornerstones of an organization's culture. They express values that the organization is not willing to compromise, regardless of financial or other motive. They also embody something distinctive about the organization — so that without them, an organization cannot maintain its unique value. Core values run deep into the fabric of all the organization's work.
Aspirational Values
Aspirational values identify qualities and principles that the organization does not have, but wants. They are values that you are currently lacking, but you aspire to attain. They could be set by the company to help implement new strategy or meet changing circumstances. In any case, they do not have the inherently defining and unchanging nature of values.
Behavioral Values
There is a layer of values that is usually not given much attention because they tend to be the same across industries. Rather than defining the key, distinctive values of a particular company, these behavioral values simply state the minimum expected behavior of any employee. For example, not misrepresenting information would be considered a behavioral value because it is generic and describes the "bare minimum" desired behavior.
Accidental Values
Sometimes, especially in the early days of an organization, common interests and culture among organization members become solidified as values. This can create unity, but if confused with values, can also breed stagnation.
40 Core Values Examples
Now that we have a clear idea of what core values are (and what they are not), as well as why they are so critical, let's take a look at some examples of core values from a few recognized organizations You'll see values from several types of organizations included—global private corporations, national non-profits, and others. We also wanted to share our own core values here at OnStrategy.
Notice that each organization takes a slightly different approach to its values, and not all of them exemplify each of our recommendations (for example, length). However, what they share is commitment and distinctiveness. It is clear from each of these statements that these companies view their core values as all-encompassing and unbreakable.
Values Examples – Zappos
Embrace and Drive Change: Part of being in a growing company is that change is constant.
Be Humble: While we have grown quickly in the past, we recognize that there are always challenges ahead to tackle.
Pursue Growth and Learning: We think it's important for employees to grow both personally and professionally.
Passionate and Determined: Passion is the fuel that drives us and our company forward.
Values Examples – Patagonia
Build the best product: Our criteria for the best product rests on function, reparability, and, foremost, durability. Among the most direct ways we can limit ecological impacts is with goods that last for generations or can be recycled so the materials in them remain in use. Making the best product matters for saving the planet.
Cause no unnecessary harm: We know that our business activity—from lighting stores to dyeing shirts—is part of the problem. We work steadily to change our business practices and share what we've learned. But we recognize that this is not enough. We seek not only to do less harm, but more good.
Use business to protect nature: The challenges we face as a society require leadership. Once we identify a problem, we act. We embrace risk and act to protect and restore the stability, integrity, and beauty of the web of life.
Not bound by convention: Our success—and much of the fun—lies in developing new ways to do things.
Examples – Volunteers of America
Teamwork: Together, as a team, we can achieve what individuals cannot. Our individual strengths energize our joint efforts to improve the lives of the people we serve.
We are richer and stronger because of our diversity, and we promote an environment that offers dignity, understanding, and compassion in order to reach and empower all.
Accountability: We hold ourselves personally and collectively responsible to do right and adhere to ethical principles in an environment of openness and honesty.
Communication: We are committed to the timely and transparent exchange of information and ideas and encourage respectful interaction through listening, understanding, and assumption of positive intent.
Customer Service: We strive for the highest standards in all we do and seek continuous improvement through feedback from our partners and those we serve.
Company Values Examples – OnStrategy
Respect & Authenticity: Connecting to the heart of the matter. We listen actively and act with respect and authenticity.
Teamwork: Tribal spirit. Cohesive spirit that permeates our people-focus: family, team, clients, and partners.
Purpose & Impact: Make a difference. We approach everything with passion and purpose and know our work is bigger than ourselves.
All In – In Everything We Do: We do our best with excellence in everything we do.
Forward Thinking: Challenge the status quo. Continually pursuing innovation, not for innovation's sake, but for the sake of propelling our clients and our work forward.
Enjoyable Work Environment: Perfect storm. Energizing atmosphere that nourishes a balanced personal/professional soul.
Teaching Organizations to Fish: Passing the torch of mastery. Our expertise transfer allows for sustainable strategic management.
Core Values Examples – Salesforce
Trust: We act as trusted advisors. We earn the trust of our customers, employees, and extended family through transparency, security, compliance, privacy, and performance. And we deliver the industry's most trusted infrastructure.
Customer Success: When our customers succeed, we succeed. So we champion them to achieve extraordinary things. We innovate and expand our business offerings to provide all our stakeholders with new avenues to achieve ever greater success.
Innovation: We innovate together. Our customers' input helps us develop products that best serve their business needs. Providing continual technology releases and new initiatives gives our customers a competitive advantage.
Equality: Everyone deserves equal opportunities. We believe everyone should be seen, heard, valued, and empowered to succeed. Hearing diverse perspectives fuels innovation, deepens connections between people, and makes us a better company.
Sustainability: We lead boldly to address the climate emergency. We are committed to bringing the full power of Salesforce to accelerate the world's journey to net zero.
Examples – Ford
Put people first. We are a company driven by purpose. Whether it's our customers, employees, partners, or communities, we obsess about the wants and needs of people to drive human progress.
Do the right thing. We begin with the belief that trust in our brand, and in each other, comes from acting with integrity and transparency. We foster safe, inclusive work environments that create freedom to be our whole selves and do our best work.
Be curious. We approach the world and each other with a sense of interest and wonder. We are humble enough to know we can learn from every situation, and actively question to understand and think critically.
Create tomorrow. We cultivate meaningful change to optimize today and create tomorrow. We look ahead in our focal length and bring clarity to the future. We solve problems creatively, accept risk, and experiment boldly.
Built Ford Tough. We accept challenges and overcome them with confidence, courage, and optimism. We put the world on wheels, embracing disruption to evolve. We are resilient and in it for the long haul.
Play to win. We are accountable. We are in business to create value, and we celebrate when we do. We are focused on our competitive fitness, efficiency, and agility. We make quality decisions and are each empowered to deliver excellence.
One Ford. We rely on, respect, and care for each other. We build networks and partners without boundaries. We welcome everyone's unique contributions, communicate candidly, and work together as ONE team – we are a family.
Values Examples – Under Armour
Love athletes.
We believe in waking up every morning to make athletes legendary.
We put the focused performer, from the best of the best to the ones just getting started, at the center of everything we do.
We create fearlessly with the courage and conviction to defy convention.
We innovate by taking bold and smart risks. We show up big where athletes train, compete, and recover.
Celebrate the wins.
We believe our victories, big and small, bring us together as a team.
We celebrate our accomplishments, giving credit where it's due.
We take time to have fun.
We channel past successes to inspire our next win.
Stand for equality.
We believe sport is the great unifier.
We don't sit on the sidelines; we speak up for fairness and equity.
We treat each other with respect.
We apply different perspectives in our work.
We come together as a force for good to serve the communities we represent.
Act sustainably.
We believe our work is not just what we do but how we do it.
We work ethically and efficiently to perfect performance while reusing the Earth's resources.
We seek new information to develop lasting solutions.
We protect our planet for all who now play, and all who will play, on our home field.
Fight on together.
We believe strength is built through tackling adversity.
We act with an enterprise mindset in the best interest of the Brand.
We help each other overcome obstacles.
We act with integrity, have honest conversations and grow over mistakes.
We approach challenges with positive intent and never quit.
Values Example – New York Times
Independence: Over a hundred years ago, The Times pledged "to give the news impartially, without fear or favor, regardless of party, sect, or interests involved." That commitment remains true today: We follow the truth, wherever it leads.
Integrity: The trust of our readers is essential. We renew that trust every day through the actions and judgment of all our employees — in our journalism, in our workplace and in public.
Curiosity: Open-minded inquiry is at the heart of our mission. In all our work, we believe in continually asking questions, seeking out different perspectives and searching for better ways of doing things.
Respect: We help a global audience understand a vast and diverse world. To do that fully and fairly, we treat our subjects, our readers and each other with empathy and respect.
Collaboration: It takes creativity and expertise from people in every part of the company to fulfill our mission. We are at our best when we work together and support each other.
Excellence: We aim to set the standard in everything we do. The pursuit of excellence takes different forms, but in every context, we strive to deliver the very best.
Core Values Examples for Nonprofits
Values are essential in any organization, but we know that they're especially important in a nonprofit strategy. They help serve as the guiding light for how nonprofits make strategic decisions and play an invaluable role in developing the culture of a nonprofit – which we all know is critical to helping nonprofit organizations retain talent.
Though we've worked with lots of nonprofits, check out Prosper Strategies' seven nonprofit core values examples if you're looking for specific nonprofit examples. There are also helpful tips on brining core values to life!
Integrate Values into Your Everyday
Developing and publishing your organization's values is only the beginning. After values have been established, you need to set consistent and dedicated processes for holding members, behaviors, and organizational operations accountable to your core values. It's not the whiteboard session, but the everyday application, that makes core values meaningful.
Integrate a Review into Your Staff Meeting
A great way to reinforce behavior backed by your organization's core values is to integrate one value into each of your weekly staff meetings. In our own weekly staff meeting, we highlight a core value of the week and how that value impacted the team's work in the previous week. In a week that is heavily focused on detail-oriented teamwork, we might highlight our value of "All In – In Everything We Do" to remind our team that those details matter.
Create a Dedicated Chat/Teams/Slack Channel
Create a dedicated channel in your preferred chat application to highlight team member behaviors that align with your core values. Think of this channel as a place to give "wins and kudos" for individual and group behavior that exemplifies your values. We like this tactic because it creates an instant line of positive feedback and helps keep your core values front-and-center within your organization.
Highlight Customer Feedback & Success
Highlighting customer feedback and success stories that were driven by behaviors outlined in your core values is a great way to reinforce their impact. Positive customer feedback and testimonials are high-value rewards in any organization. Tie those recognitions to values that contributed to them. This will leave a lasting impact on your team.