We just supercharged OnStrategy to make it easier to align your team, build your 2023 OKRs, and manage quarterly performance to be your one-stop shop for everything from mission to quarterly review cycles.
The purpose? Give you more time to lead your team.
More automation. An entirely new planning workflow. Better performance views. It's never been easier to build a plan and measure if it's delivering results. We can't wait for you to see the completely redefined OnStrategy Strategic Planning software.
Let's jump in.
Update #1: Planning and Annual Refreshes Reinvented.
Need to complete, refresh, or overhaul your plan? Talk to your strategy advisor about our new integrated planning process with pre-built whiteboards to engage your team in building a plan.
What's New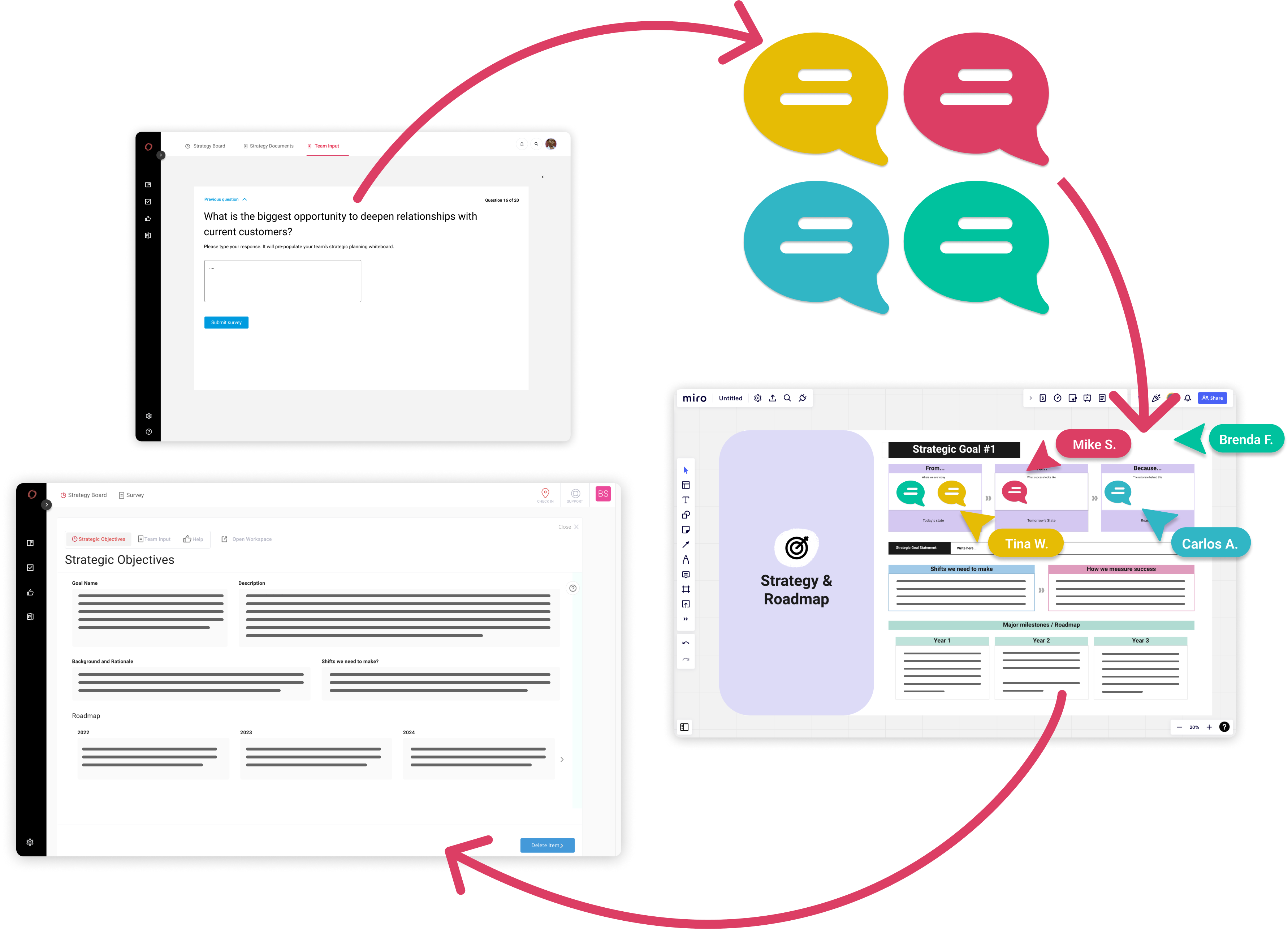 Insights Survey: Our new automated planning survey collects insights from your planning team, creates a results report and pre-populates your planning whiteboards with feedback from your team.
Pre-Built Strategy & Planning Space: Pre-built whiteboards run your planning sessions based on your team's feedback and insights, allows your team to collaborate on your direction, and bring your complete plan back into the OnStrategy software.
Guided Planning Inputs: Follow guided planning inputs to build everything from your growth strategy to strategic goals.
Update #2: Effortless Team Alignment Created by Pulling Your Entire Strategy into a One-page View.
In the new Strategy Board, everyone can clearly see and understand your organization's strategy and direction — everything from mission to growth strategies to strategic goals in a one-page view.
What's New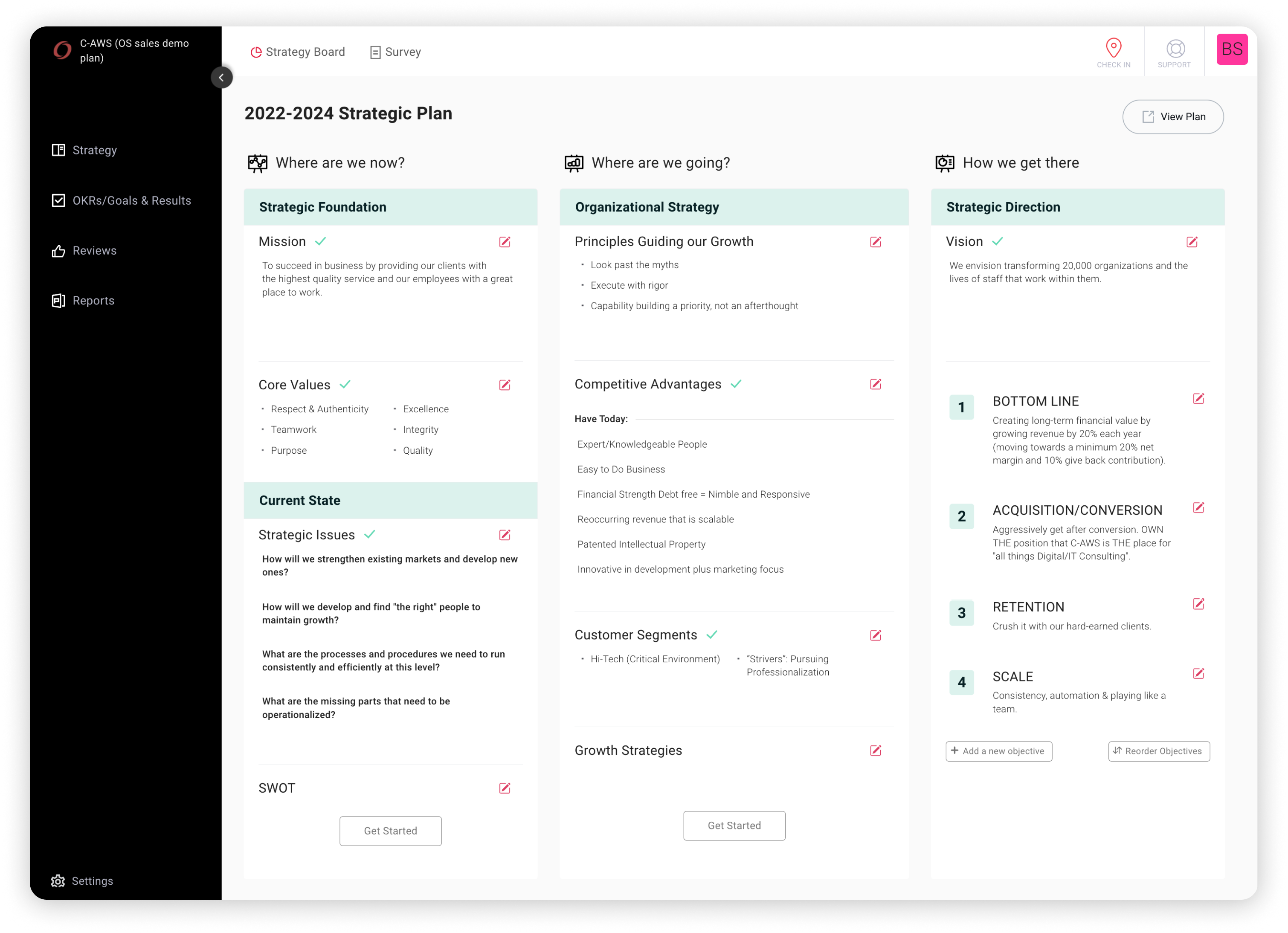 The Strategy Board: A completely new one-page view of your strategy.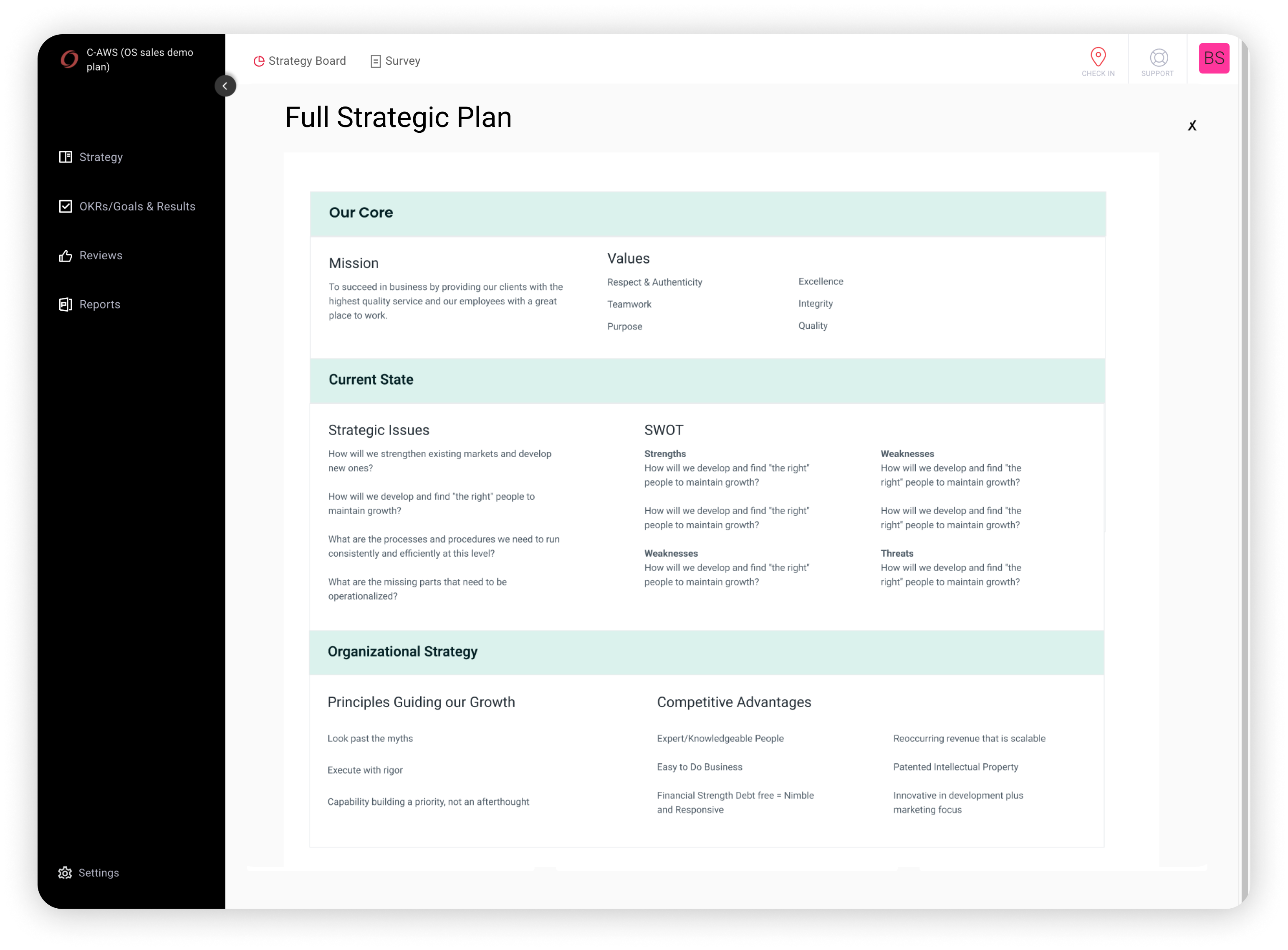 The Full Plan View: See your entire plan and all of its details.
Update #3: Create Focus with Individual, Team, and Organization-wide OKR/Goal Views.
Our completely overhauled goals and performance section makes it easy to see if your strategy is delivering results, what's working, what isn't, and what needs your attention so you can react and adapt fast.
What's New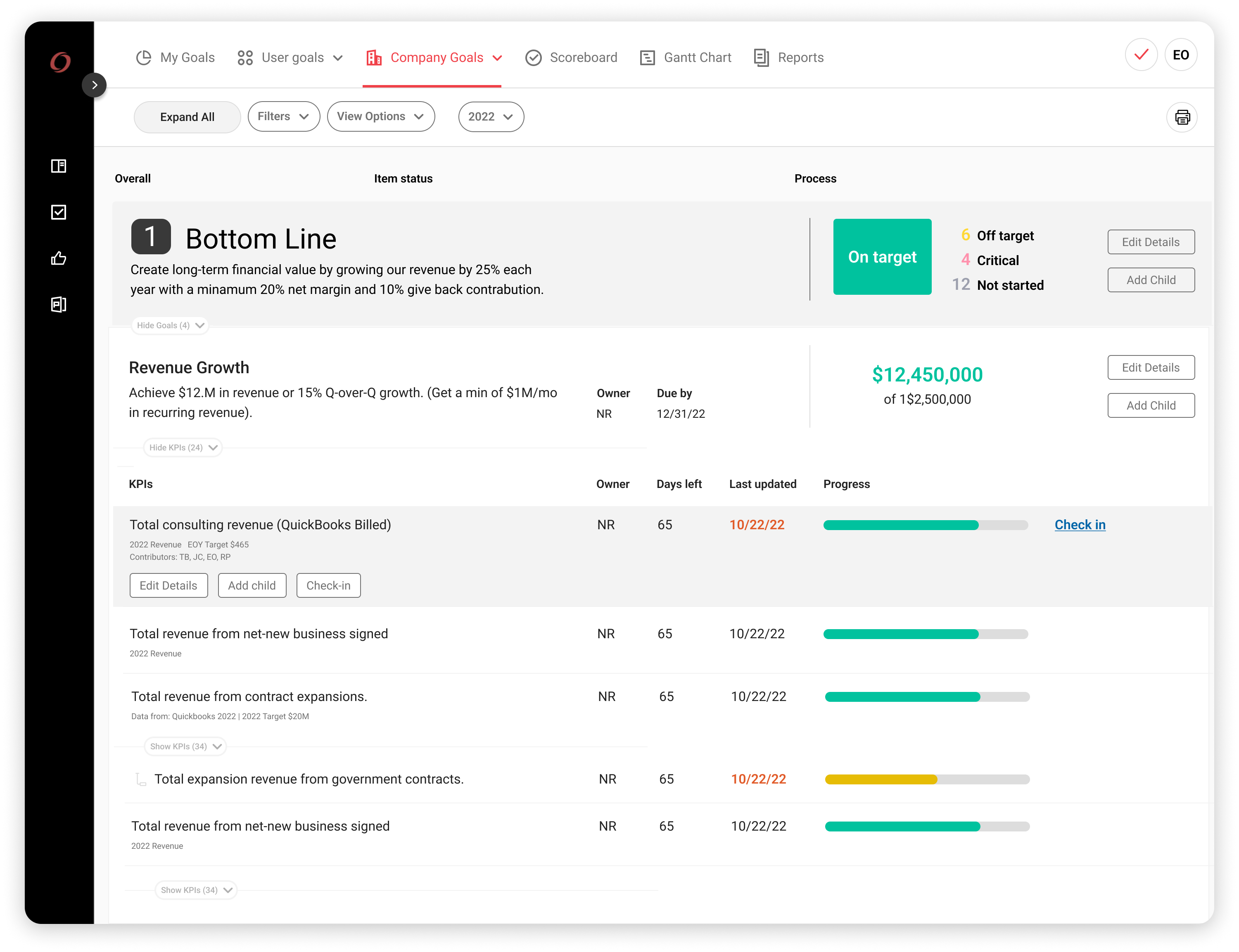 Organization-wide Goals View: See your entire organization's goals with an at-a-glance view of their performance by strategic objective.
Faster, Easier Goal Creation: Create goals anywhere in the goals section — from an organization-wide, team, or individual perspective.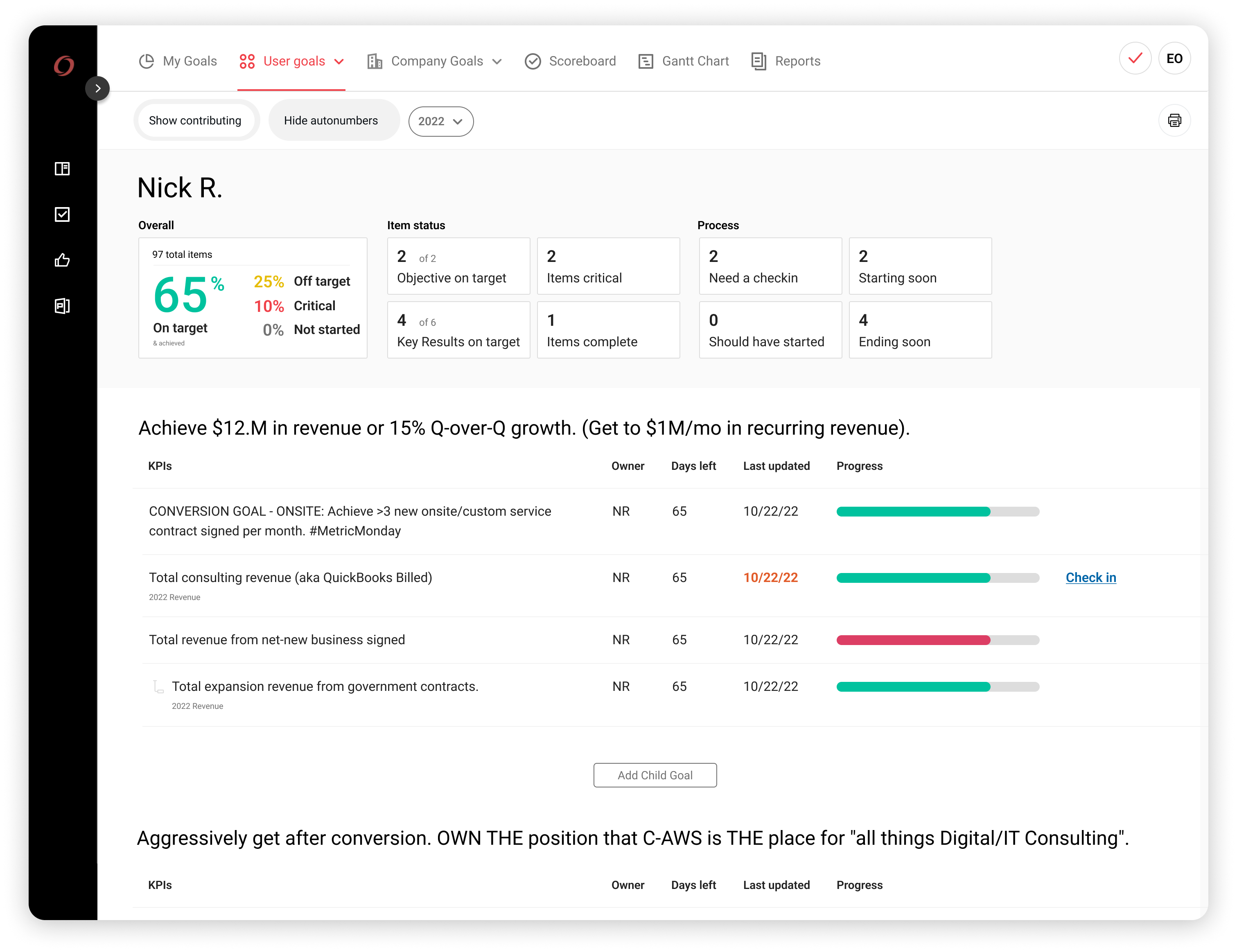 Individual Goal View: A completely new view of individual goals/OKRs that includes a view of performance, what's on-target, off-target, and what needs your attention.
Heads Up: This is Going to Look Different
We've updated the interface and navigation in OnStrategy. Here's a quick overview of the new navigation: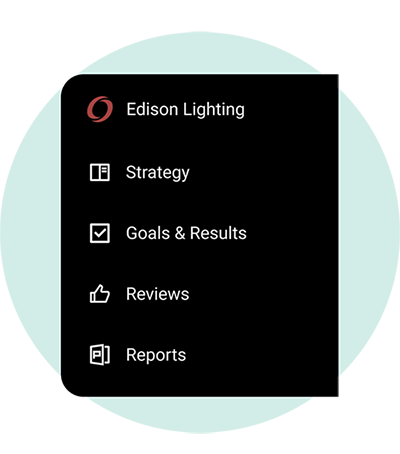 Strategy: The Strategy Board. Build, edit, and update your organization strategy here.
OKRs/Goals & Results: Build your organization's goals/OKRs, edit your goal settings, and see the performance of your entire organization's OKRs with pre-built views.
Reviews: Run your strategy reviews with the dashboard.
Reports: Download your organization's strategic plan, performance reports, and action plans.
Coming Next: Strategy Reviews in One Place
Over the next few months, we'll bring your strategy reviews into a single place. Access pre-built agendas, meeting notes, action items, and your strategic planning dashboard to run your quarterly refreshes with zero prep.
Extra Credit: Bringing Strategy into Your Everyday Workflow
With OnStrategy for Teams or Slack, your team will never miss another performance update or notification about their goals and OKRs! Did we mention your entire team can update their goals and actions without leaving Teams or Slack?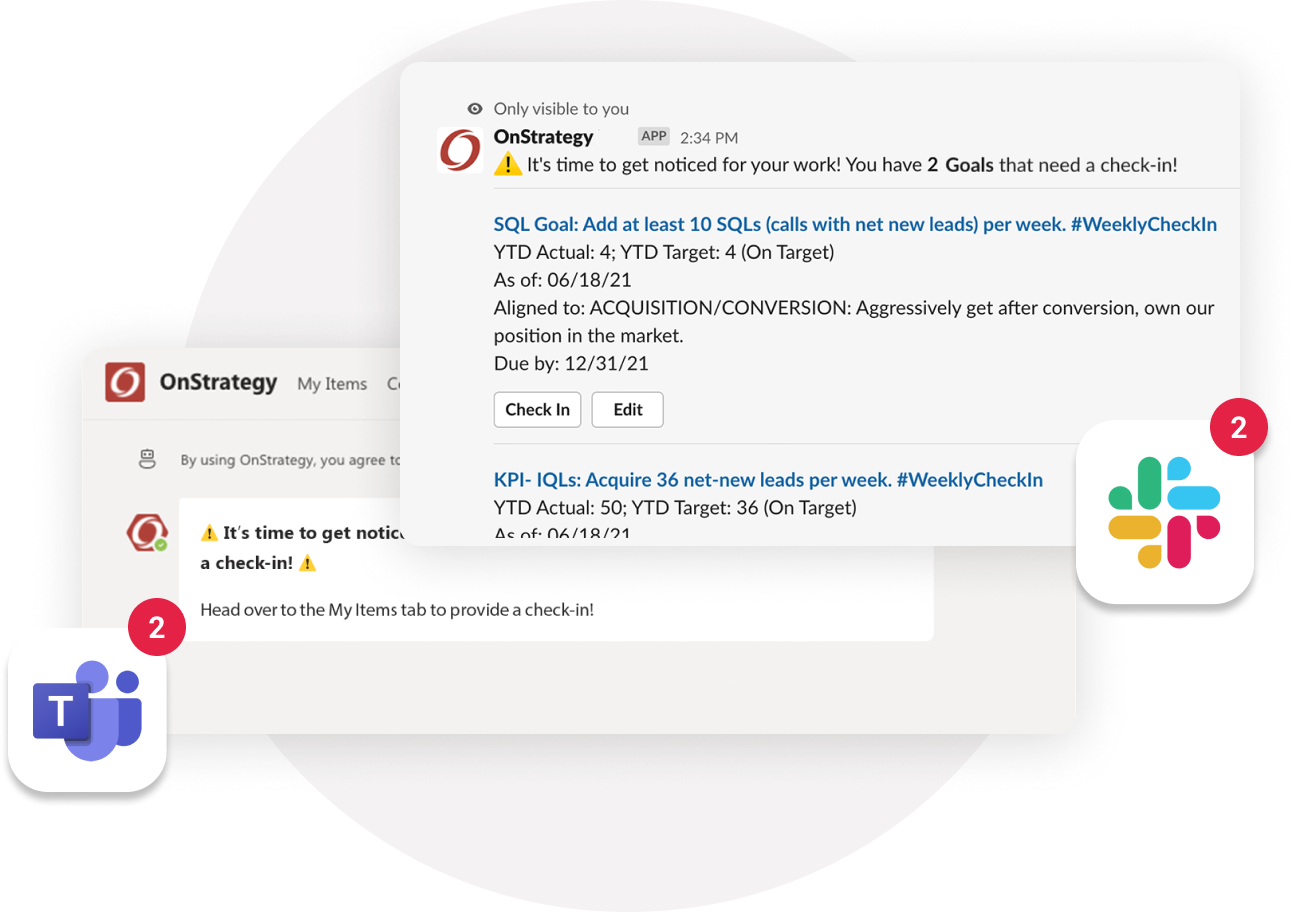 Haven't already integrated OnStrategy for Slack or OnStrategy for Teams into your workspace? Don't miss out!