At OnStrategy, we are serious about being your partners to help identify strategic moves and set your vision into action with an actionable strategic plan to consistently achieve 80% of your goals. We've spent the last 20 years building plans and a methodology to make it happen.
We're excited to announce the StrategyHub by OnStrategy. This fully upgraded software experience brings together everything you need to build an actionable organizational strategy, align your leadership team, and create a rhythm of execution and learning.
It's the culmination of years of developing strategy and a quarterly execution methodology that delivers results.
There are tons of amazing new features coming at the end of June! Here are a few of our favorite highlights: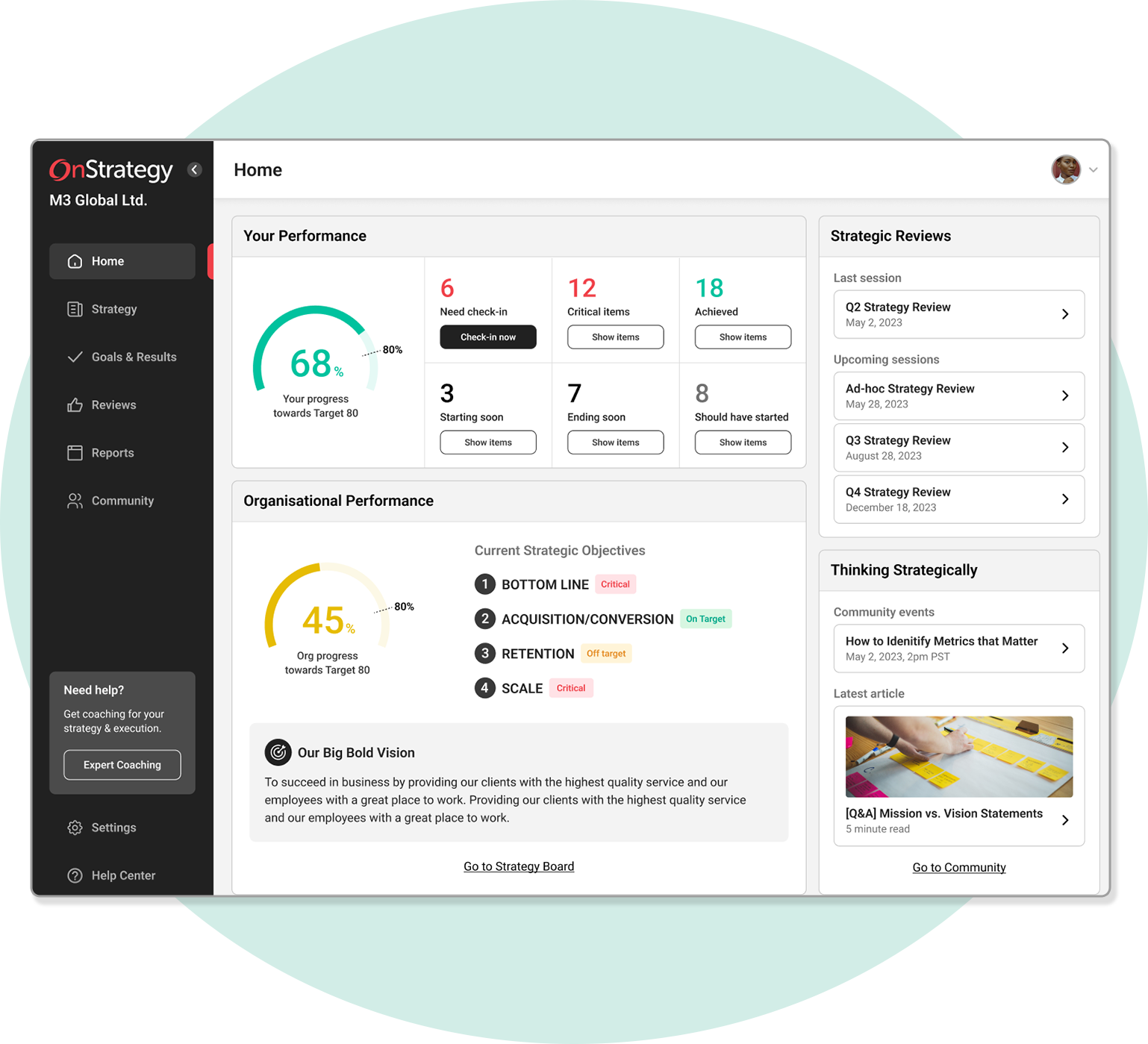 A New Homepage 🏠
A homepage that combines everything you need to see in your plan, including your current performance, the organization's performance, upcoming strategy reviews, and access to the latest events and thinking from the Strategy Collaborative.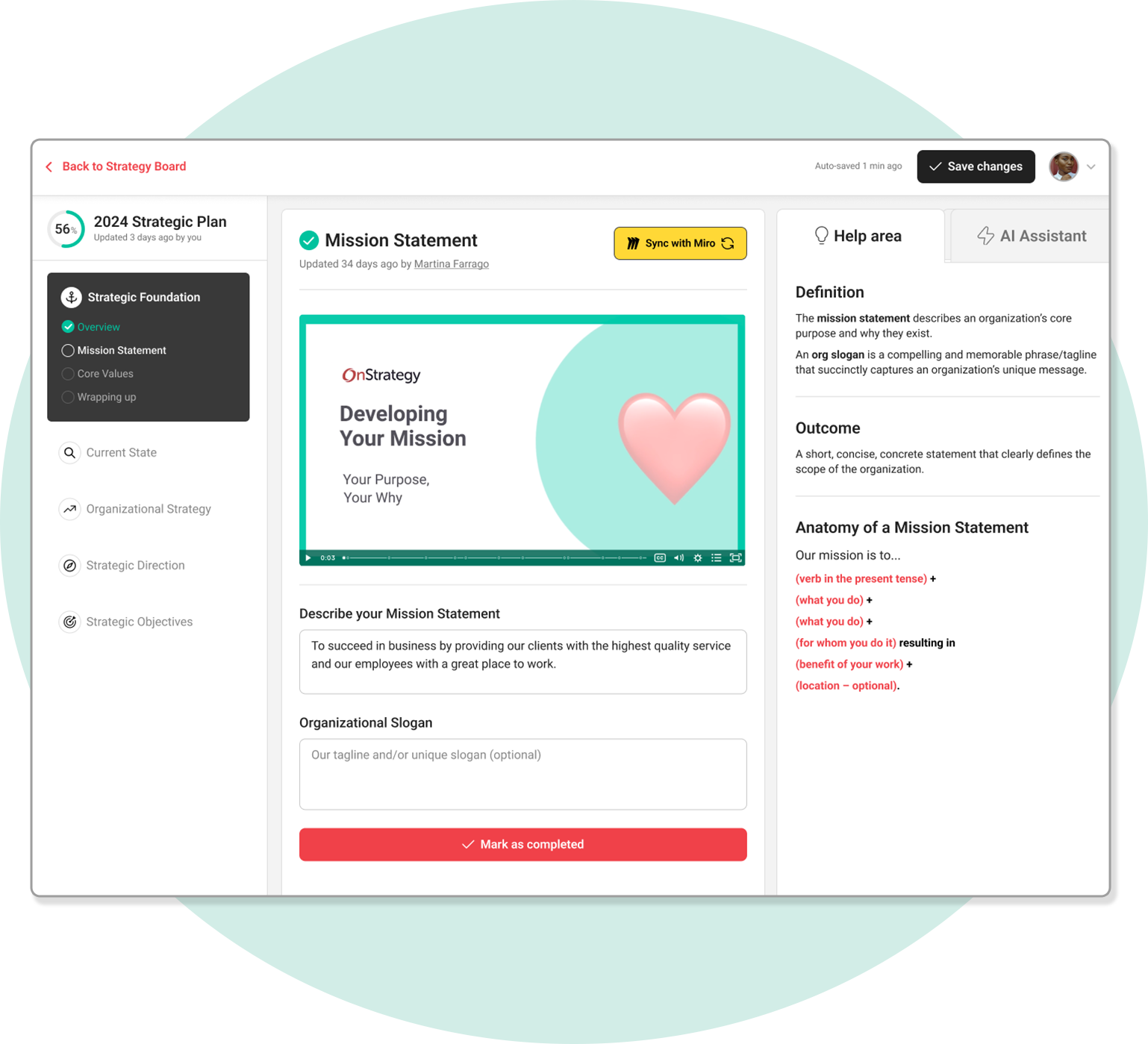 Guided Workflows to Build Your Plan ♟️
The StrategyHub is the only place that combines guided workflows, on-demand courses, integrated whiteboards, and AI (coming soon!) to help your team build an actionable strategic plan. Whether you need to build a plan or refresh your current one, your team has the on-demand tools and exercises to help you build a great winning strategy.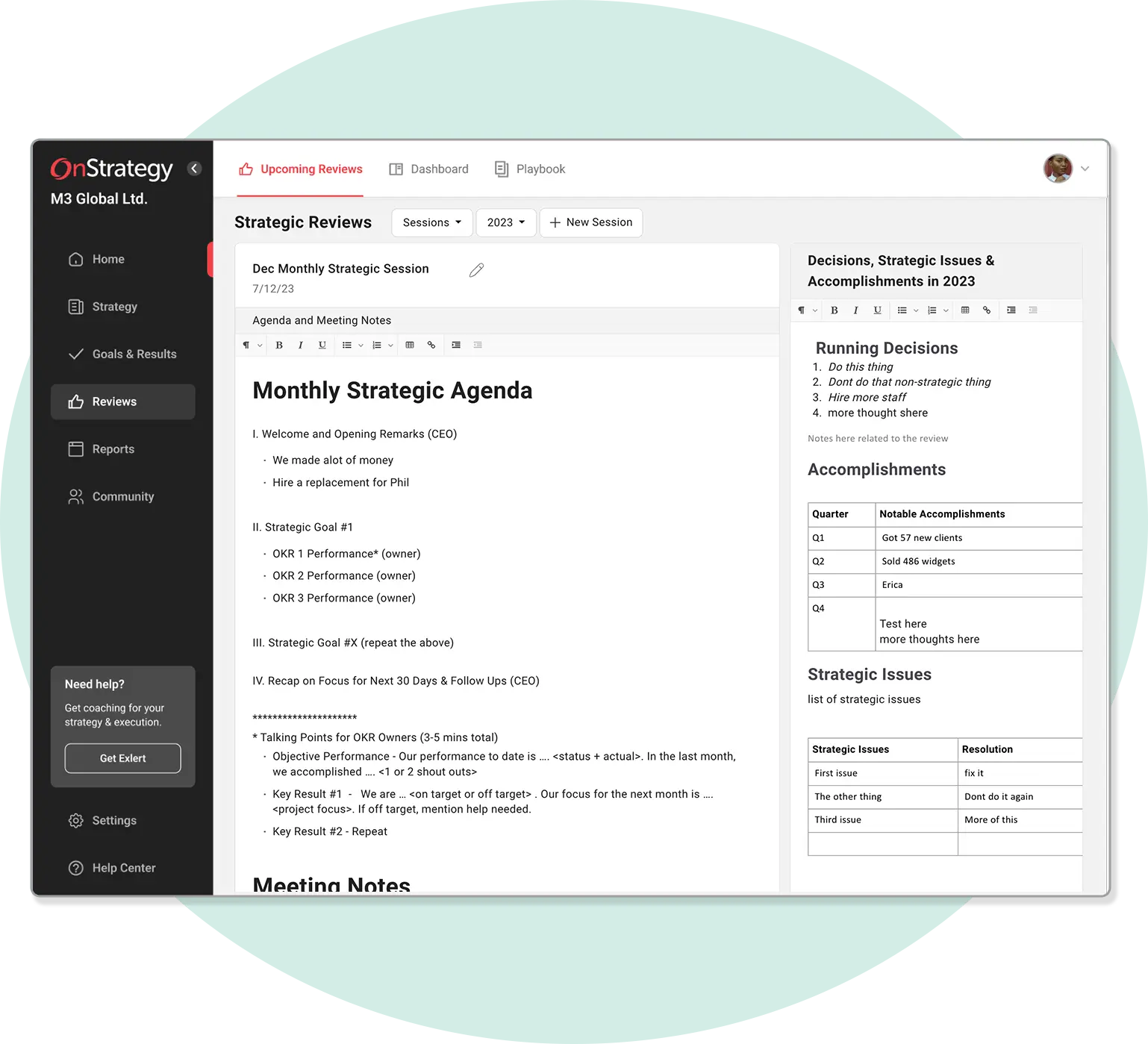 A Brand-New Section to Run Your Reviews 🚀
We're introducing the new Reviews section to house everything you need to run your organization's monthly, quarterly, and annual reviews and recalibrations. In this new section, you'll be able to create custom agendas for your reviews and keep a running list of your decisions and strategic uses.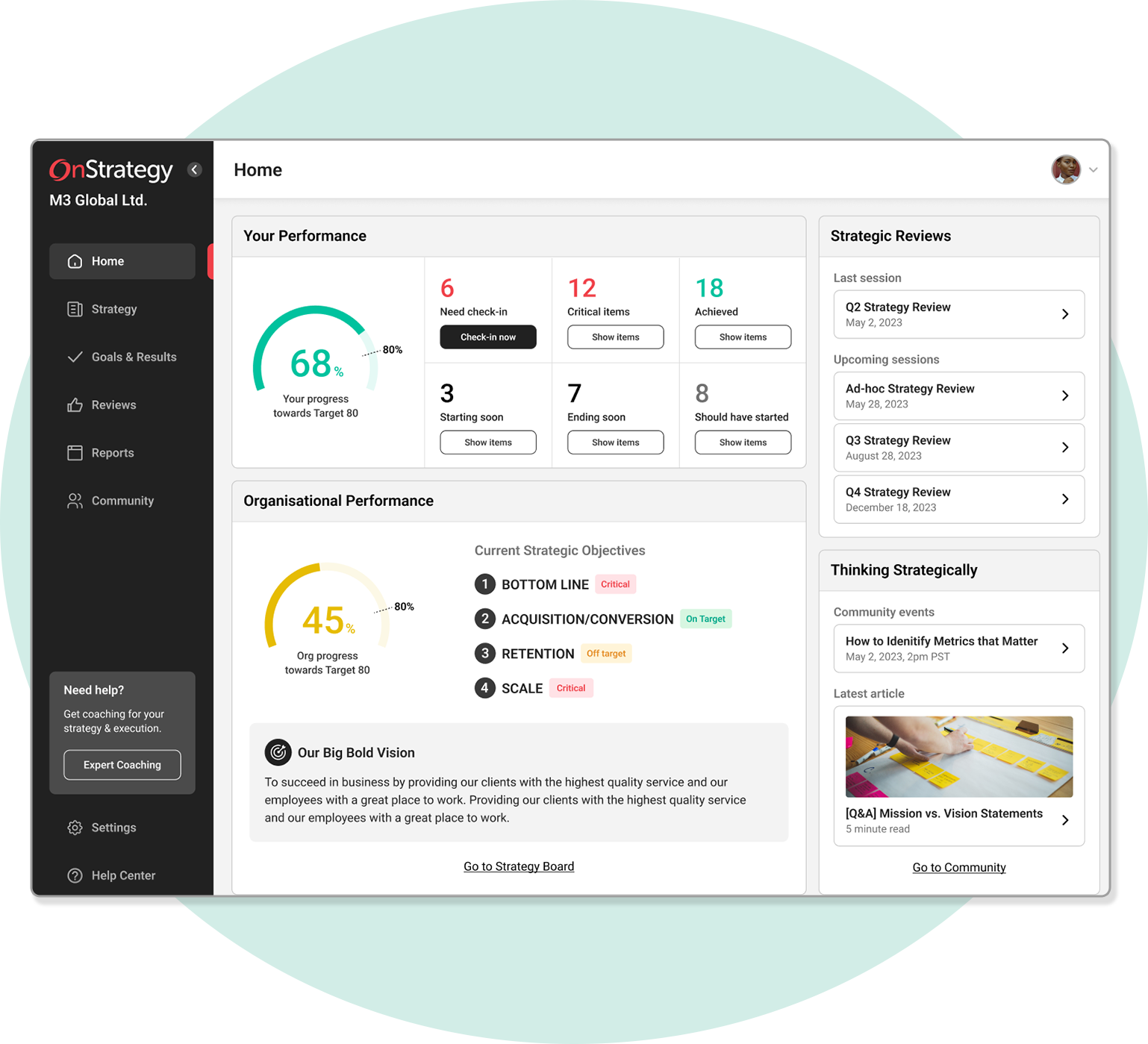 Fresh Coat of Paint 💅
The StrategyHub has a fresh coat of paint and design to make it even more beautiful and usable.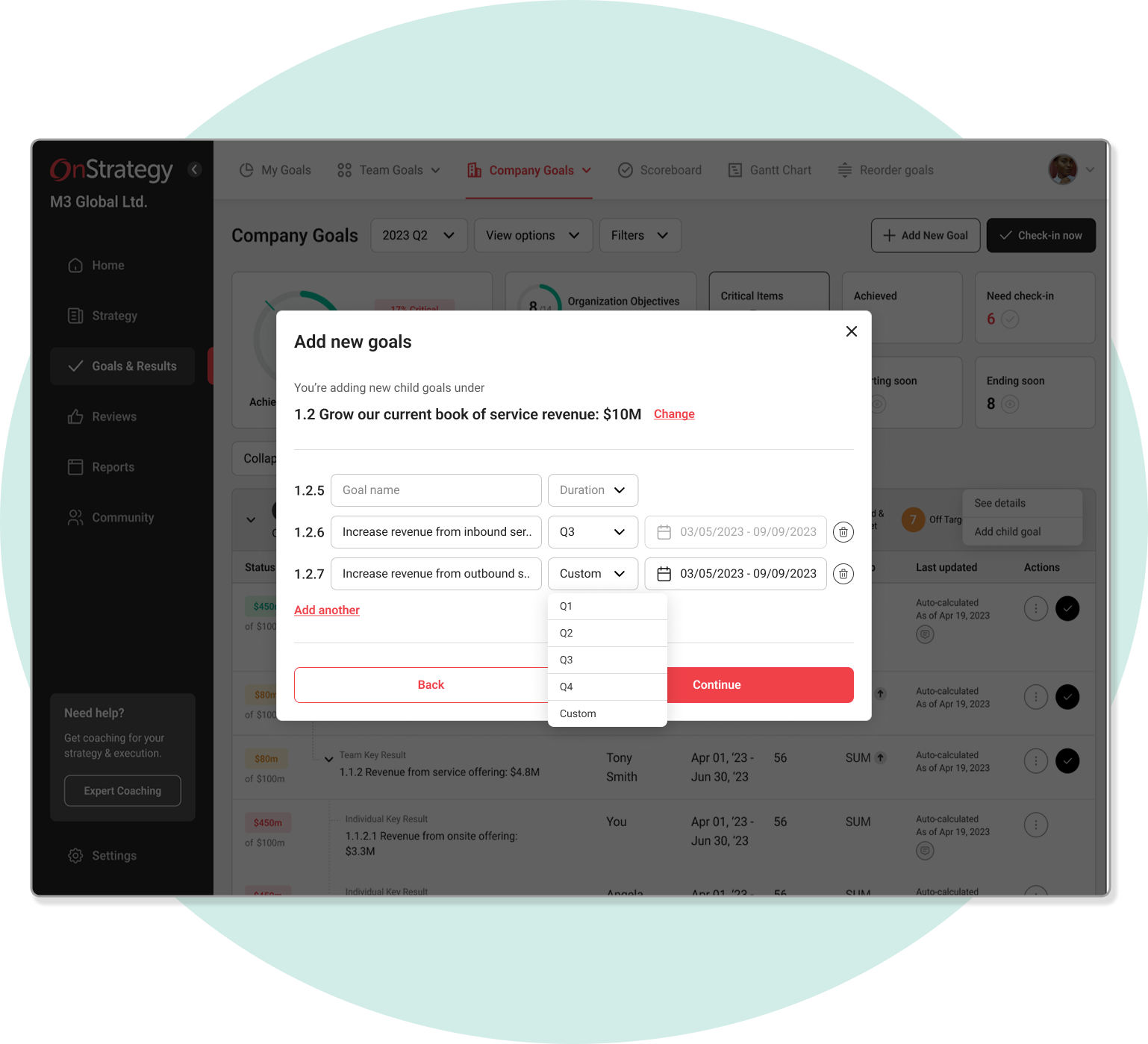 Workshop a Goal 🎯
We've re-casted the approach to building and cascading goals through your organization. In the new add a goal function, you can create an entire goal/OKR stack in a single workflow.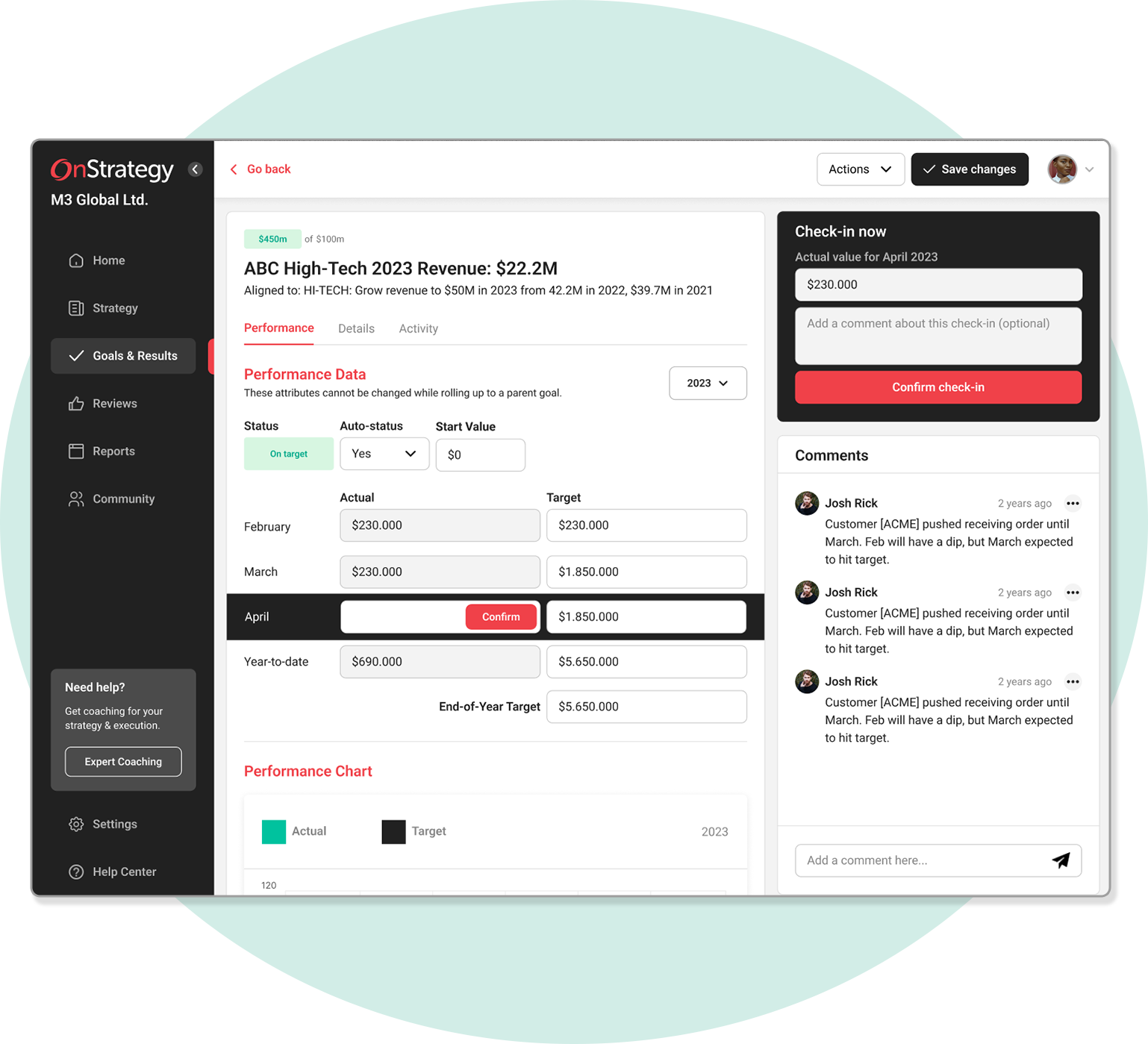 Faster Goal Edits and Updates 💪
We're launching a new approach to editing and updating goals inside of the goal details menus. It's easier to update, edit, and see the performance of your goals and OKRs.
Other Important Notes
Simplified and Updated Reports 📋
We've redesigned and simplified your strategic plan reports to simplify prep before running monthly reviews and quarterly refreshes.
New Navigation, Who Dis? 🧭
OnStrategy's significant upgrades include a new navigation, too. However, don't worry; we haven't changed how we structure and display your data. But, the navigation will look different!
An Important Note About Logic ⚠️
The StrategyHub provides a substantial upgrade, but it's important to note that there are no functional logic changes to goals and OKRs. All the settings used to manage, track, and cascade your plan remain the same!
All of these amazing new features [and more] will be going live at the end of June!
Contact your strategy advisor or call us at 775-747-7407 if you have any questions or need further assistance. Happy strategizing!