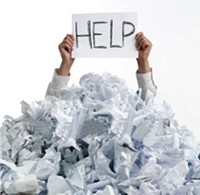 November and December is a blur of turkey, mistletoe, and holiday cheer. But, this territory also comes at a cluttery cost.
If your organization is anything like ours, it's been a whirl-wind. End of year reporting, prep for 2015, and wrapping up projects has kept us on our toes this holiday season. As I look around at my desk, it's a melee of scribbled sticky notes, folders, paperwork, and general debauchery from the past few months. Being busy is a good thing, but let's be honest here:  My desk is out of control. So is my email inbox.
With the transition into the New Year, it's important to be on your A-game. While you might be mentally prepared for what's coming up, is your office area? It may be sound a bit juvenile, but you might spend an hour completing these four tasks to have a smoother transition into 2015:
Clean up your desk – Go through your files, organize your notes, and rummage through your desk drawers. It's amazing what organizing your physical space can do you for your focus and moral.
Organize and clean your email inbox – Go back through and organize your emails into file folders.  This way, you can start the New Year with a fresh inbox while giving you the ability to quickly find older correspondents.

 

Wipe-it-down –

Tis the season for the sickness. This is also an opportune time to wipe down your office space. Keyboards, phones, and desks can become a cesspool of germs left behind from sick co-workers. Keep yourself healthy.

Add some personality – While you're cleaning up, you can add some personality too. It's your workspace and an extension of who you are. Be creative and see how you can make your desk more you.
It may sound like we're beating a dead horse here, but taking a quick hour out of your day could make a world of difference in both your productivity and anxiety levels as you roll into 2015.
---