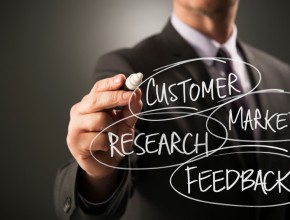 Original article featuring Erica Olsen: http://www.mastercard.com/us/business/en/smallbiz/articles/archive/0205Customer.html
Considering the time and effort you invest in your business, it may be hard to stand back and see your company from a different perspective. Discover strategies that will help you to understand how customers experience your business.
By Tara Remiasz
Imagine you're traveling for business. After your flight takes off and you settle into your seat, you suddenly smell freshly baked chocolate chip cookies. After a while, you see the flight attendants handing the cookies out to everyone. When you finally take a bite of your cookie, you congratulate yourself for choosing an airline with such a great perk.
Several years ago, an employee for Canadian Airlines International devised the idea that baking and serving fresh cookies would be a great way to enhance the customer experience, says Paul Levesque, author, CEO and founder of Customer Focus Breakthroughs Inc. based in California. The idea of serving fresh cookies may sound simple, but it required a solid understanding of the customers' experience before the idea could be developed.
Often times it is difficult for owners and workers to grasp the customer experience because they are so ingrained in the minutia of running the business. Here are some strategy tools that will help you to see your business from a customer's perspective.
Break It Down
Levesque says he had consulted with Canadian Airlines International about how to brainstorm customer service ideas. It is likely that a process like the one he taught Canadian Airlines International personnel was used in the brainstorming session that produced the fresh cookie idea. According to Levesque, you cannot separate employee motivation from the issue of customer service. Asking employees how to improve customer service has two inherent benefits: 1) Because of their daily dealings with customers, workers possess unique insights into the customer experience. 2) Employees will have a stronger desire to see initiatives enacted if they generate the ideas, as opposed to just following a mandated policy.
Ask employees to break down the customer experience into each step in the transaction, Levesque says. For example: First, the customer arrives in the parking lot. Second, the customer enters through the front door. Third, an employee greets the customer. And so on. Each step will be based on the type of business you run, whether it is on the Internet or a brick-and-mortar operation.
Once the customer experience has been broken down into each step, it's time to apply three customer  service principles to each phase of the process. You and your employees should consider how your business can exceed expectations, make the customer feel important and tailor the experience to individual  categories of customers.
Levesque offers an example of how all three of these principals were realized when he visited the Magic Kingdom and spotted a braille map of the entire park. The existence of this map went beyond what most patrons probably expected, demonstrated that visually impaired visitors are important, and that the Magic Kingdom considers how to enhance everyone's experience.
Ask Your Customers
Perhaps the only people who can vouch for the customer experience better than your workers are the customers themselves. Former customers can provide you with a wealth of information on how to improve operations, says Erica Olsen, vice president of marketing for Reno, Nev.-based OnStrategy.
Olsen suggests having a third-party call former customers for feedback. Instead of directly asking 'Why don't you frequent our business anymore?' she suggests couching the question in terms of 'We are trying to become more effective as an organization and would value your feedback.'
When you conduct surveys of existing customers, it's essential that you ask if the primary job was done correctly, she says. Often times, surveys focus on specific details and overlook basic questions such as how well a business achieved its central goal.
There's no magic number in terms of how many surveys you should conduct, but Olsen suggests that you do enough to see patterns in people's answers. Allow yourself the necessary time to gather feedback, rather than conducting too few interviews before making changes. She also stresses the importance of giving something back in return for your customers' feedback. By offering a discount or small gift card, you are in fact acknowledging that you value your customers' time.
A Little Help From Your Friends
Andrew Field, CEO and founder of PrintingForLess.com, Inc., in Livingston, Mont., also endorses the idea of conducting surveys. Field suggests using a one to seven rating scale that covers how a certain transaction went, and also how important that particular transaction is for the customer.
In addition to tapping employees and customers for feedback, Field recommends professional mystery shoppers or simply employing the services of friends and family to mystery shop your operation. Field learned the value of mystery shopping accidentally, after his mother placed an order for brochures from his company. When the box of brochures arrived at her door, Field's mother was dismayed to find that the box had been damaged in transit and some of the brochures had been ruined. Several of Field's sales reps confirmed that this problem occasionally occurred with their clients' shipments. Armed with this new information, Field's company instituted a policy of shrink-wrapping bundles of paper goods and then double boxing each shipment.
Whether you decide to use a professional mystery shopping service or friends and family, the key is to obtain objective, unbiased information about how a customer experienced your company. Be sure to obtain feedback on everything from how the customer was greeted to the quality and timeliness of service.
---