Last week, we had the opportunity to travel to sunny Los Angeles, California, for the Boy Scout's Los Angeles Area Council Strategy Review. We left their review session completely awestruck.
Why? The council engaged over 100 individual volunteers to not only contribute to the organization's strategic performance, but to present ideas around what's working and what's not. We've seen multi-million dollar organizations with salaried employees not able to accomplish such a feat.
Here are a few reasons why this Council has been so successful at engaging volunteers in the planning process:
Dedication to their vision: Chuck Keathley, the Chief Scout Executive, has been drilling the organization's vision into their day-to-day operations for years. It's paid off – everyone in the organization understands what the organization stands for and where it's going.
Alignment around strategic priorities: With such a large volunteer base, clarity and conciseness are crucial to making sure everyone understands the strategic priorities.
People who want to make a difference: Chuck's team of volunteers exist to make a difference in the lives of the Scouts. Finding, engaging, and retaining these volunteers has been a cornerstone in the Greater Los Angeles Area Council's success.
A proven, defined process: Their defined process works. Everyone is engaged and knows what is expected of them.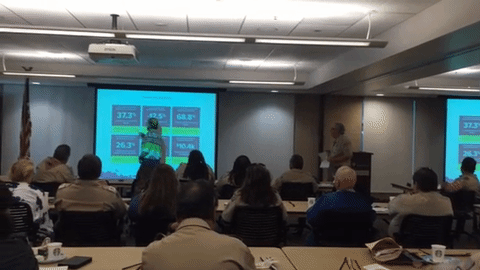 A round of applause is due for Chuck and his team. That was truly one of the most impressive strategy reviews we have ever seen.