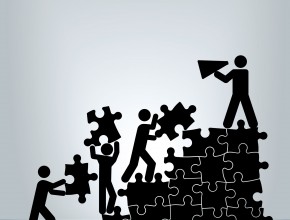 In honor of March Madness and this week's exciting culmination, let's review the concept of Teamwork in a strategic planning sense.  
Teamwork is a powerful thing, but in strategy execution the team needs more than basic goal fulfillment (a Win). In "Harnessing Your Staff's Informal Networks," this month's Harvard Business Review (April 2010), we are given great insight into why teams are different from communities, and how the concept of communities provide the collective presence necessary to make a difference with strategy execution.  
We read into the article this way:  Strategy's full-court press requires leaders to check their authoritative roles at the door in order to collaboratively network (internally and externally) for solutions to their strategic execution issues.  
The key difference between communities and teams, according to the article's authors (Richard McDermott and Douglas Archibald) are:

The incorporation of the long-view.
Require peer collaboration and collective responsibility.
Intentional network expansion.
Stewardship of knowledge that exists in their domain toward solving problems yet discovered for the group.
Acting as a community may result in strategic brackets that are filled with success stories, not records of defeat. Now that's a big win.
---