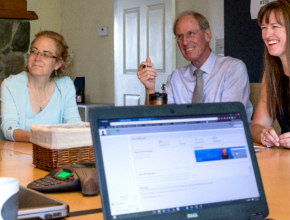 Per Gallup, every year $500,000,000,000 is lost in productivity due to a lack of employee engagement. Have you ever wondered how much of that number is contributing to your organization's bottom line? Even better, have you thought about what you can do to decrease that number?
We recently received the employee survey results from one of our clients and were completely blown away at what we saw. They're employee satisfaction had increased from 59% to 70% in a single year. For you statistics wizards, that's 11 percentage points. The Gallup national average is 15%, for reference.
This client is seeing these engagement numbers because they've cracked the case on making sure their employees understand the meaning of their work. Here's a quick run-down on how:
They clearly communicated their core purpose. Through both their corporate culture and strategic planning, they've engrained their core purpose into their employees. When everyone understands what they're doing and why, people are engaged in the process and outcome.
They created a corporate culture that resonates and stuck to it. They've done the good, hard work on making their corporate culture one their employees can relate to. It took investment, but they're seeing the payout now.
They continue to adapt and adjust course. They're continuing to measure the pulse of their organization and see where they can improve.
"For, in the end, it is impossible to have a great life unless it is a meaningful life. And it is very difficult to have a meaningful life without meaningful work." – Jim Collins
It's truly amazing to watch our clients see success through strategy. It's what drives us forward, motivates us, and keeps meaning in our lives.
---