At OnStrategy, we've always been proud of our application's reports. The platform and the reports it generates have helped change the trajectory of many of our clients' businesses.
But we recently faced up to the fact that they were feeling outdated and not as powerful as they once were. Progress is about making changes, and it was time for our reports to move into the future.
We revisited and reimagined what our reports can do for our clients. We pushed ourselves to make our reports better and more robust to really improve the strategic management process.
After months of debate, design, and coding, we're excited to unveil a suite of 12 new reports that help our clients automate some of the most important [and challenging] parts of the strategic management and reporting process.
Here are some of the most common obstacles the new reporting suite helps clients overcome as they roll out, implement, and refresh their plans: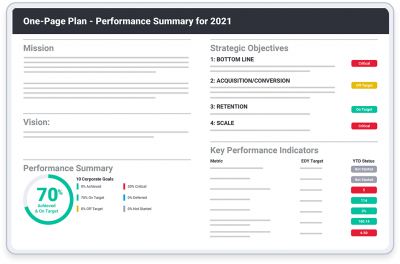 Communicate Your Strategy with Clarity
Strategic plans aren't helpful if they sit on your desktop and aren't shared. That's why we created a beautiful set of high-design communication tools to help our clients roll out and share their plans.
Our new one-page strategic plan and fully redesigned complete strategic plan bring your plan to life, making it easy to communicate who you are, where you're going, and how you'll get there.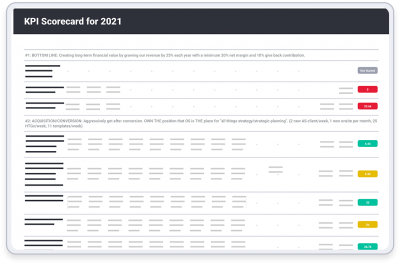 Run an Efficient Strategy Review with Minimal Prep
We know pulling together the materials to run strategy reviews is a drag. We've made it easier by creating a set of meeting-ready reports in just a few clicks.
The re-envisioned KPI scorecard, one-page strategic plan with progress, and full plan with progress bring data to your strategy reviews without the headache of formatting or needing to tabulate results.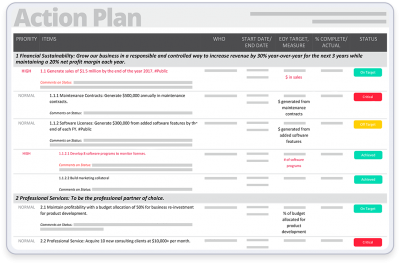 Drive 1:1s with Action Plans and Performance Data
Running effective 1:1s is what makes a leader successful; so we've provided a new set of action plans and performance reports that can be filtered and exported for individual team members.
You'll never walk into a 1:1 wondering what your teammates need to be working on or how their effort contributes to your organization's success.
Department or Individual Performance
Any great communication tool provides the information you need to the audience who needs it. That's why our entire reporting suite can be filtered by department or team member to provide a snapshot of a team's or individual's contribution to the organization's strategy.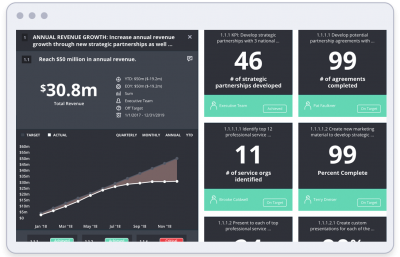 The Dashboard–A Perfect Complement to OnStrategy's Reports
The Dashboard remains unchanged and is a perfect complement to this new reporting suite. The Dashboard visualizes interactive displays of your data providing insight into the key performance indicators driving your success. With new reports and the dashboard your team is empowered to review progress and foster transparency around strategic performance.
OnStrategy's reporting suite and the Dashboard were designed to be used to manage and report on your plan with minimal effort!
Your Plan. Our Reports. A Match Made in Heaven.
Ready to see how OnStrategy will change the way you run your business? We'd love to show you the OnStrategy App and the entire reporting suite. Fill out a contact form, start a free demo, or give us a call at 775-747-7407 to set up your personalized demo.