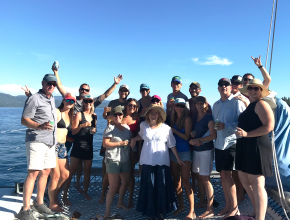 As a strategic planning organization, we fundamentally believe in helping organizations create confidence in their future. Our mission is to transform organizations by transforming the lives of the people within them.
We live to watch our clients grow and thrive through thoughtful strategy, but we also take great pride in ensuring the positive transformation of the communities we are all a part of.  Every month, we support a different non-profit organization's mission to impact the lives of the communities we serve through a financial donation or a donation of our time to help them develop their own strategic plans.
We understand the tremendous human impact these organizations provide and truly respect their work. So, here's a quick run-down of the organizations OnStrategy (and YOU!) helped support during 2018:
California Fire Foundation: The California Fire Foundation provides critical support to surviving families of fallen firefighters, firefighters, and the communities they serve. Through the SAVE Program, front line firefighters in California provide gift cards, in the amount of $100, to eligible victims of fire or other natural disasters so they may purchase basic necessities such as food, clothing or medicine. Learn how you can help at http://www.cafirefoundation.org/.
Washoe County School District: The Washoe County School District (WCSD) is focused on creating an education system where all students achieve academic success, develop personal and civic responsibility, and achieve career and college readiness for the 21st century.
Eddy House: The Eddy House Youth Resource Center promotes self-sufficiency and empowerment to homeless, runaway, foster, and at-risk youth ages 12-24 by providing safety, basic needs, and access to community resources in Northern Nevada. Learn how you can help at EddyHouse.org.
Northern Nevada Children's Cancer Foundation: The NNCCF enhances the quality of life for children with cancer and their families by providing financial assistance and compassionate support programs while advocating for increased research funds and public awareness. Learn more at www.NVChildrensCancer.org.
Make-A-Wish, Reno: Make-A-Wish's vision is to grant the wish of every child diagnosed with a critical illness. A wish experience can be a game-changer and this belief guides them to change the lives of the kids they serve. Learn how you can help at FBNN.org.
Samaritan's Purse: Samaritan's purse meets critical needs of individuals impacts by crisis throughout the world. This year, we helped Samaritan's Purse provide aid in Syria, Mexico, and Puerto Rico. Learn how you can help at SamaritansPurse.org.
Boys and Girls Club of the Truckee Meadows: The Boys and Girls Club of the Truckee Meadows enhances the quality of life of children in the Truckee Meadows. Learn how you can help at www.BGCTM.org.
Caring Choices: Caring Choices has turned into a hub for organizing volunteers to help those affected by the Camp Fire in northern California. Volunteers are assigned a variety of duties. Through its emergency assistance program, they help those who need to purchase necessities like food, medicine and clothing. http://www.caring-choices.org/home.html/
Convoy of Hope: Convoy of Hope has helped more than 100 million people throughout the world by sharing food, water, emergency supplies, agricultural know-how, and opportunities that empower people to live independent lives, free from poverty, disease and hunger. https://www.convoyofhope.org/
Life Changing Community Outreach: Life Changing Community Outreach is helping build a playground for the 500 children who live in the inner-city of Reno, Nevada. The playground is a tangible improvement to the neighborhood that will connect the families and change this community. Learn how you can help at www.nlccreno.org/LCCO/.
Pathfinders, Reno: Pathfinders reaches the inner-city, at-risk and forgotten children in the Reno, Nevada area. They empower the lives of these older children through leadership training. Learn how you can help at https://www.pathfindersreno.org/.
Awaken: Awaken conducts outreach and provides direct services to women and girls to help them transition out of commercial sexual exploitation (CSE). Nearly all victims served by Awaken have had a history of emotional, physical, or sexual abuse. Learn how you can help at http://awakenreno.org/.
---