Is It Strategic? A Guide for Facilitating Strategic Conversations
Download the free guide for facilitating strategic conversations.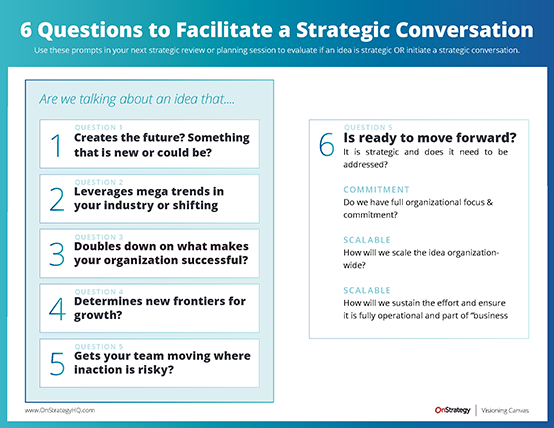 Are we being strategic? It's a question our clients often ask. The hard truth of the matter is one of the most common pitfalls in strategic planning is not engaging your organization in consistent strategic conversations about where your organization is going and how you're going to get there.
In this guide, we'll cover:
Diagnosing Business as Usual vs. Strategic Conversations
Business as Usual: Improving the Current
Strategic Conversations: Building Your Future
6 Questions to Facilitate a Strategic Conversation
Tear Away to Use for Your Next Strategic Conversation
*OnStrategy is committed to protecting and respecting your privacy, and we'll only use your personal information to administer your account and to provide the products and services you requested from us. From time to time, we would like to contact you about our products and services, as well as other content that may be of interest to you.
You may unsubscribe from these communications at any time. For more information on how to unsubscribe, our privacy practices, and how we are committed to protecting and respecting your privacy, please review our Privacy Policy.
By clicking submit below, you consent to allow OnStrategy to store and process the personal information submitted above to provide you the content requested.