OnStrategy and Teams Instructions.
OnStrategy helps you conquer chaos by connecting daily focus with long-term strategy. Stay current on your priorities and provide updates without leaving Teams.
Learn how to use OnStrategy with your Teams Workspace.
Add Teams as an Individual
In the bottom of the left navigation panel, click on the "Apps" button.
Search for "OnStrategy" and select the app when it appears.
Select "Add" when prompted.
Enter your username and password into the login screen.
Pin the app to the left navigation so that it is always easy to find.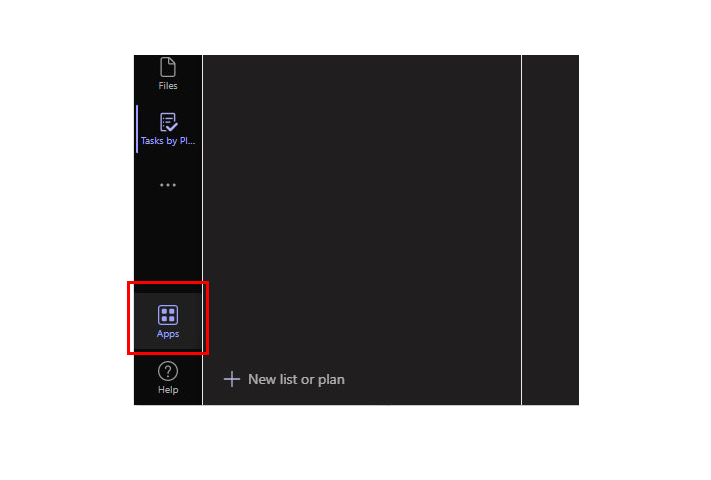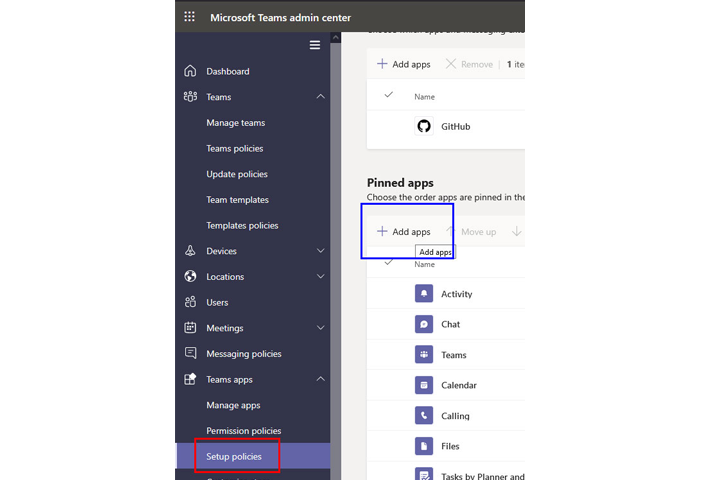 Add Teams as an IT Administrator
In your Teams Admin Dashboard, navigate to "Setup policies" (red box) and click on "Add apps" (blue box) in the "Pinned apps" area.
This will bring up the Add installed app dialogue. Type in "onstrategy" in the search bar (red box) and click on "Add" (blue box).
You will now see the OS app in your list of pinned apps (red box). You can move it up and down in the list as needed to change its position.
Once this process is completed, Team Members will receive a notification that a new app has been added.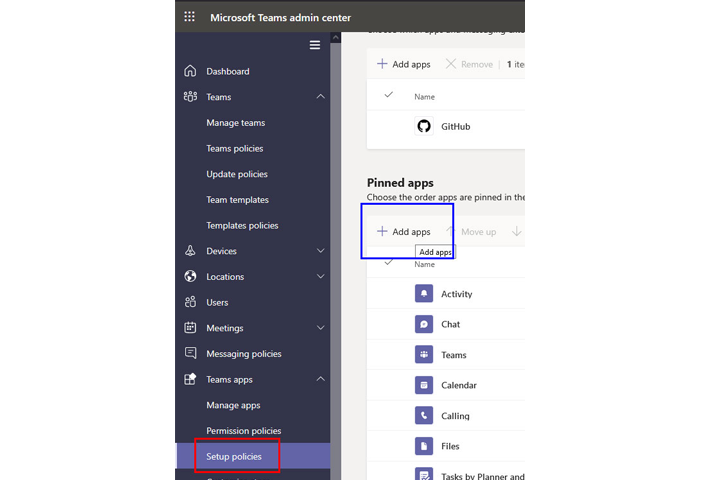 Set up Teams Notifications in OnStrategy
When logged in as the Plan Administrator, select "Apps & Integrations" (red box) from the top right menu.
On this page you may:

Enable Check-In Notifications to go out automatically weekly or monthly at your preferred cadence.
Manually send out push notifications to remind your team to update their goals on an as needed basis.
Revoke permission for team members to access their plan via the Teams app.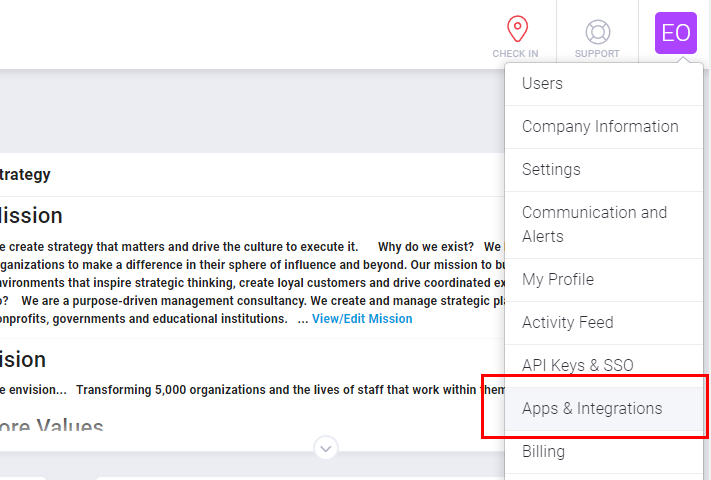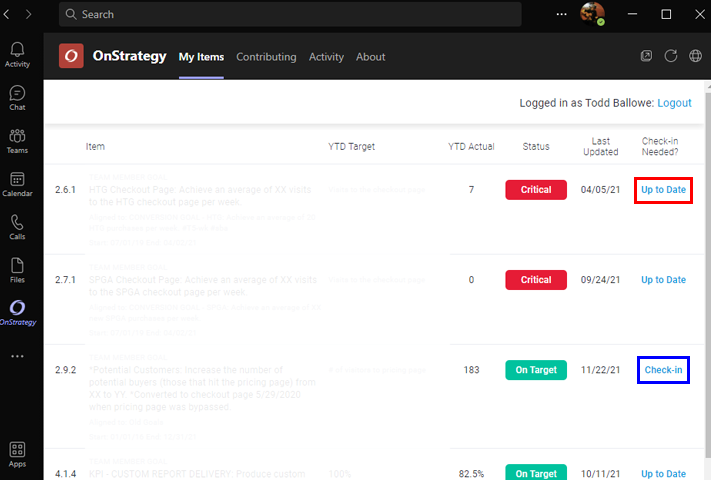 How to Use Teams
Once logged in, navigate to the My Items tab to see all goals you own.

Any goal that needs an update will say "Check-in" (red box) and goals that don't need an update will say "Up To Date" (blue box).
Any goal that is using Auto Roll Up will not appear as needing a check-in, although you may want to leave a comment. To do so, click on "Up to Date" in your goals list to leave a comment.

Clicking on "Check-in" will launch the check-in modal where you can enter updates for the current and previous time periods, the status and leave a comment. Make sure to click on Save when you are done.
If at any time you need access to more app functionality than what Teams provides, you may press the "Click here to edit further in OnStrategy" link at the bottom of the check-in modal (red box) at the bottom of your goals list.