Get Aligned with a StrategySprintTM
Focus your team's weekly efforts on your big, bold vision in 4 weeks.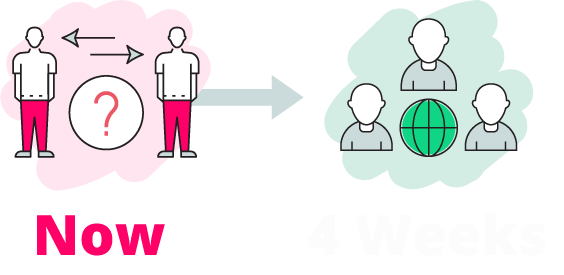 I want to get started today!
What is a StrategySprint™?
Led by a Senior Strategist and supported by the OnStrategy app, you will establish four 90-day strategic performance cycles to connect your long-term vision to weekly activities.
First 30 Days

Build Your Bold, Big Vision and Tight Quarterly Targets

Next 60 Days

Run Monthly Strategic Performance Reviews

Every 90 Days

Run Quarterly Strategy Refreshes, Publish Results & Set Focus for the Next 90 Days
Why Use 90-Day StrategySprintsTM?
Traditional strategic planning is static, takes forever, and doesn't connect individuals' efforts to your vision or mission.
With our 90-day StrategySprint™, you'll connect your team to what matters most, build an agile plan with OKRs, and create a repeatable, lightweight process to review and refresh your plan every quarter.

How Does It Work?
We lead three virtual strategy workshops to set your North Star, competitive strategy, strategic goals & KPIs.
We guide each executive to build OKRs for their teams.
We set up your tracking and reporting process.
We facilitate 3 monthly performance reviews.
We lead 1 quarterly strategy refresh.
What Do I Get?
Company-wide focus on the critical strategic priorities and KPIs for the balance of this year.
3-5 goals/OKRs, that are strategic, for every person on your team.
Sustainable approach to run monthly performance reviews and quarterly strategy refreshes.
A guide to repeat your StrategySprint™ every quarter.
Who Is This For?
Executive Teams and Functional Teams that need to get focused and aligned for the next 90 days and rest of the year.
Anyone that is stuck in the OKR process.
Organizations that need to level up from the operational to the strategic.