Shift annual planning to quarterly refreshes. Because our business and economic climate is shifting quickly, annual planning is a thing of the past. Refreshing quarterly with up-to-date metrics will keep your organization moving forward — even in the face of uncertainty.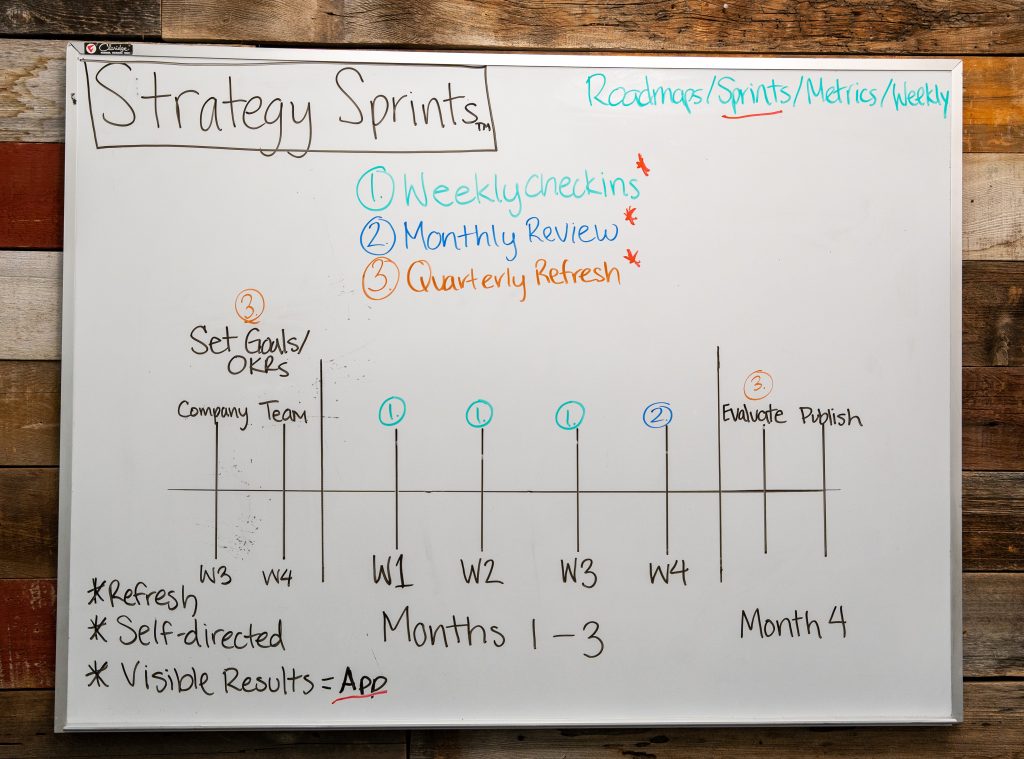 Video Transcription
Hi, everyone, welcome to the "Virtual Strategist." My name is Erica Olsen. I'm the CEO and co-founder of OnStrategy. Today's whiteboard session is on StrategySprintsTM. It is part of our "Agile Strategy Series" or "Agile Strategic Planning." There's four parts to this methodology or framework. We're talking about StrategySprints as I said. Roadmapping or agile roadmapping is another piece, health metrics, and then finally, weekly check-ins or MetricMondaysTM.
Get the Free Guide for Agile Implementation & OKR Cycles
What is a StrategySprint?
So, let's talk about StrategySprints. What are they? We're really talking about a 90-day goal or OKR planning and results management process. So, 90 days. We've got a little bit of timeline up here. We're going to talk about how that actually works. But that's what we mean when we say, a StrategySprint. So, let's unpack how it gets done.
Timeline
So, it's based on a quarterly or a 90-day cycle. So, that would be three months, of course, right? So, months 1 through 3. And what happens, prior to the quarter, is the first thing, which is, of course, setting your quarterly goals or OKRs at a company level, and at a team level. You may be setting them or refreshing them depending upon where you are in your cycle.
So, let's assume that you're setting them, you're just starting out. That happens at the end of the previous month. Let's call this month zero just for the heck of it. And obviously, we first do company goals/OKRs and then do team goals/OKRs. We move then into our actual quarter. So, this is Q1, month 1. We do the first weekly check-in, then another weekly check-in, then another weekly check-in, right? So week 1, week 2, week 3. On week 4 we do a monthly review, so it's a little bit deeper of a dive. I'll talk about that in a quick second. And then we roll into month 4, where we do a quarterly review, we evaluate our progress, we publish our results, and we refresh and reset our goals or OKRs.
Completing Your Goals
So, let's talk about how these get done. Weekly check-ins are intended to be one hour. They are your staff meeting, where you're looking at the performance of the previous week and year-to-date, against your health metrics, and checking in on your progress to see if there's anything that needs to be calibrated for the work of the team that week. You repeat that for week 2, and you repeat that for week 3. Week 4, you do a monthly review, which is two hours, maybe three hours in nature. You're probably looking at a few more metrics that were not weekly in nature, but monthly. You're also looking at your strategic initiatives. Those initiatives that are a little longer-term in nature, you don't want to look at them every week. They take a little bit of time to make progress, but you're checking in on a monthly basis. You repeat that for the next two months. And then you kick to your quarterly review where you step way back, probably with a half-day session, maybe a full day, looking at the full quarter, all of your results. And then evaluating how you did. A little bit of a retrospective, as you would say in agile methodology. You publish your performance and you refresh your goals or OKRs for the quarter that you're in or going into. So, that's what a 90-day goal or OKR cycle looks like for planning and managing your results in a very fluid, adaptable way. We're calling it a StrategySprint.
Tips
Here's a couple of tips. Let's wrap it up with these. We're refreshing not overhauling. A lot of times, a lot of your goals or OKRs are going to carry into the next quarter. That's logical. So, we're just refreshing, specifically setting targets or thresholds that we're focused on for the upcoming quarter. The goal setting or the OKR process needs to be self-directed. So, we do want our teams to self-set their goals. So we're not pushing them down, but we're aligning up. And then last but not least, but so important, visible results. We need to be able to see the results of the organization, of the teams, of the individual progress. The only way that happens (shameless plug) is with an app. You've got to make this automated, you've got to make this easy, and you've got to make it visible.
Track Your Goals
So, we have an app for that. If you need an app, you want to set up a StrategySprint process in your organization, check us out. We'd love to help you out. Super awesome. This is the heartbeat of how you actually make agile strategic planning work.
So, here's your timeline. Good luck setting it up. Thanks for tuning in. If you haven't subscribed, please do so. Happy strategizing.