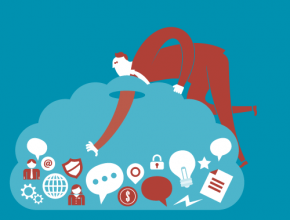 It's the end of MyStrategicPlan and the beginning of big changes for M3 Planning, the company who built it.
Our announcement to you today is about what we've become and where we're going. While we honor everything we've done to get us where we are, we also must forge to fuel the core of our passion. We are doing this under one brand and one name for both companies: We are now OnStrategy.
Farewell MyStrategicPlan, Welcome to OnStrategy.
Everything we are doing is extremely purposeful—we are boldly moving everything toward what really "makes strategy work."
Over the years, as our tools and services have evolved, so have our customers. What we heard from our users is they needed to go beyond tracking and reporting upon goal completion, they needed support tools and communication to better capture the collective direction of their efforts.
As a result of this awareness, we've put significant investment and sweat equity into our system and services over the past year. In doing so, we have catapulted the platform beyond being a simple tool for great strategy design and execution. OnStrategy is an agent of purposeful change fostering better communication, collaboration and organization-wide engagement.
What's Really New About OnStrategy?
OnStrategy stands firmly today as a leader in strategic management software, tools, apps and professional services.
A couple months ago we announced major upgrades to our system that integrated functionality geared toward integrating higher levels of collaboration, consensus building and accountability. We've also added better communication tools making it easy to provide praise, prompt action and provide transparent feedback. New notification tools keep leaders better informed and advanced report sharing features allows you to share the data you want with key internal and external stakeholders.
We also have the Visual Performance Dashboard that is unlike any other dashboard you've ever seen. The Visual Performance Dashboard is more than metrics. It's real-time monitoring of core performance indicators at any/every level within your organization. You can control and customize multiple dashboard views depending on your targeted audience. Take the tour.
With the announcement of our name change, we are also launching the Strategic Performance Index, a worldwide benchmark assessment that can be sent to all major stakeholders for measuring an organization's current level of strategic effectiveness. This automated tool offers output that is directly relevant to an organization's SWOT and can be a guiding force in the development of strategic goals. Take the assessment and find out where your organization stands.
And lastly, we're proud to introduce the OnStrategy Channel Partner program, a global initiative to combine the strengths of the OnStrategy platform with the skills and talents of practitioners throughout the world for delivering regionalized services with industry-specific expertise. It is an unprecedented opportunity for strategy practitioners to integrate a powerful platform into their services. Learn more.
When Simply Architected and Thoughtfully Executed Strategy Moves Mountains.
We make all these enhancements with a central belief: We exist to give people the knowledge, platform, tools and services to help people stay on strategy. It's more than just having the right systems in place. It's about empowering people, communication, engagement and accountability. Because that is what really drives results.
---