The Free 2022
Planning Tip Sheet
A free tip sheet to build a powerful, engaging plan for 2022.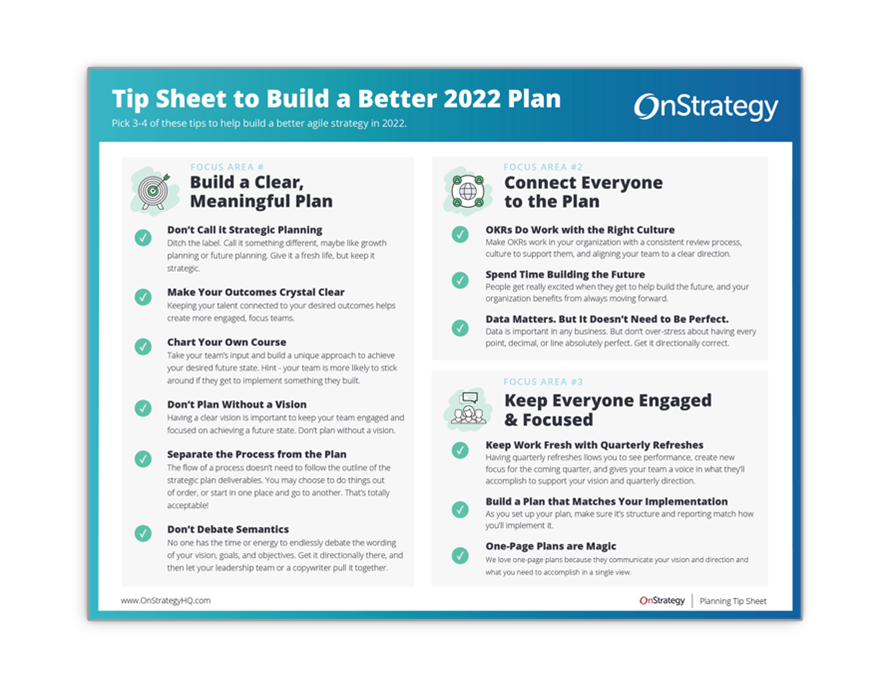 Download the Free Tip Sheet
Good strategy lends itself to good leadership, organization-wide engagement, and focus–the earmark of high-functioning teams. And truth-be-told, everyone could use a little more of that right now.
So, to help kick off this planning season, we've pulled together this tip sheet with 12 pro tips to reference as you develop your 2022 plan. We don't recommend you use all 12; pick three that you think fit best with your organization's need and culture. These include:
Not calling it strategic planning.
Making your outcomes crystal clear.
Charting your own course.
Don't plan without a vision.
Separate the process from the plan.
Don't debate semantics.
OKRs work with the right culture.
Spend time building the future.
Data matters, but it doesn't need to be perfect.
Keep work fresh with quarterly refreshes.
Build a plan that matches your implementation model.
One-page plans are magic.
*OnStrategy is committed to protecting and respecting your privacy, and we'll only use your personal information to administer your account and to provide the products and services you requested from us. From time to time, we would like to contact you about our products and services, as well as other content that may be of interest to you.
You may unsubscribe from these communications at any time. For more information on how to unsubscribe, our privacy practices, and how we are committed to protecting and respecting your privacy, please review our Privacy Policy.
By clicking submit below, you consent to allow OnStrategy to store and process the personal information submitted above to provide you the content requested.