OKR vs. KPI Guide
What's the difference between OKRs and KPIs? In our free downloadable guide, we'll show you how to integrate and simplify these two powerful planning elements.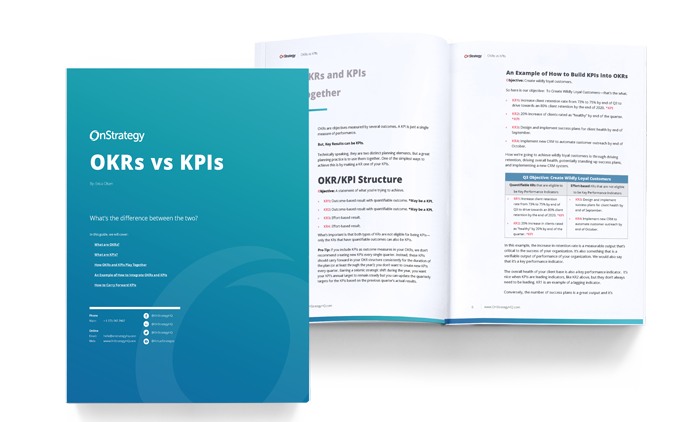 One of the big questions people have related to OKRs is, "What's the difference between an OKR and a KPI?"
In this guide, we will define what OKRs and KPIs are and explain their differences and similarities. We'll cover:
What are Objective and Key Results?
What are Key Performance Indicators?
How OKRs and KPIs Play Together
An Example of How to Integrate OKRs and KPIs
How to Carry Forward Your Key Performance Indicators
*OnStrategy is committed to protecting and respecting your privacy, and we'll only use your personal information to administer your account and to provide the products and services you requested from us. From time to time, we would like to contact you about our products and services, as well as other content that may be of interest to you.
You may unsubscribe from these communications at any time. For more information on how to unsubscribe, our privacy practices, and how we are committed to protecting and respecting your privacy, please review our Privacy Policy.
By clicking submit below, you consent to allow OnStrategy to store and process the personal information submitted above to provide you the content requested.