Get the Free MetricMondayTM Guide
Download the free guide on how to manage your organization with agility. Every week.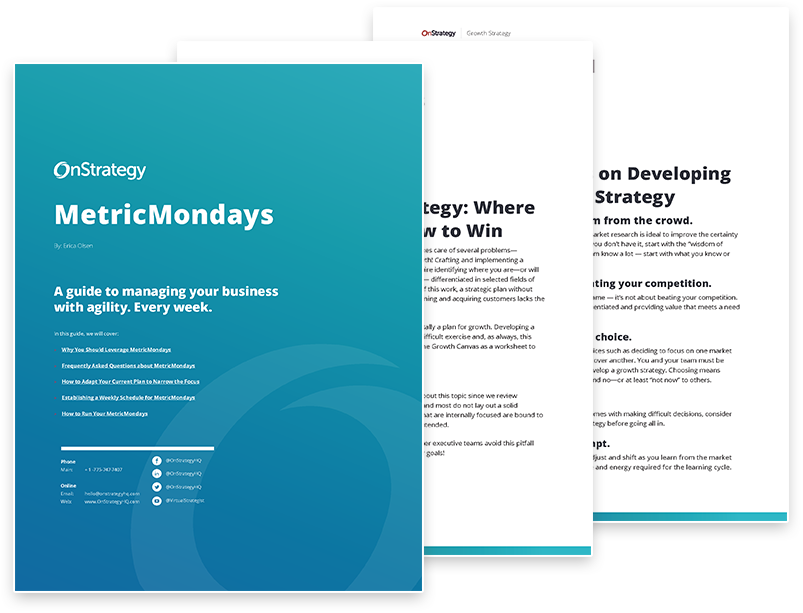 The world is changing and so is strategy. Isn't it time your weekly meetings are, too?
Gone are the days of annual planning and quarterly strategy reviews! It's time to shift to weekly management of KPIs that keep your finger on the pulse and set your team's priorities for the week. Imagine what your weekly team meetings would look like with results leading the conversation and action happening for the week to impact those results.
Use this guide to stand up MetricMondays in your organization by either adapting your existing Strategic Plan or starting one from scratch. In either case, you will:
Understand how MetricMondays can be a tool to align your team and drive results.
Know how to adapt your current strategic plan from monthly to weekly management.
Learn how to set up your data, weekly schedule, and software in 2 weeks or less.
Learn how to run a MetricMonday meeting.
*OnStrategy is committed to protecting and respecting your privacy, and we'll only use your personal information to administer your account and to provide the products and services you requested from us. From time to time, we would like to contact you about our products and services, as well as other content that may be of interest to you.
You may unsubscribe from these communications at any time. For more information on how to unsubscribe, our privacy practices, and how we are committed to protecting and respecting your privacy, please review our Privacy Policy.
By clicking submit below, you consent to allow OnStrategy to store and process the personal information submitted above to provide you the content requested.