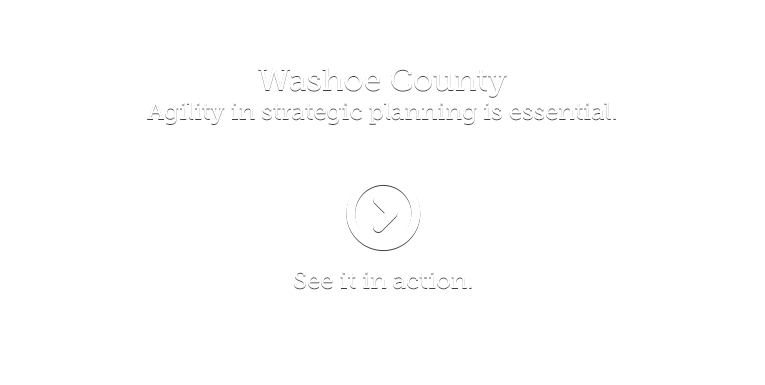 Washoe County.
Shifting from downsizing due to economic decline to revving up for an upswing in a Tesla "Giga Second" required Washoe County to adapt to swiftly changing market conditions.
---
OnStrategy helps its home-town county in Reno, Nevada prepare for massive growth in services, infrastructure and resources to support a new $5 billion Tesla Gigafactory by engaging citizens, employees and regional partners.
Our Methodology
Stakeholder Insight: A systematic, survey-based methodology captures responses from over 600 county employees and hundreds of responses from community residents. Organizational Structure: OnStrategy helps establish an internal planning committee with accountability for strategy design and implementation. Strategic Alignment: OnStrategy analyzes existing strategic plans of key regional partners, including universities, local municipalities, and airports, to enable the county to better serve residents.

Strategic Planning Facilitation: OnStrategy's best-practices in strategy design, implementation and performance management provides flexibility in incorporating the culture and existing process of Washoe County. Departmental Alignment: Achieve 100% alignment of all supporting departments, including Sheriff, District Attorney's Office, Courts and Social Services, to establish county goals. Budget Alignment: The OnStrategy Strategic planning process ties associated budgets to the county's strategic plan.
Our Results
Enriched Leadership: OnStrategy's strategic planning process provides an opportunity to exemplify the county's leadership in economic development and to proactively prepare for the county's imminent growth. Adaptability: The county's longstanding support for strategic planning is adapting from providing services during an economic downturn to capitalizing on the county's reinvigorated mission supporting growth and vitality.

Focus: OnStrategy's facilitated process helps county officials focus on the critical few things that matter most – eliminating distractions and competing priorities. Simplicity: Simplified and truly strategic, Washoe County's strategic plan is short, concise and digestible by all stakeholders.
---
Convinced? Let's build something together.