Are your maximizing your organization's impact?
Here's a recap of some of the key topics and learnings we covered today! Here are the three key takeaways, and three ways you can modify your plan NOW to expand your impact. View the deck and the Miro Board!
🌎 Success in the 21st century goes to companies that care about social impact. People don't just buy good products. They buy good "companies."
We can't just rely on nonprofits and public agencies to focus on social good. We need to have a business focus on the same issues – and the shift in consumer demand is supporting this movement. From today's session:
12:20-13:30, Frank discusses how traditional strategic planning forgets to include social impact and environmental impact as core components.
13:30-16:01, Frank discusses how consumers and employees want to work for, buy from, partner with, and invest in businesses they believe in and are aligned with their own values. And that is completely changing the way companies operate.
We didn't include this in the session, but check out this cool guide from Yale and Patagonia on the pros, cons, benefits, and how to become a Certified B Corporation.
💚 Businesses integrating social and environmental impact into their ethos are winning – for the planet and their employees.
The data doesn't lie! Even if your organization doesn't want to become a Certified B Corp, adopting some of the critical practices and methodology is still valuable:
Tune into the session from 16:01-19:15 as Frank discusses how Certified B Corporations use the power of business to build a more inclusive and sustainable economy.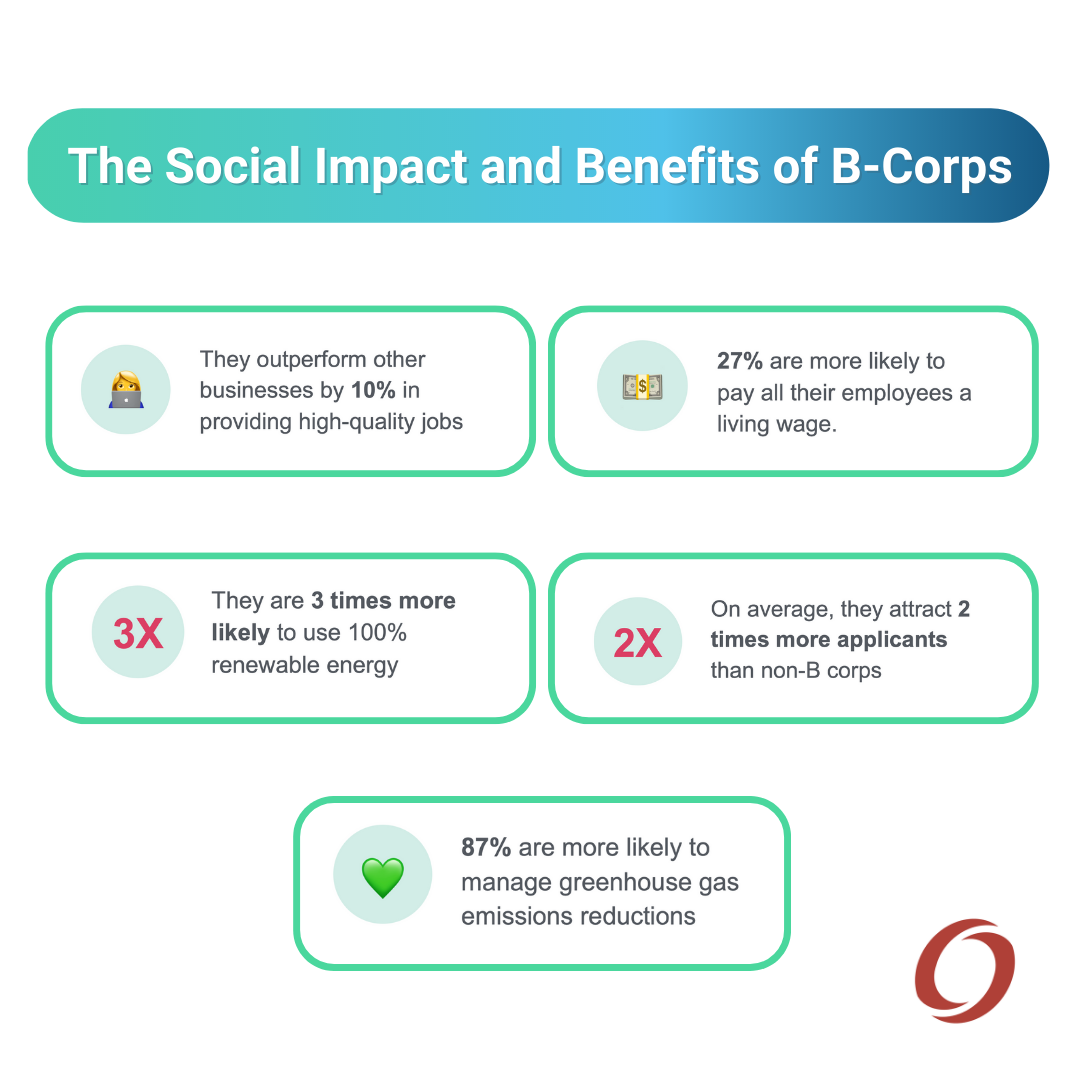 💪 Expanding your impact starts with action – and you don't need to be a Certified B Corporation to support the greater good.
Not every business needs to become a Certified B Corporation to create a more significant social and environmental impact. If you want to start integrating these aspects into your organization's strategy, here are several ways, as discussed by Erica and Frank from 19:00-27:30. PS, everything below is also in the deck on slides 14-15.
Vision: Updating your vision statement to include your social impact.
Values: Adding values statements around social impact, environment, DEAI, or community.
Objectives & Goals: Adding goals for governance and ethics, reducing environmental impacts, reducing carbon emissions, increasing sales of sustainable products, and creating a healthy and inclusive workplace.
Actions: Launching an employee wellness program, updating purchasing policy to incorporate social and environmental commitments, and bringing together staff to connect in person.
We love a good workshop, and you all didn't disappoint. Make sure you check out the results and insights from our breakout groups! Feel free to use this exercise internally to assess where you are today on your continuum of impact, where you have an impact today, and where you want to create impact in the future.
We promised to deliver the strategic planning maturity curve from our previous session, so here it is! It is the last slide in this deck.