You can check out the Zoom recording link here and the PowerPoint deck here.
Horizon Thinking and Getting Top Team Attention (7:25-19:20) and SLIDES 4-9
Recapping the Horizons:
Looking back to the first Thursday session with Bryan, he re-grounded everyone on how Horizon thinking works in strategy:
Horizon 1: This first horizon of strategic thinking looks toward the right now, although it can keep leaders too focused on fixing whatever is currently on fire.
Horizon 2: The second horizon in strategic thinking looks to where we are going, who are our users, who are our competitors, and what do we need to develop for our success 3-5 years from now.
Horizon 3: This horizon speculates farther into the future looking at where we might need to be 5-10 years from now.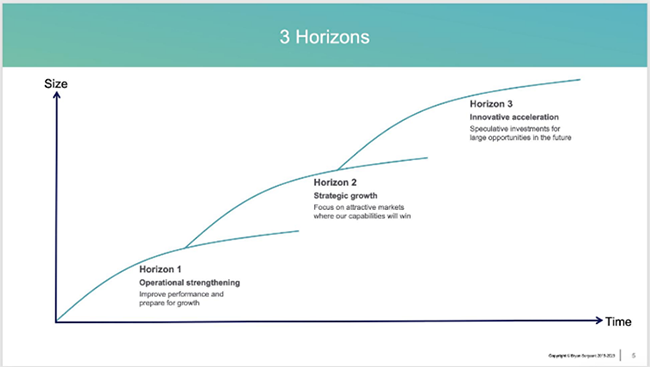 Start to Expand Your Thinking Smartly and Time-Appropriately:
Consider the type of strategy and future planning you are doing, and use horizon thinking to incrementally move toward your aspirations by asking these questions:
Where are we now? Why do we win new customers compared to our competitors?
What are our aspirations? Who is sitting around the table making the decisions and are we remembering all of our stakeholders (customers, users, employees, suppliers, the planet, regulators, etc.)?
How will we get there? What are the annual goals and plans that can help us make the hard yet mission-critical leaps that will move our business strategically forward?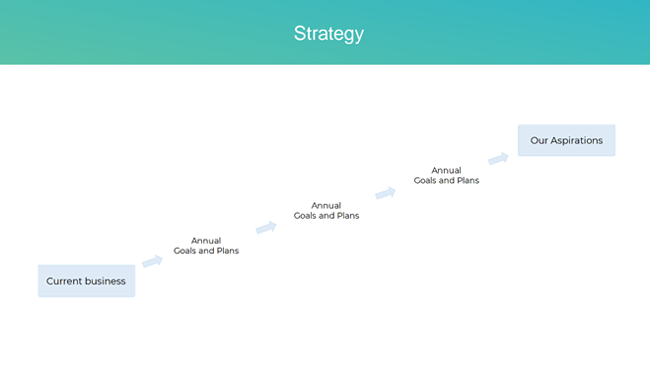 Shared Resources: Check out this BCG Strategy Framework shared by our Collab member Tim.
Business Management Framework: Understanding Our Starting Point (19:45-38:00) and SLIDES 10-14
The Business Management Framework helps people holistically understand how they are running their organizations. Collab member Brett Puterbaugh ran Bryan's process with six staff at his organization. His experience surfaced concerns and possibilities that might otherwise not have been known by both him and the CEO.
Tips and Tricks with the Business Management Framework:
TIP #1: Give adequate time to think through the process, and allow for specific comments in the app.
Align the conversation by asking why certain data points might exist as opposed to calling anyone out directly for more feedback.
TIP: #3: Keep track of potential project ideas that might surface alongside highest priorities.
TIP: #4: Discuss both the agreements and disagreements in the scores.
TIP: #5: Emphasize how important it is to both align the team and create new initiatives.
TAKEAWAY – Data-Driven Dialogue Moves the Needle:
Using tools that employ best-practices of data-driven dialogue while creating a visual representation of the perspectives in the room is vital. They can reduce group thinking and put everyone on an even playing field.
Turning the Output From the BMF Into Initiatives (38:00-54:00) and SLIDES 15-19
How To Take the Next Steps to Turn These Data-Driven Conversations Into Initiatives:
Ask those present what they want to get out of the data and the process.
Capture all the ideas and group and prioritize them.
Score the possible benefits from each initiative and how quick, easy, and cheap it is.
Select owners and time periods to turn everything into action plans.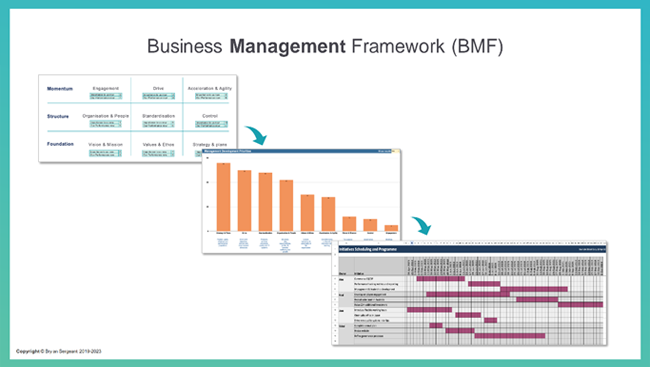 The ranking will naturally filter top priorities. The magic starts with brainstorming initiatives and moves to an effort verses impact understanding of priorities. This shows what is most important and how easily it can be done for the group as well as for individuals.
TAKEAWAY – Utilize the Right Tools to Create a Holistic Business View
A key component of this entire process is alignment. The right tools can surface some of the most important aspects to running an organization without de-prioritizing anything. They create anonymity and engage the brain and the heart to get a real temperature read on where your organization currently stands.