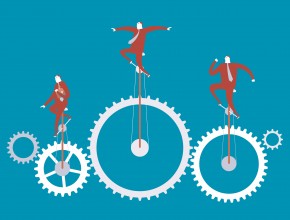 How solid is your foundation for implementing strategy?
Implementation is the process that turns strategies and plans into actions in order to accomplish strategic objectives and goals. Implementing your strategic plan is as important, or even more important, than your strategy.
So why do organizations struggle with it?
Evolving a strategic plan from a document that sits on the shelf to actions that drive business growth requires specific actions. Sadly, many companies who have strategic plans fail to implement them. Wasting time and energy on the planning process and then failing to implement the plan is beyond discouraging, it's catastrophic. It hurts the organization, the team, and individuals.
As a business owner, executive, or department manager, your job entails making sure you're set up for a successful implementation. Here are the five foundational questions you need to ask yourself before rolling your plan out to your team:
What people do I need involved? The right people include those folks with required competencies and skills that are needed to support the plan. In the months following the planning process, expand employee skills through training, recruitment, or new hires to include new competencies required by the strategic plan.
What resources do we need for a successful implementation? You need to have sufficient funds and enough time to support implementation. Often, a huge factor in successful implementation is making sure you allocate enough resources to cover the true costs of you plan. Be realistic in your resource allocation to make sure you don't run your accounts dry.
What structure do we need to provide? Set your structure of management and appropriate lines of authority, and have clear, open lines of communication with your employees. Defining goal ownership and holding regularly scheduled strategy meetings are essential in providing structure.
Do we have the systems in place to manage our processes? Both management and technology systems help track the progress of the plan and make it faster to adapt to changes. It's up to your team to decide what systems you need for implementation, but we recommend avoiding spreadsheets as a management practice. Find a solution that is consistent and will be easy for your team to adopt and continue using.
How does our strategy play into company culture? Create an environment that connects employees to the organization's mission and that makes them feel comfortable. To reinforce the importance of focusing on strategy and vision, reward success. The rewards may be big or small, as long as they lift the strategy above the day-to-day so people make it a priority.
You might find some holes in your answers, and that's ok. Shoring up gaps now helps ensure you're not looking back six months from now and asking yourself what went wrong. If you find major red flags, make sure you find a solution for them before implementation, even if that means pushing out timelines. Building and executing against a strategy requires a solid foundation. If the foundation isn't solid, it's going to be a rocky ride.
---