How Our Strategic Planning Software Works
---
Build your custom strategy
Build a custom plan in less than 30 days.
OnStrategy's step-by-step process helps demystify strategic planning. Our guided strategic planning software tool helps in everything from crafting a strong mission statement to setting KPIs.
Work within existing processes.
OnStrategy lets you customize planning terms to match your organization's existing processes and common language. No training required.
Organize your planning data.
Align multiple department's and team's strategic plans into one consolidated, web-based system. Learn more
---
Empower your organization
Leverage your team's expertise.
Gather input from key stakeholders and team members in the planning process to better assess the whole picture.
Foster organizational transparency.
Align executive strategies to manager goals and team member action items giving everyone a direct line of sight from their actions to the big picture.
Cultivate shared accountability.
Cascading goals create visibility into how individual stakes contribute to the final outcome. Learn more
---
Execute better
Keep things running smoothly.
Track and monitor goal and action item completion to identify issues before they arise.
Hold meetings that matter.
Use OnStrategy Goal Tracking reports and alerts to focus your time and energy where it will have the most impact.
Execute faster.
Enable your staff to make quicker, more effective decisions by understanding the big picture. Learn more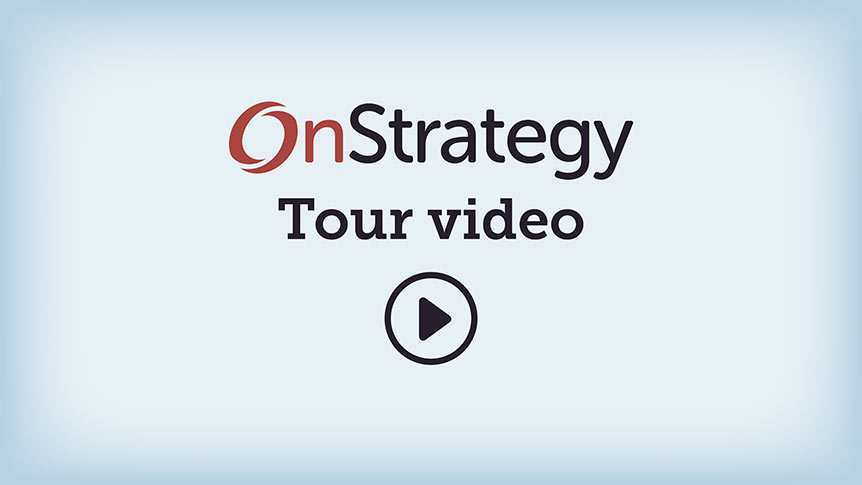 We've helped 1000's of organizations create, communicate and execute their strategies.