By Todd Ballowe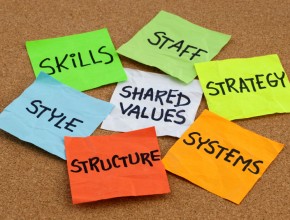 Values are enduring, passionate, and distinctive core beliefs. They're guiding principles that never change. Values are deeply held convictions, priorities, and underlying assumptions that influence your attitudes and behaviors. Your core values and mission statement are part of your strategic foundation – the beliefs and purpose that you are truly committed to.
Advice from Jim Collins, author of "Good to Great," "People frequently confuse timeless core values with aspirations of what you'd like to see the organization become in the future. Do not mix future aspirations into your true and authentic core values, as this will create justifiable cynicism and destroy the power of your core values." Leave those future ideas in the vision statement.
A Warning About Values Statements
It's important to recognize that while a well-articulated set of core values is critical to an organization's success, the creation of a values statement can, and often is, a separate process by itself. However, a strategic plan is not complete without a declaration of the underlying beliefs in your organization. Here is how to address this without bogging down your process:
If you have a values statement, take the time to review and renew it as a step in your strategic planning process.
If you don't have one, set this aside for now, but let everyone know that you will come back to it. Embark on creating a shared, staff-driven values statement immediately after you have completed your planning down to the action item level. Go here for a long list of words to spur thinking when you are ready.
For inspiration, here are some values statements we love:
How to Create a Values Statement with Your Team
Host a 1.5 hour strategy session to develop a list of shared values by asking participants to answer the following questions:
• What are 3 to 5 core values and beliefs that guide our daily interactions as a team?
• What are our non-negotiables?
Have each member write one idea per sticky note. On a wall, create an affinity diagram by grouping like ideas.
Select groups with the most sticky notes. Identify the value, and use the rest of the words to craft a description. Repeat for each grouping until all values are identified. Evaluate the list using this worksheet.
The Bottom Line
The tendency is to roll values statements into mission and vision statements. While all three need to work well together, we at OnStrategy recommend that they are distinctive, as they serve three different purposes.
• Keep the list of values to less than seven, because seven is the magic memory number.
• If you get stuck, consider thinking about your values statement as a list of "non-negotiable" behaviors.
• Values statements, just like missions and visions, are only useful if they are in daily practice. Talk about and embed the use of values in core business processes.
Watch our video on "How to Write a Value Statement".
---