Strategy Execution Tools
Performance management tools enable your team to focus on executing your plan instead of managing it.
Enable your entire team

to be part of strategy execution.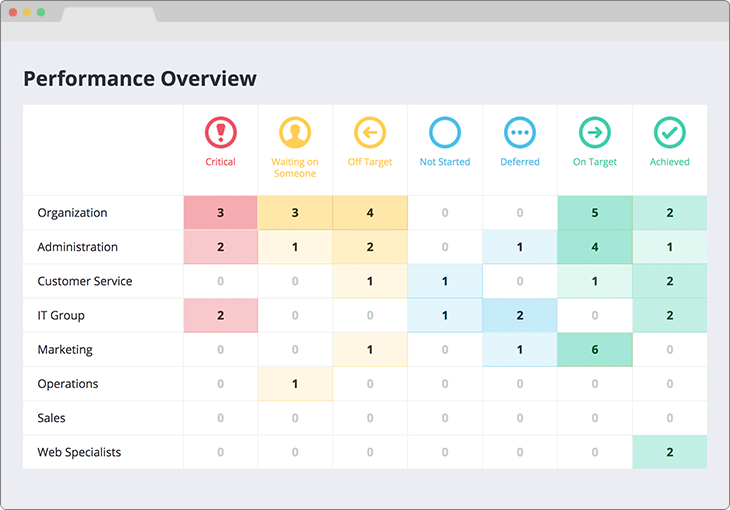 Easy Execution for Everyone
Real-Time Goal Tracking
Color coding and intuitive icons let you clearly see the status of your goals.
Track Performance
See your plan's goals, their owners, and their current status.
Quick Goal Updating
Update the performance of your goal, adjust periodic targets, and add comments for context.
OnStrategy Score
See how department, team and individual contributions are supporting strategy execution.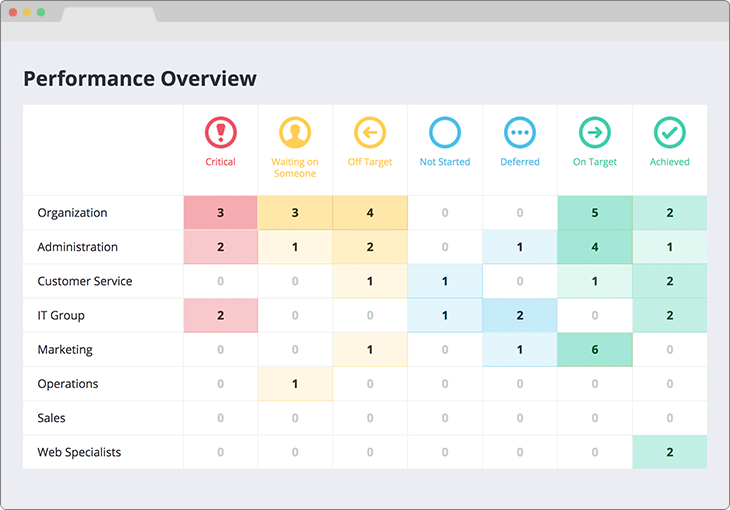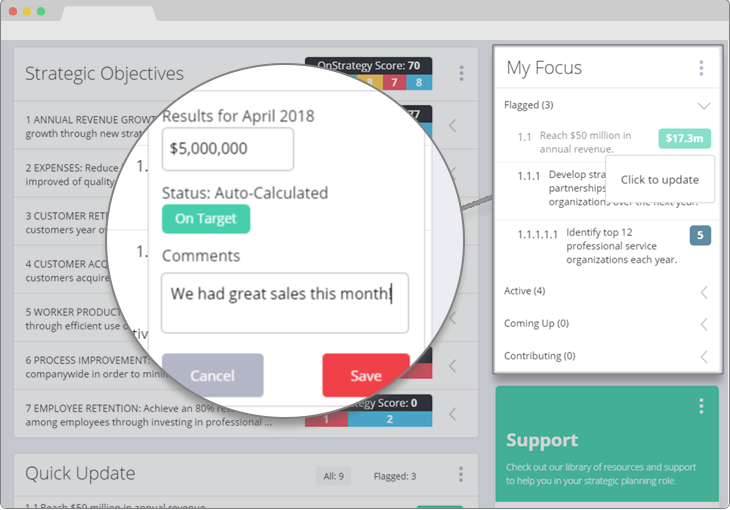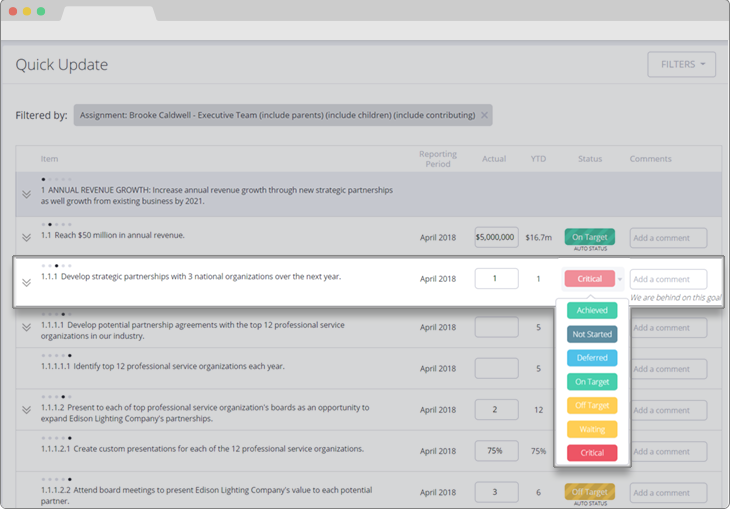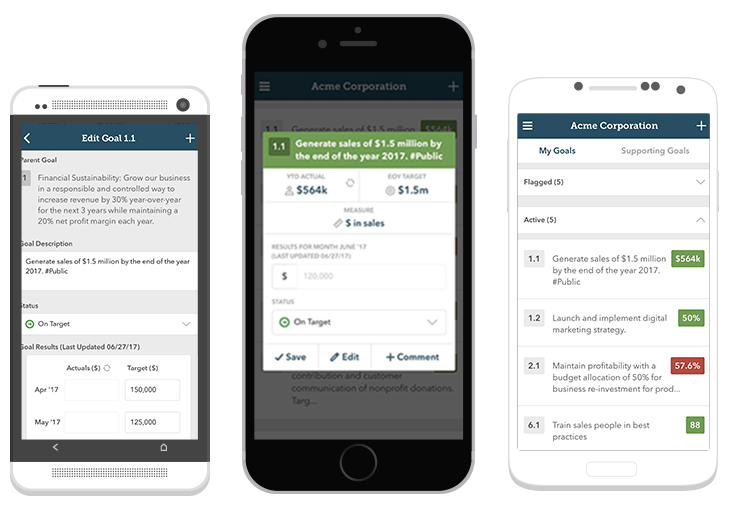 Make strategy reviews come to life

with real-time performance data.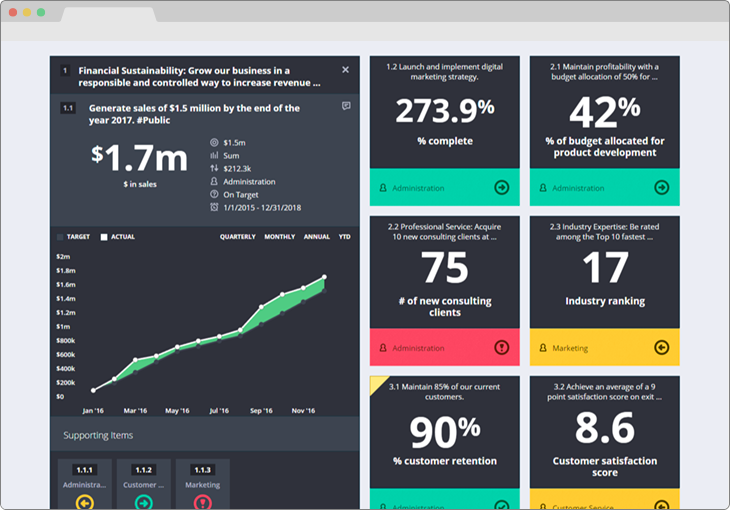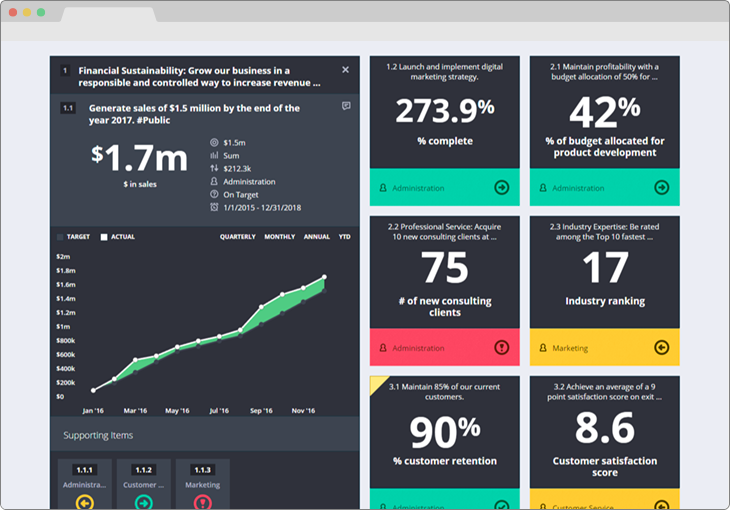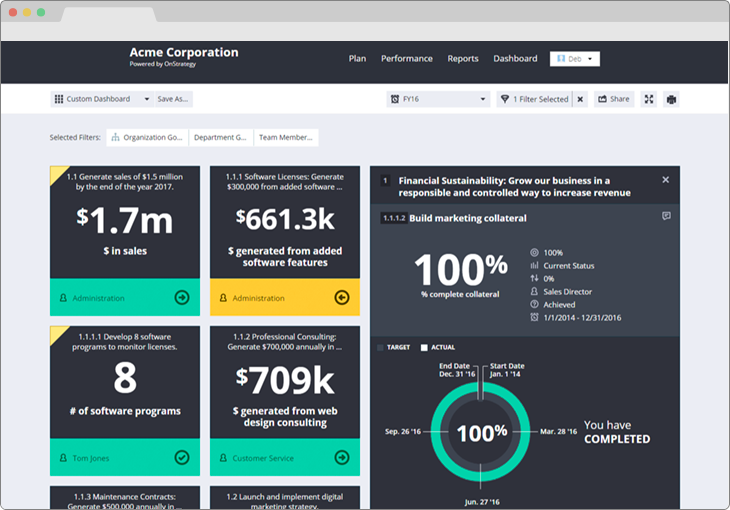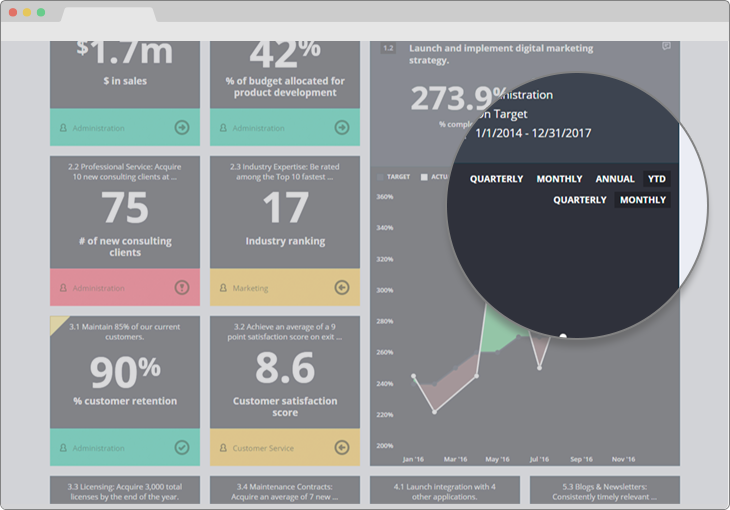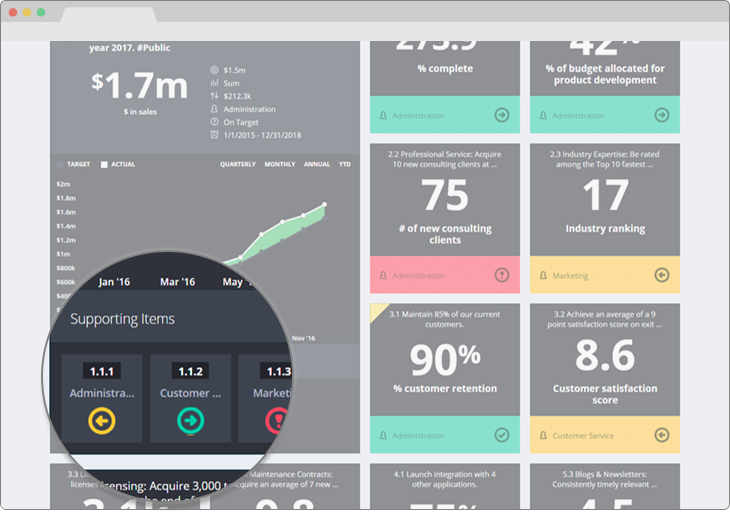 Performance Dashboard
Data Made Meaningful
Visual displays of your data provide insight into the core performance indicators driving your success.
Dynamic Views of Data
Color coding, dynamic views, and icons provide visuals to keep your organization engaged in your performance.
Monthly, Quarterly, & Annual Views
View performance by month, quarter, or year-to-date. It's your choice.
Status of Supporting Items
Quickly see the current status of goals by individual contributors or departments.
Streamline data entry

to focus on executing with excellence.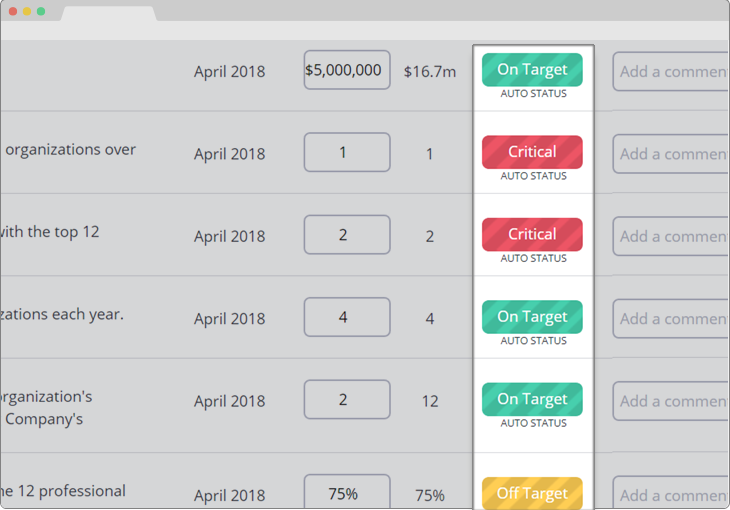 Auto-Status Updates
Auto-Status Updates
OnStrategy can automatically calculate the status of your goals based on current performance against targets.
Auto-Goal Roll Up
Automatically update goals based on the performance of their supporting actions.
KPI Scorecard
See how department, team and individual contributions are supporting KPI performance.
API & Extensions
Using Zapier, automate your performance data between 750+ supported software applications.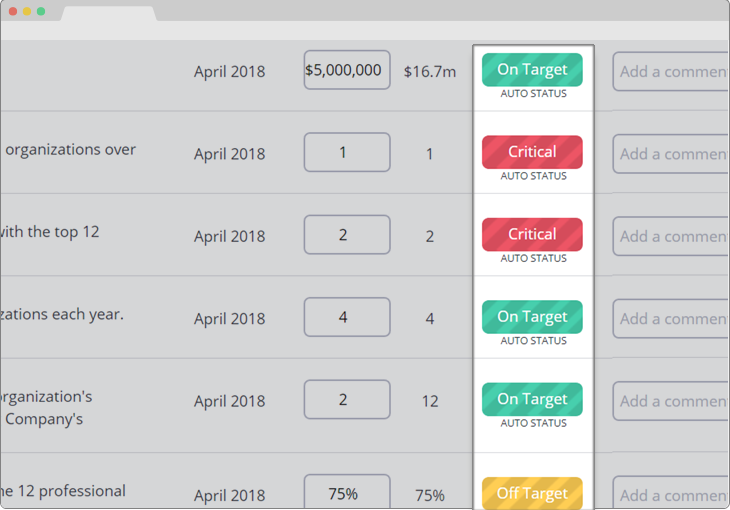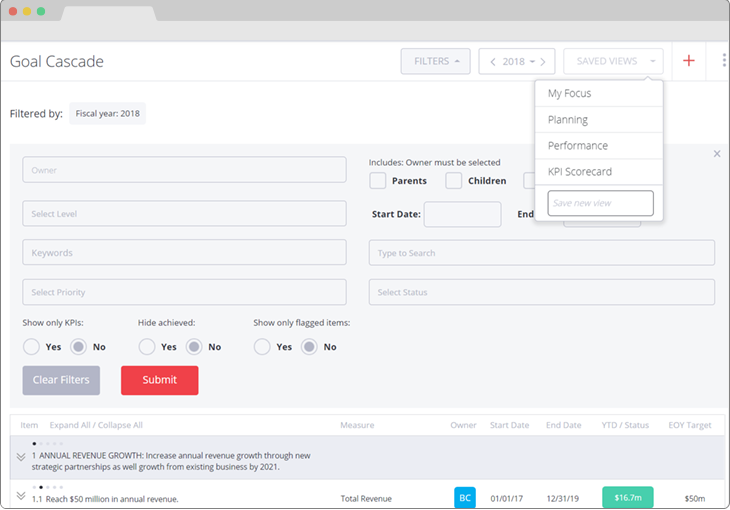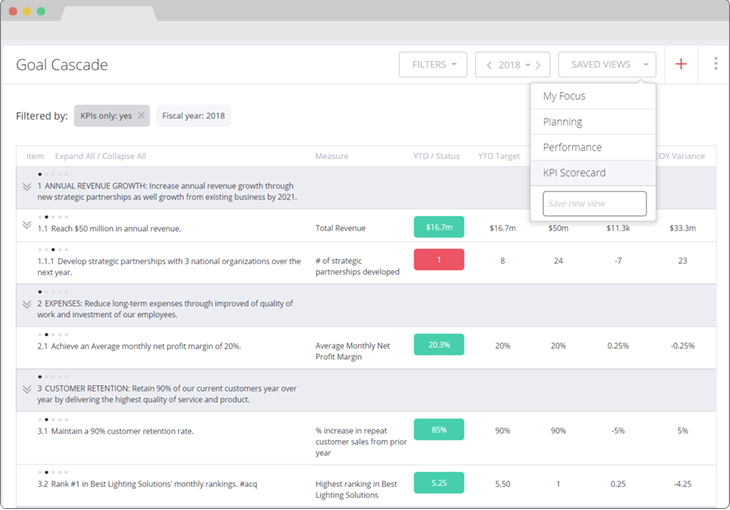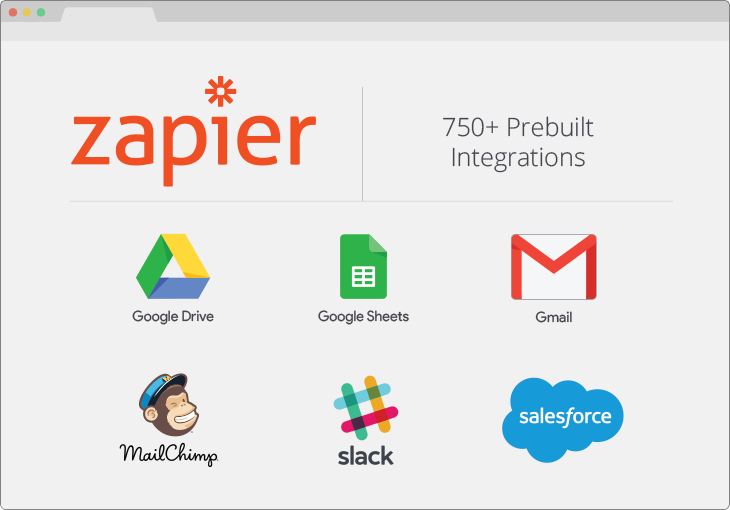 Update Performance on the fly

with OnStrategy Mobile.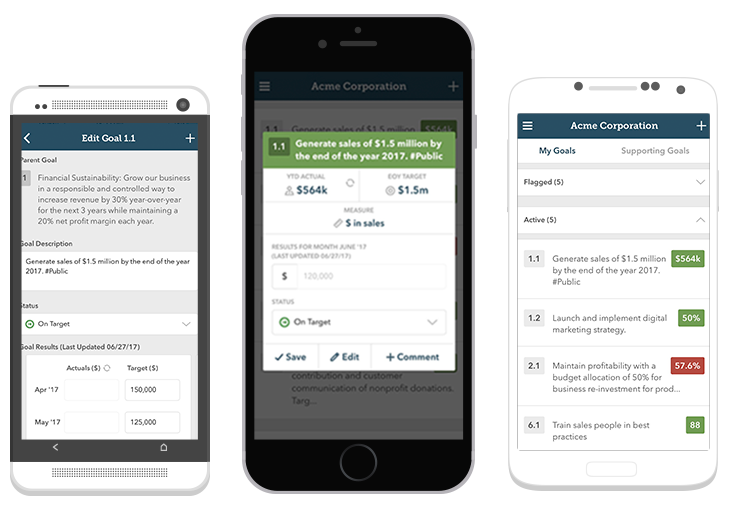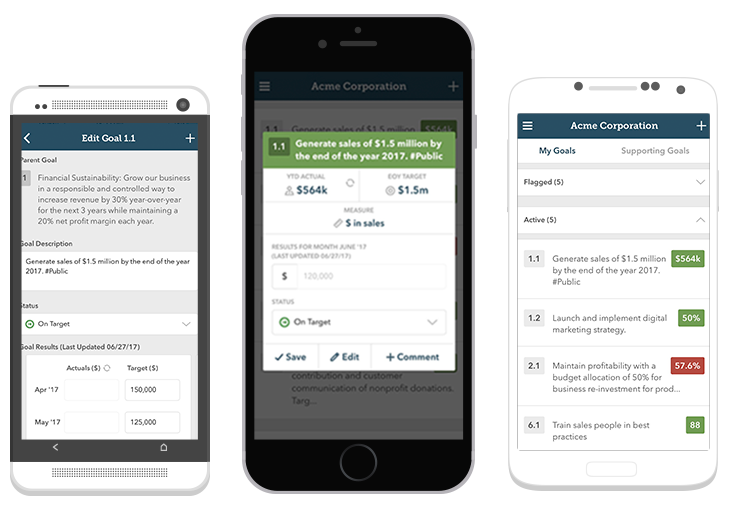 OnStrategy Mobile

Keep your team focused on their priorities to drive results from the bottom up.

Stay Focused on What Matters Most

Stay focused on your team's goals. See the top priorities with a single glance.

Manage Performance in 30 Seconds

OnStrategy Mobile provides simple, streamlined progress reporting so your team can manage their performance in just a few seconds.

Automated Organization

Dynamically generated lists sort your goals keeping those requiring attention front and center.

Know Exactly Where You Are

Your team will know how they're executing against your organizational strategy by quickly viewing their performance and supporting actions.

A dedicated strategist will work with you wherever you are in the planning process.
All subscriptions include a dedicated expert to help you build, implement, and roll-out your plan. With over 170+ years of combined experience, our team of PH.Ds, MBAs, CPAs, and field experts will help your organization embrace strategy.